How to Save Time and Money Food Shopping
19 ways to optimize your shopping dollars and minimize your effort at the grocery store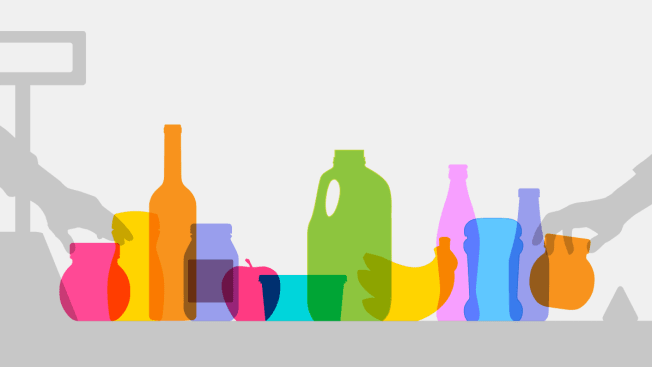 As the pandemic wanes in several states and vaccinations pick up, supermarkets are preparing promotions and products to lure consumers back to the aisles.
Target has just introduced "Favorite Day," a competitively priced house brand of baked goods, frozen desserts, and beverages.
Hy-Vee, based in the Midwest, expects to open some in-store nail salons.
Whole Foods is letting customers test makeup virtually, through an in-store display.
And major grocers, including Albertsons, Kroger, Publix, and Walmart, are offering the ultimate Spring 2021 attraction: COVID-19 shots.
What's not so attractive: higher prices for some key staples.
During the first three months of 2021, meat and seafood prices have been 8.34 percent higher than they were in the first quarter of 2020, according to Basket, a grocery price-comparison app and shopping analytics company.
Fresh produce is up just over 8 percent. And those precious early pandemic commodities—paper towels and toilet paper—are still more than 5 percent above what they were at this time last year.
Finding Tactics That Work
So whether you're venturing into grocery aisles at last, never stopped shopping in-store, or added delivery and curbside pick-up to your modes of shopping, it's always wise to economize.
Over the past year, we asked experts and CR's Facebook followers—smart shoppers on the ground—for the time- and money-saving tips and tricks that have been serving them well.
Pick a few of these tactics to try in the coming weeks to shave dollars off your bill.
1. Plan, plan, plan. Planning well to minimize your trips to the store can keep you safer, save you time, and reduce your impulse purchases. Linda Test of Mena, Ark., says she plans meals to the point that she now shops every three weeks rather than twice a week as she did in the past. Among her tactics is to use up fresh fruits and vegetables in the order they go bad. "Salads and spinach are first," she says. "Carrots or rutabaga are last."
2. Use discount apps. Two we like are Ibotta and Flipp. Both coordinate your store loyalty cards with current discounts and coupons. With Flipp, you scan the app at checkout to apply savings at the point of sale. With Ibotta, you select rebates in the app and photograph your receipts to import savings, after the fact, to an Ibotta ­account. Savings are transferred to a payment app, such as PayPal, or a gift card. In addition, some store loyalty programs, notably those of Safeway and Stop & Shop, also let you build rewards toward gas purchases at affiliated gas stations.
3. Use the calculator on your phone. Unit price shelf stickers under each product can help you better compare prices of like items. But if the store doesn't have the stickers, use your smartphone's calculator. Divide the price by the number of units in each package you're comparing.
If, say, one soda's price is per fluid ounce and the other's is per liter, ask Google how many ounces are in a liter and do the conversions. You can often do the same calculation from home when checking a store's offerings online, saving you time in the aisles. (Only nine states require unit price shelf stickers; Consumer ­Reports urges super­markets in all states to use them.)
4. Go with store brands. The cost of store-brand foods and beverages is at least 20 to 25 percent lower than the cost of name brands of the same product, Flickinger says. (When CR members were surveyed about the grocery stores and supermarkets they liked best, three grocers earned top marks for their store brands: national names Costco and Trader Joe's, and Central Market, which is based in San Antonio and is a subsidiary of the privately owned H-E-B supermarket chain.) You can often find store brands on shelves just to the right or left of comparable name-brand items.

5. Use a cash-back credit card. Most cash-back cards have eliminated cash back-bonuses for grocery purchases that they started during the pandemic, reports Ted Rossman, senior industry analyst at CreditCards.com. But some cards, such as the Chase Sapphire Reserve and the Citi Prestige, offer programs linking grocery purchases to credit toward travel.
For new cardholders, the American Express Blue Cash Preferred card offers 6 percent cash back on the first $6,000 in groceries each year and on certain streaming subscriptions, 3 percent on eligible gas stations and transit, and 1 percent on other purchases. The card also is currently offering a $300 statement credit for spending $3,000 in the first six months. (In the first year, there's no annual fee; after that, it's $95.)
The American Express Platinum card has a sweeter deal for big spenders with great credit: 10 times the points on gas and grocery purchases in the first 6 months. You'll also get 75,000 extra points if you spend $5,000 in the first six months.
Keep in mind that you may need a credit score of 740 or higher to qualify for these cards, Rossman notes. The interest rates on these cards are typically above 15 percent, so it's best to use them only if you pay off your balance each month.
6. Shop at quiet times. Type a specific store location into Google's search and you'll get a "Plan your visit" box in the company profile that lays out the busiest and slowest times for every day of the week so that you can see exactly when the store will be the least crowded. If your schedule is flexible, shop around 10 a.m. Thursday, after senior hours typically end, says Keith Fix, CEO of Retail Aware, an analytics company that tracks in-store consumer behavior and is based in Omaha, Neb. Another good time is 10 a.m. Wednesday. Weekends are the most crowded.
7. Review and compare store circulars in advance. You can find most circulars online. Checking the ads in advance allows you to make price comparisons, so you can plan where to shop ahead of time.
8. Embrace coupons. A grocer's app may allow you to automatically access electronic coupons and sale prices. And in spite of early concerns about spreading surface-borne COVID-19 from manufacturers' paper coupons, most grocers are now accepting them. (Current research shows that COVID-19 is spread primarily through the air.)
Stores may double or even triple the value of manufacturers' coupons at checkout. Certain retailers do this every day or week; others, less regularly. In the Northeast, Stop & Shop doubles manufacturers' paper coupons every day. Bi-Lo, in Georgia, North Carolina, and South Carolina, doubles coupons with a value of 60 cents or less every day, unless noted otherwise at the individual store. (At both chains, other restrictions apply.)
9. Do a pantry inventory. A four-person family could lose at least $1,500 per year on wasted food, says the Natural Resources Defense Council. Check out the organization's SaveTheFood hub for numerous tips and tools on how to reduce food waste and save money. Also, use the free FoodKeeper app from the Department of Agriculture for guidelines on how to store foods.
10. Get senior discounts. Several chains, including Bi-Lo, Harris Teeter, and Hy-Vee, offer 5 percent discounts, either on specific days or when you present a special store ID card. Fred Meyer and New Seasons Market discounts are 10 percent. In some cases, you can be as young as 55 to qualify; in other cases, you'll need to be at least 60. The discount may be available only on certain days or on select items.
11. Buy in bulk. When 10 cans of your favorite soup go on sale for $10, it's always wise to load up. And larger packages often have lower per-unit pricing. Notably, WinCo Foods, based in Boise, Idaho, has reopened its renowned, low-cost bulk barrels and bins of dried fruits, pasta, spices, snacks, legumes, nuts, candies, and other items; the store had closed them earlier in the pandemic because of health concerns.
When you buy in bulk, consider donating a portion to a local food pantry (though they prefer cash because they get bigger discounts); the pandemic has amplified the need for these organizations.
12. Barter and share. If you buy in bulk or find yourself with more of some items that you need, consider trading with neighbors and friends. Annette Economides of Scottsdale, Ariz., who with her husband, Steve, runs the website MoneySmartFamily, says she has bartered the citrus that grows on her property for food from folks she has found through a local Facebook gardening group. During the pandemic, for instance, she got a carton of eggs, which had been hard to come by, in return for oranges and rosemary that grow on her property. "It was a great deal for me," she says.
13. Track prices. For a few weeks, record prices of the items you buy the most when food shopping. You'll be able to find the best prices for specific goods and can stock up when a true price drop happens. Price-tracking also helps you see when a "10 packages for $10" sale really is a sale and not just a come-on.
14. Do the math on grocery delivery annual memberships. If you expect to use grocery delivery on a regular basis, calculate the value of an annual membership before you sign up. For instance, Instacart Express costs $99 per year; you pay no additional delivery fee if your orders cost $35 or more. Minimum order fees are $3.99 outside of Instacart Express, so you'll break even on the annual fee after 25 orders. (Over a year of use, that means you order about every two weeks.)
Alternatively, skip the delivery altogether and opt for pickup, which is typically free, though you may want to tip the person who loads your car. While Walmart's annual delivery fee is $98 after a 15-day free trial, its pickup is free and its employees do not accept tips.
15. Shop the drugstore. Convenience stores, drugstores, and even gas station mini-marts are handling an expanding variety of fresh foods since the pandemic began, and some are beating traditional grocers' prices for staples such as milk and eggs, says Heidi Chapnick, owner and CEO of Channalysis, a retail grocery and healthcare consulting company based in Mamaroneck, N.Y. But be mindful of expiration dates, she adds.
"Because some of these companies are new to selling so many different types of fresh food, their employees may have less experience and training in handling fresh products in refrigeration," Chapnick says.
Food that has outlived its expiration date can still be sold, assuming it is "wholesome and fit for consumption" and not dangerous to consumers, according to the Food and Drug Administration. So it's best to just check to see whether something you're buying has expired.
16. Look for "as is" items. The overripe bananas you'll find at a discount could be perfect for homemade banana bread. Learn where stores have their clearance sections, Economides says.
17. Grow your own. Yvette Beltran-Southwell, who lives north of Dallas, says her family grows rosemary, English thyme, two types of oregano, sage, Italian parsley, basil, and numerous other herbs to economize and reduce food waste. "I have a garden, but even when we were in a town house with limited space, I grew herbs outside in containers," she says. Homegrown plants also last longer than bunches purchased at the store and refrigerated, she says. And of course, they regenerate throughout the growing season.
18. Get creative with recipes. CR's Facebook followers have plenty of ideas for stretching their grocery dollars, especially with regard to meat. "We choose recipes that are more plant-based, with meat as a side dish," Beltran-Southwell says. "On occasion we have breakfast for dinner because it's fun and cheaper."
Linda Test's family supplements meat servings with lentils and beans, and eats vegetarian twice a week. And with dry bean prices staying steady, they're a good bet for inexpensive healthy meals.
"Beans and other legumes are linked to many health benefits, are inexpensive, and are a great alternative source of protein," says Amy Keating, RD, a registered dietitian who oversees Consumer Reports' food testing. Check other ideas for meat-based and meatless options.
19. Use your freezer right. Freezing large quantities of sale and seasonal food saves the average family of four $2,000 per year, Economides says. "Why pay $4 a pound for blueberries in winter when you can thaw the ones you bought in summer for 99 cents?" she asks. The Economideses even freeze milk and cheese. Every 30 to 60 days, they check the freezer and build menus based on what's there.
Even if you're just buying frozen fruits and vegetables, you're being kind to your pocketbook and to your health. Those products haven't changed in price from last year, Basket's data shows. And they can be as healthy as fresh.