When you shop through retailer links on our site, we may earn affiliate commissions. 100% of the fees we collect are used to support our nonprofit mission.
Learn more.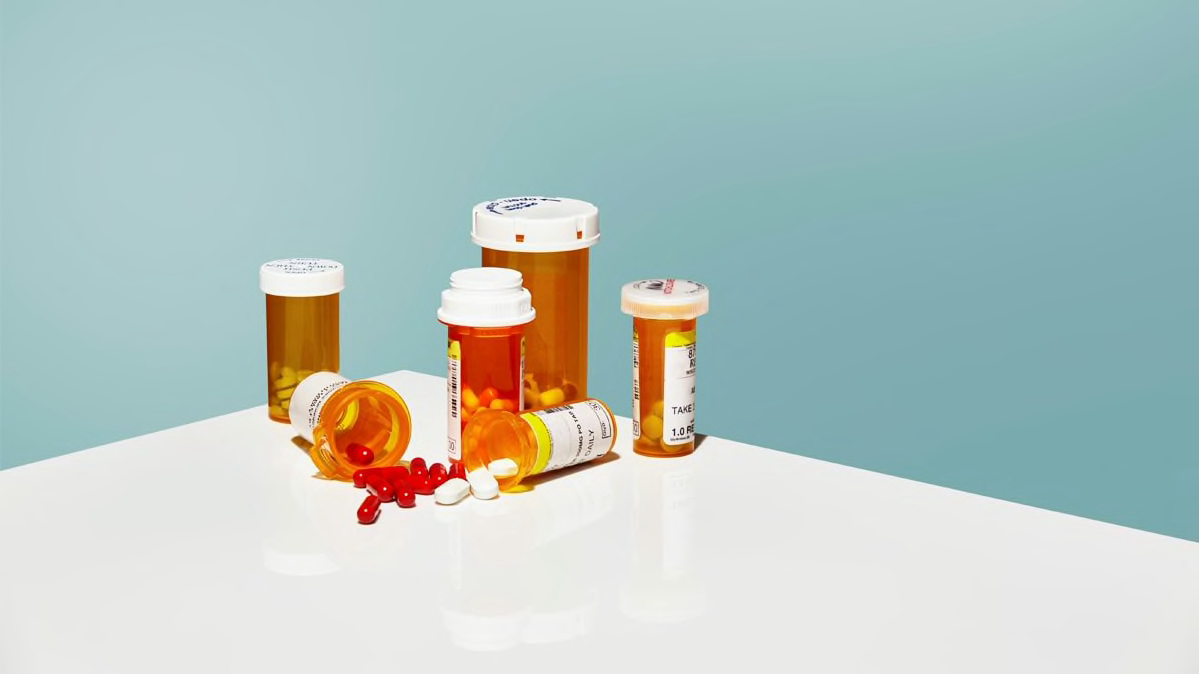 Rising medication costs have forced many people to look for ways to save money when filling prescriptions. Earlier this year, Consumer Reports' secret shoppers learned that—surprise!—purchasing a medication at retail can sometimes be less costly than it would be using your health insurance.
One way to do this is through drugstore and pharmacy discount drug programs offered by stores like Costco, RiteAid, Publix Supermarket, Sam's Club, Walgreens, and Walmart.
In fact, such drugstore discount programs may have hundreds of generics for just a few dollars for a 30-day supply, or discounts on branded drugs. Some even offer a handful of meds for free.
Nearly 4 out of every 10 Americans relied on these kind of drug discount programs last year to find savings­­­­, according to an August 2017 nationally representative Consumer Reports survey of approximately 1,200 adults who take prescription medication.
More on How to Cut Your Drug Costs
But there are a few things you need to know before you use one of these programs. For instance, if you have health insurance through your employer, or use Medicaid, Medicare Part D, or other government-sponsored insurance, you'll likely have to skip using that coverage—and pay out of pocket—to get the discounted pricing. And what you spend on medication through these discount programs won't count toward your deductible or out-of-pocket maximums.
Also, once you find a low-cost program, call or visit the pharmacy for yourself to make sure you understand all of the fine print and exactly what the pharmacy offers. And, for safety's sake, it's also it's wise to have all your prescriptions filled at that same pharmacy or chain. This helps the pharmacists keep track of the medication you take and more easily spot possible drug interactions or other problems.

One big hiccup: Programs can frequently change, or may be dropped altogether. Case in point is Kmart, which did away with their discount program at the end of 2017, in favor of "everyday low pricing." CVS and Kroger ended their programs in 2016. Instead of a formal program, CVS spokesperson Amy Lanctot told us that the chain accepts "hundreds of prescription discount cards to help consumers find the best savings."
Below is an up-to-date list of what's currently available.
What the Chains Are Offering
| | | | |
| --- | --- | --- | --- |
| Chain | Generic Prices | Membership | Bonus |
| Costco | Discounts of up to 80 percent offered on all prescription drugs if they are not covered by your insurance. | Program is free, but Costco membership is required. $60 and up annually. No membership required to fill prescriptions at the pharmacy. | Members receive discounts on branded drugs and pet medication. |
| Publix | 9 common generics offered for free; more than two dozen other drugs available for $7.50 for a three-month supply. | None. | The cholesterol-lowering drug simvastatin (generic for Zocor) is available as a low-cost med." |
| Rite Aid | Hundreds of meds offered at $9.99 for a 30-day supply; $15.99 for a 90-day supply. | Rite Aid Rx Savings Program, free. | 15 percent off select generic and brand-name drugs and select, generic oral contraceptives for $19.99 per month. Plus 50 True Metrix diabetes test strips for $17.99. |
| Sam's Club | In participating states, five generics offered for free, including the antidepressant escitalopram (generic for Lexapro) and the diabetes medication pioglitazone (generic for Actos). Hundreds of meds offered at $4 or $10 for a 30-day supply. | Plus membership: $100 annually for Sam's Club and pharmacy discount. No membership needed to use the pharmacy. | Discounts on select brand-name drugs like Flovent; and several glucose monitors and test strips are available for free. Members can also save 40 percent off generics not on the generic list. Pet prescriptions offered at a discount, too. |
| Walgreens | $5, $10, or $15 for a 30-day supply; $10, $20, or $30 for a 90-day supply. | Prescription Savings Club: $20 per individual; $35 per family annually. | A one-month supply of eight oral contraceptives for $12 to $29.99. Discounts on insulin and diabetes test strips. Save up to 20 percent on certain immunizations and 10 percent when using a Walgreens Clinic. Discounted pet meds also available. |
| Walmart | $4 for a 30-day supply; $10 for a 90-day supply. | None. | Eight oral contraceptives for $9 per month, and a bone-health drug for $9 (a 30-day supply) and $24 (a 90-day supply). |