Beef Raised With Antibiotics Still on the Menu at Most Major Fast Food Chains
Despite recent improvements from Wendy's, Applebee's, and IHOP, most fast food chains got failing grades in a report from consumer groups. Only Chipotle and Panera got top marks. Most fast food chains still serve beef raised using unnecessary antibiotics, a farming practice that's a key driver of antibiotic-resistant infections in humans. That's according to the sixth Chain Reaction Report, a project from six consumer groups including Consumer Reports. This year's report found that despite ongoing promises from some of the country's biggest food chains, little has changed since the previous report in 2019.
The report scores the top 20 fast food and fast-casual chain restaurants in the U.S. on the quality of their antibiotics policies, the steps they've taken to enact those policies, and the checks they've put in place to ensure that their beef suppliers are following their rules. Earlier Chain Reaction reports focusing on chicken helped move chains to make significant changes to their policies to reduce antibiotic use.
Though some restaurants have made incremental improvements in reducing antibiotics in their beef supply chains since 2019, the most common score by far in the 2021 report was still an F.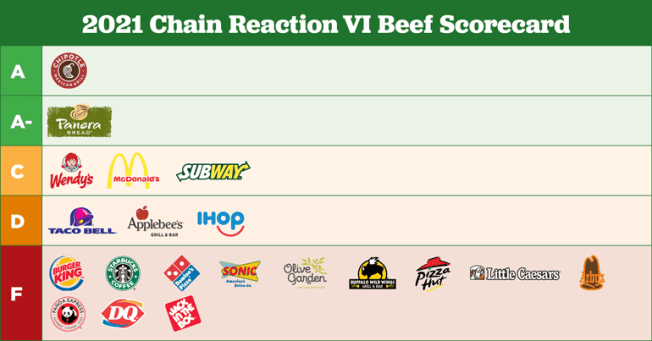 The Dangers of Overusing Antibiotics
Good stewardship of antibiotics dictates that the drugs should only be given to people or animals who need them to treat a diagnosed illness. But among animals raised for food, antibiotics are routinely added to feed and drinking water as a way to prevent disease. In the U.S., about two-thirds of all medically important antibiotics sold (meaning those used to treat disease in humans) are used in raising food animals.
The Chain Reaction report is produced annually by Consumer Reports, Natural Resources Defense Council, the Antibiotic Resistance Action Center at the Milken Institute School of Public Health at George Washington University, Food Animal Concerns Trust, U.S. Public Interest Research Group Education Fund, and Center for Food Safety.
In this year's report, many restaurants' scores remain unchanged. Chipotle and Panera again earned an A and an A-, respectively, for their high-quality policies that prohibit the use of medically important antibiotics in the beef they sell.
Twelve chains earned the same F as they did in the previous report because they've taken no public actions regarding antibiotics in their supply chains: Starbucks, Burger King, Domino's Pizza, Pizza Hut, Sonic, Olive Garden, Buffalo Wild Wings, Little Caesars, Arby's, Dairy Queen, Jack in the Box, and Panda Express.
Taco Bell retained its score of D, after reporting no progress on its goal of reducing antibiotics use in its beef supply by 25 percent by 2025. Subway maintained its C grade. It has a goal to end the use of medically important antibiotics in its supply chain by 2025, but it has taken no steps to meet that goal.
Applebee's and IHOP, which are owned by the same company, Dine Brands, bumped their scores up from an F to a D, since they now source 7 percent of the beef served in their restaurants from suppliers that use antibiotics responsibly. It's a small amount, but aside from Chipotle and Panera, the change makes them the only other restaurants in the top 20 chains to actually serve any beef produced without the use of medically important antibiotics. Neither chain has set a specific target for antibiotics reduction, however.
One notable change is for Wendy's, which raised its grade from a D+ to a C because the company committed to stopping the routine use of medically important antibiotics in its beef supply chain by the end of 2030, and committed to tracking and reporting on the use of antibiotics in its beef supply chain by the end of 2024.
Setting such a goal has been a key part of what the Chain Reaction group has asked of Wendy's and other restaurants in recent years, says Meg Bohne, Consumer Reports' associate director of campaigns. Still, ending routine antibiotic use by 2030 is a longer timeline than consumer advocates would like to see. And of course, a target is just a target. "They get the credit for a strong policy," Bohne says, "but there's been minimal implementation so far."
Finally, McDonald's score remains the same, a C, as in the previous report. In 2018, McDonald's committed to set and publicize targets for reducing antibiotics use by 2020. It didn't meet its own deadline, and has yet to announce any targets.
CR reached out to McDonald's to find out why it hasn't met its 2020 deadline for publicly announcing antibiotics reduction targets. The company told us that the COVID-19 pandemic put its efforts toward this goal on hold for more than a year, but it's currently working on setting targets.
"The lack of progress of these restaurant chains adopting policies to prevent the overuse of antibiotics is disappointing, especially considering that taking action can reduce the threat of antibiotic resistance," says Brian Ronholm, CR's director of food policy. "These companies acknowledge that this is a critical issue and some have made commitments to address it. However, their failure in following through with these commitments can potentially exacerbate the public health threat."
The Future of Antibiotics in Fast Food
In an ideal world, federal regulators would set targets for reducing the use of antibiotics in food production and implement robust tracking of both antibiotic use and bacterial resistance in farms. In the absence of such action on the part of regulators, however, the goal of the Chain Reaction report is to pressure chain restaurants, which purchase a huge portion of the beef produced in the U.S., to make changes.
"While the government actually should be taking action, we know that companies themselves can accelerate change by changing their policies on their own," says Michael Hansen, Ph.D., CR's senior scientist. He notes that restaurant companies know consumers are concerned about the use of antibiotics in food and want to be able to buy meat that was raised without antibiotics. "Fast food restaurants have tremendous market power and can help address our antibiotics crisis by requiring their beef suppliers to stop misusing these life-saving drugs," he says.
Earlier iterations of the Chain Reaction report focused on antibiotics in both beef and chicken supply chains. But major progress has been made in the chicken industry. In 2020, 52 percent of all chicken in the U.S. was produced without any antibiotics. The percentage of chicken in the U.S. now raised without medically important antibiotics is even higher, says CR's Meg Bohne.
Beef supply chains have yet to catch up. In some ways, stopping antibiotics use in cattle is more challenging, Bohne says, since cattle raised for food live much longer than chickens and endure more stress, which makes them more vulnerable to disease. Still, smaller and regional burger chains, including Shake Shack, BurgerFi, BGood, Burgerville, Burger Lounge, and Elevation Burger all manage to serve beef raised without antibiotics.
Antibiotic overuse is a clear public health threat, says FACT's Steven Roach. The good news is that we know what to do about it. "We can do better and we can save lives. But to do that we have to act," he says.
Editor's Note: This article has been updated to include a comment from McDonald's.