When you shop through retailer links on our site, we may earn affiliate commissions. 100% of the fees we collect are used to support our nonprofit mission.
Learn more.
Nervous about giving a big presentation? Your doctor might prescribe a blood pressure drug like generic propranolol to calm you. Can't sleep? You might leave the doctor's office with a prescription for generic trazodone, an antidepressant often used for insomnia. But neither drug is approved by the Food and Drug Administration to solve these problems.
Doctors routinely (and legally) prescribe drugs "off label"—that is, for conditions not approved by the FDA—for any use they see fit. Most don't tell their patients. (See our list of some drugs that are often prescribed off-label.)
The results of this practice are alarming. A recent analysis in the journal JAMA Internal Medicine revealed that more than 80 percent of off-label prescribing by doctors lacked strong scientific evidence. And patients were 54 percent more likely to experience some kind of harm as a result, compared with those taking the same drug for an approved use.
"Surprisingly, many doctors may not even realize a drug is not approved for the condition they're prescribing it for," says Lisa McGiffert, director of Consumer Reports' Safe Patient Project. "It's no wonder so many people are harmed."
Drug companies have been forbidden to promote drugs to consumers (and doctors) for non-FDA-approved uses since 1962. That's when Congress strengthened the agency's regulatory power after the thalidomide tragedy, when samples of the unapproved drug were given to pregnant women in the U.S. to treat morning sickness—leading to birth defects.
But FDA rules prohibiting advertising on TV, in magazines, and elsewhere for unapproved, off-label uses could soon change. Last November the agency held a two-day hearing to gather input on whether to give drug and medical-device companies more leeway in promoting off-label use of their products. It was prompted by two recent federal district court rulings that found truthful promoting of off-label use to be a form of protected free speech.
The pharmaceutical industry is lobbying to lift the off-label marketing ban. But a new nationally representative survey of 1,011 adults by Consumer Reports found that 84 percent of people don't want drug companies to be allowed to advertise drugs for a use that hasn't been approved by the FDA.
"Relaxing the current rules would dismantle a legal firewall that has protected Americans from false and misleading drug advertising for more than half a century," McGiffert says. "The consequences could be deadly."
Why Doctors Prescribe Medications Off-Label
One in five prescriptions is written for off-label use, according to a 2006 study in the Journal of the American Medical Association. "In some cases, that off-label prescribing makes sense," says Gordon Schiff, M.D., associate director at the Center for Patient Safety Research and Practice at Brigham and Women's Hospital in Boston.
On occasion, a new use for a drug may be supported by good evidence even though the drug hasn't been approved yet for that use, Schiff explains. For example, a recent review by the Agency for Healthcare Research and Quality found strong evidence that using the anti­seizure drug topiramate was helpful in treating alcohol dependence. And the antidepressant amitriptyline is recognized by the American College of Rheumatology as a useful therapy for fibromyalgia. Neither drug has been approved by the FDA for those uses.
Or for practical reasons, a drug may be given off-label to children, pregnant women, or the elderly even though its effectiveness hasn't been studied in those groups.
Ultimately, though, "you have to be cautious," Schiff says. "Unapproved uses are typically not as well-studied and may not bring hoped-for benefits, or may increase the risk of adverse effects."
Take the use of powerful antipsychotic drugs like aripiprazole (Abilify) and quetiapine (Seroquel). Both are approved to treat schizophrenia but may be given off-label to people in nursing homes who suffer from dementia as a way to control agitation. Analysis from the FDA shows that this off-label use ups the risk of death, most often from heart failure or an infection like pneumonia. The agency has repeatedly warned doctors about this practice. But there's no universal mechanism to stop the prescribing of any drug for any use.
What's in It for Drug Companies
Drug manufacturers and industry groups argue that easing the rules will allow them to communicate research findings about off-label drug use without going through the sometimes lengthy and expensive process of an FDA review.
"As the U.S. healthcare system evolves to become increasingly focused on value, patients, payers, and providers seek more science-based safety, effectiveness, and economic information about existing and emerging treatments for patients," says Stephen J. Ubl, president and CEO of Pharmaceutical Research and Manufacturers of America, an industry group. "The market for medicines is changing rapidly," he adds, and "the FDA's current federal regulations have not kept up."
But Nitin Damle, M.D., president of the American College of Physicians, argues that healthcare professionals don't need more information from the pharmaceutical industry. He says they already have access to reliable, nonpromotional sources of information on new research, such as peer-reviewed medical journals. And allowing drug companies to distribute off-label marketing materials to doctors or patients isn't helpful because it's likely to be biased. "Their ultimate aim is not to inform patients and providers," Damle says. "It's to sell products."
Consumers want the FDA involved. In our survey, more than three quarters of respondents said it was "extremely" or "very" important that the FDA fully vet the safety and effectiveness of medication for a particular use. A majority (83 percent) also said that when it comes to drug ads, it was "highly important" to know how well a medication could be expected to work; 86 percent said it was "highly important" that they were told of a medication's possible side effects or other risks.
Ads targeting consumers about benefits and risks can be particularly misleading. "They may overstate benefits, downplay risks, or omit information on other options," Damle says.
In fact, the AMA and other medical and consumer organizations (including Consumers Union) have called for a ban on all forms of direct-to-consumer advertising, including those for FDA-approved and off-label drug treatments.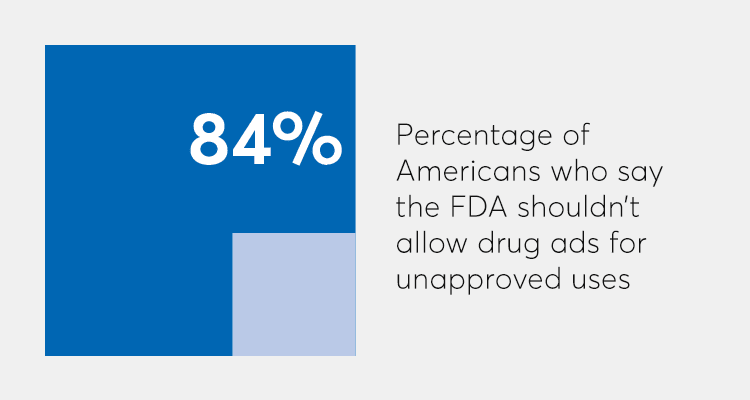 When Off-Label Promotions Are Illegal
One reason drug companies may want more freedom to market or advertise drugs for unapproved uses is to eliminate financial penalties for off-label promotions. Take Johnson & Johnson. In 2013 it agreed to pay more than $2.2 billion in criminal and civil fines to resolve charges that it illegally promoted several drugs, including the antipsychotic drug risperidone (Risperdal), approved for use by people with schizophrenia. It was also marketed to doctors for off-label use for older adults with dementia, children, and people with developmental disabilities. (No federal or medical agency routinely checks promotional claims before they appear.) Federal officials said the company knew the drug posed greater risks for those people, such as an increased risk of strokes in older adults.
In 2012 the drug company GlaxoSmithKline paid a record $3 billion and pleaded guilty to promoting the antidepressant paroxetine (Paxil) off-label to treat depression in children and adolescents, an unapproved use. The drug failed to demonstrate efficacy in patients under age 18 and was linked to dangerous side effects, including an increased risk of suicidal thoughts and behavior.
"If you can market a drug off-label for a condition, then why spend all the time and money on testing required to earn FDA approval for that use?" asks Joshua Sharfstein, M.D., an associate dean at the Johns Hopkins University Bloomberg School of Public Health and a former principal deputy commissioner of the FDA.
Sharfstein also worries that relaxing restrictions on off-label drug advertising will discourage rigorous research: "Ultimately, that will undermine everyone's access to safe, effective healthcare."
How You Can Make a Difference
When considering new medication, ask your doctor whether it has been approved for your condition, suggests Consumer Reports' medical director, Orly Avitzur, M.D. "If not, ask why he or she recommends it." Here are some other tips:
• Go to the National Institute of Health's DailyMed website, search for the drug, then click "Indications & Usage" to see whether your condition is listed.
• If it's an off-label use, ask whether good research supports using it for your condition.
• Find out whether your health insurer covers payment for off-label use. Some may require evidence of effectiveness or failure with conventional treatments, especially if the drug is expensive.
"Always make sure someone has thoroughly explained the risks and benefits of a medication to you, as well as other options," Avitzur says.
Drugs That Are Often Prescribed Off-Label
Only 6 percent of Americans say they were told that a drug they were prescribed was for a use not approved by the FDA. But research shows that one of every five prescriptions is written that way.
Drug
For an FDA-Approved Condition
For Off-Label Use
Details
Klonopin (clonazepam)
To control seizures, panic disorder
Restless leg syndrome, insomnia

There's insufficient evidence that it's effective for RLS or insomnia.


Poses a risk of birth defects during pregnancy and to breast-feeding babies.

Poses addiction risk.

Qualaquin (quinine sulfate)
Malaria
Nighttime leg cramps

Not found to relieve nighttime leg cramps.

Poses a risk of severe kidney injury and organ damage.

The FDA has issued black box warnings against using it for night cramps.

Trazodone (generic only)

Antidepressant

Insomnia

Studies show it aids sleep for those with depression.

But a black box warning says it increases suicidal thinking in children, teens, and young adults.

Seroquel (quetiapine)
Schizophrenia, bipolar disorder
Dementia

Studies show it offers little help controlling agitation in elderly people with dementia.

There's strong evidence that it increases the risk of death for them.

The FDA has issued black box warnings about its use by people with dementia.

Propranolol (generic only)
High blood pressure
Stagefright

It helps maintain a steady heartbeat to blunt anxiety, but there's no strong evidence that it combats stage fright.


People report feeling less nervous physically (no racing heart, dry mouth, etc.), but it doesn't stop fearful thoughts.
Speak Up in Defense of Your Safety
Last November, in a bid to urge the Food and Drug Administration to maintain its restrictions on off-label advertising, Doris Peter, Ph.D., director of the Health Ratings Center at Consumer Reports, shared the results of our survey of more than 1,000 U.S. adults. It revealed that most respondents didn't want drug companies to advertise medications for off-label uses.
In addition, through our Safe Patient Project, CR included the testimony of three consumers whose family members had suffered severe or permanent injury or death as a result of off-label prescriptions.
Want your opinion to be heard on the practice of off-label prescribing and the relaxing of rules for advertising these drugs? Tell the FDA that lifting the ban on drug ads for treatments that haven't been tested and approved by regulators could expose consumers to risky, ineffective, or unsafe treatments.
Sign our petition, and we will deliver it to the FDA in Washington, D.C., on Apr. 9, 2017.
Editor's Note: This article also appeared in the February 2017 issue of Consumer Reports magazine.
These materials were made possible by a grant from the state Attorney General Consumer and Prescriber Education Grant Program, which is funded by a multistate settlement of consumer fraud claims regarding the marketing of the prescription drug Neurontin (gabapentin).