Best Electric Bikes From Consumer Reports' Tests
A little bit of help from an electric motor is attracting more people to e-bikes and bicycling
When you shop through retailer links on our site, we may earn affiliate commissions. 100% of the fees we collect are used to support our nonprofit mission. Learn more. Electric bikes are more popular than ever. Retail sales were $770 million in 2021 compared with $550 million in 2020—a 38 percent increase, according to NPD Group, a market research company. 
And no wonder. E-bikes make riding easier, and arguably more fun for many, serving as a healthy recreational outlet and frugal means of transportation. With many people looking for the best electric bike for their needs and budget, Consumer Reports bought 11 new bicycles to test this fall. Along with the findings from our previous evaluations, shoppers now have our expert guidance on 16 models, including our picks for the best electric bikes. CR's e-bike ratings are based on each model's range, comfort, and overall usability.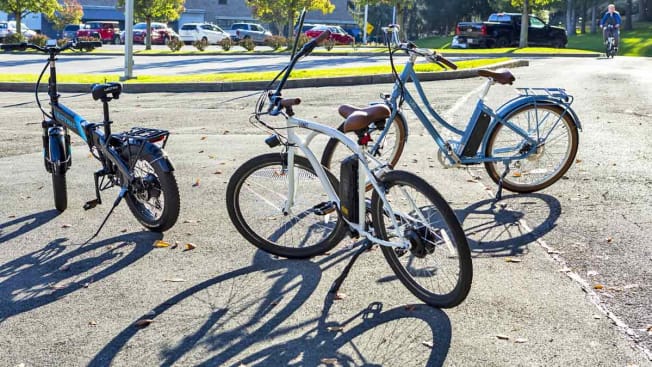 Class 1 includes pedal-assist bikes, which power the electric motor as your foot applies pressure to the pedal. There's no throttle control on the handlebar to get the bike going; the electric part works only when the rider is pedaling, and the e-assist cuts off at speeds above 20 mph.
Class 2 bikes also have an electric motor that works up to 20 mph, either while the rider is pedaling (pedal-assist) or with electric propulsion alone, via a throttle control. 
Class 3 limits an e-bike's top speed to 28 mph. These faster, powered models might not be legal to ride in some areas, such as on bike paths.
Of the 16 e-bike models CR tested, seven were in the Class 1 category and nine were in Class 2. We did not test any in Class 3. The prices ranged from $600 to $4,000. The highest-rated e-bikes were also the most expensive we tested, although none was anywhere near the $6,000 to $7,000 high end of the price range consumers are likely to encounter at bike shops. More selectable gears made for a better riding experience once the battery was drained and pedaling provided the only motive power. Single-speed bikes aren't as versatile. Depending on the model, electric assist was applied either at the hub of the rear wheel or in what's called a mid-drive, in which power is applied at the bottom bracket, where the pedals are located.
"Electric bikes tend to be more expensive than conventional bicycles, so most people will probably want a good all-arounder," says Bernie Deitrick, the engineer who leads CR's e-bike testing program. "We especially liked the mid-drive models that apply electric power where there would normally only be pedals. That setup, plus a bunch of gears to choose from, made for a bike that was almost as good without electric assist as with it. But for pure fun, it's hard to beat a Class 2 electric bike. Without needing to shift gears, their throttle controls and acceleration ability make them exciting to ride."
The full ratings from our latest e-bike evaluations are available to Consumer Reports members. Below, we have listed the three highest-rated models from our testing program.
Become a member to read the full article and get access to digital ratings.
We investigate, research, and test so you can choose with confidence.