We Tested 5 Electric Bikes. Here's What We Found.
Even the least expensive e-bike CR tested provides a speedy, eco-friendly way to get around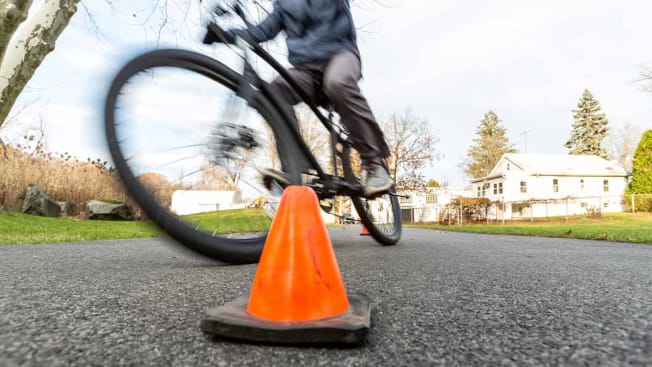 You're cycling along a smooth, flat road, and suddenly a large hill appears before you.
If you're on a regular bicycle, you take a deep breath, downshift, and start pedaling hard. But if you're on an electric bike, you can just relax: Either the pedal assist will kick in automatically, helping you to glide uphill, or you'll activate the throttle for a quick boost. Either way, you can reach the top of the hill without breaking a sweat.
For many people, "there are certain barriers to cycling: The distances are too far, it takes too long, it can be hard going up hills," says John MacArthur, principal investigator for electric bicycle research initiatives at the Transportation Research and Education Center at Portland State University in Oregon. "Once you put a battery onto a bike, it breaks down a lot of those barriers."
It's little wonder then, that the popularity of electric bikes has soared. (Read about the new features on electric bikes from Specialized.)
Sales of e-bikes in the U.S. grew more than eightfold between 2014 and 2017, according to NPD Group, a market research firm. But the number of people in the U.S. who use e-bikes is still quite small—especially compared with the product's massive popularity in China and parts of Europe.
Think an electric bike might be right for you? CR put five very different models to the test. (Skip to the results below.)
Here's what you need to know if you're thinking about buying an e-bike—including the safety considerations—along with details about our testing program and our findings.
Electric Bikes: The Basics
Before you buy an e-bike, the first thing you should figure out is whether it's legal to ride one where you live. Until recently, the laws governing the use of e-bikes were different in almost every state, says Morgan Lommele, the director of state and local policy at People for Bikes, a bicycling industry group.
People for Bikes has been lobbying state legislators across the country to enact uniform regulations governing the use of e-bikes. For now, your best bet is to look up the laws that apply to where you live in the group's state-by-state guide.
For our tests, all riders used each bike equally to average out any differences in performance due to weight, riding level, and style. We did not evaluate the built-in computer that comes with many e-bikes—generally to track speed and distance—but we do mention which models have one.
Here's how to understand each of the features we rated.
Range
We fully charged the bikes' batteries, and then rode a hilly loop course on our test grounds at CR's headquarters. We maximized the assistance provided by the motors, and the loop included stops and starts, full-speed stretches, U-turns, a long uphill, and a sharp downhill. The score for this test is based on the number of miles each bike covered before the battery was depleted.
Acceleration
We timed the bikes on a set course, starting from a standstill and accelerating to the highest speed.
Braking
We measured the distance required to come to a stop from the highest attainable speed under assistance or throttle.
Hill Climb
We timed each bike as it climbed a short, steep hill.
Control Response
We judged how quickly each bike disengaged assistance when the rider stopped pedaling—an important safety feature.

Unassisted Hill Climb
A judgment of how easy it was to climb hills without pedal assistance or throttle, based on the lowest gear ratio available.
Unassisted Cruising
A judgment of how easy it was to cruise at the highest speed without the pedal assistance or throttle, based on the highest gear ratio available.
The Results of CR's Electric Bike Tests
We tested five models that included a variety of features, at prices ranging from $600 to $2,600.
These are all regulated as either Class 1 (where the assist is activated by your pedaling and gets you up to 20 mph) or Class 2 (where the assist is activated by a throttle and gets you up to a maximum of 20 mph). We did not test any Class 3 bikes, which have top speeds of 28 mph.
These five models can't be seen as representative of the entire electric bike market, but they do provide a snapshot of the wide variety of e-bikes at the lower end of the market.
The e-bikes are presented in alphabetical order. Each is rated on several features, but there is no Overall Score.
Electra Townie Go! 7D!
Price: $1,500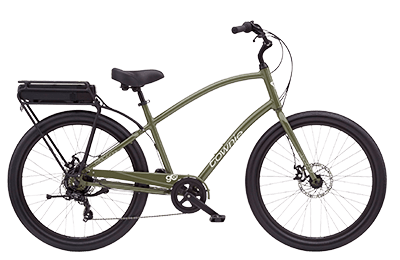 Throttle: No
Computer speed/distance: No
Assist levels: 3
Gears: 7
Motor: Hub
Seat type: Cruiser saddle
Headlight: No
Battery amp-hours: 8.6
Removable battery: Yes
CR'S TAKE:
This cruiser-style, pedal-assist bike has excellent braking, and its rear derailleur makes for smooth, comfortable riding. It has three levels of assistance and a twist-style shifter to change among the seven gears. These features make this bike a very good hill climber, with or without the pedal assist turned on. It doesn't come with a computer, lights, or fenders—the latter of which may be especially missed by commuters facing wet weather. (A bike shop can generally add fenders and lights for an additional charge.) Though the Electra's makers say it's designed to make it easy to hold the bike upright when stopped, shorter riders should definitely try this one before buying, because it has a relatively tall frame.
Jetson Adventure
Price: $1,300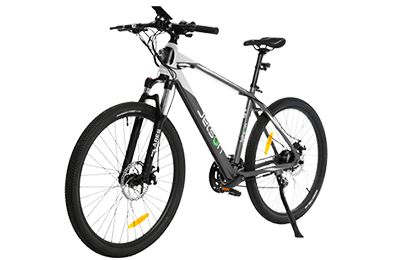 Throttle: No
Computer speed/distance: Yes
Assist levels: 9
Gears: 21
Motor: Hub
Seat type: Sport
Headlight: Yes
Battery amp-hours: 7.8
Removable battery: No
CR'S TAKE:
This off-road style, pedal-assist bike comes with front and rear derailleurs, nine levels of assistance, and 21 gears. Its small battery means the Jetson looks the least like an electric bike among those we tested. Be prepared to ride with a forward-leaning posture on this narrow, sport-style seat. The Jetson Adventure handles well, has very good braking, and comes with a computer as well as powered front and rear lights. The best part? If you run out of power, this is still a great, versatile bike—the only one we tested that we earned Excellent ratings in both unassisted hill climbing and unassisted cruising. At about 40 pounds, it was also the lightest e-bike we tested.
Nakto Fashion
Price: $600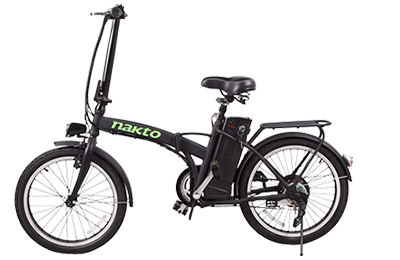 Throttle: Yes
Computer speed/distance: No
Assist levels: 1
Gears: 21
Motor: Hub
Seat type: Comfort saddle
Headlight: Yes
Battery amp-hours: 10
Removable battery: Yes
CR'S TAKE:
The least expensive bike we tested by far, the single-gear, foldable Nakto comes with one level of pedal assistance as well as a throttle. While the other bikes we tested can go up to 20 mph, this one tops out at 15.5 mph. You can accelerate quickly using the throttle, but it's a little shaky at high speeds. It may take a while to get used to the Nakto's small (20-inch) wheels and upright style, but it handles well. Though it also braked well in our tests, it has a rim brake in the front and a drum brake in the back, so it may not stop as quickly in wet weather. And don't plan on riding long with a dead battery—unassisted, hills and even simple cruising were difficult (though not impossible). The Nakto comes with a powered headlight and fenders.
RadRunner Electric Utility Bike
Price: $1,300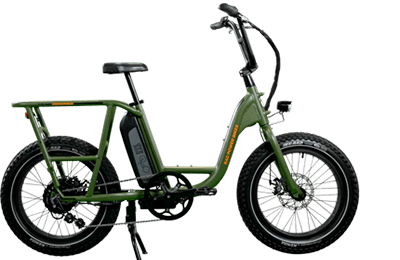 Throttle: Yes
Computer speed/distance: No
Assist levels: 4
Gears: 1
Motor: Hub
Seat type: Flat
Headlight: Yes
Battery amp-hours: 14.0
Removable battery: Yes
CR'S TAKE:
This low-to-the-ground bike has small (20-inch), knobby tires that are puncture-resistant. While that may be appealing to off-road riders, its lack of suspension could make for a bumpy ride. The RadRunner has only one gear but offers four levels of pedal assistance as well as a throttle that allows for very quick acceleration. It also has very responsive front and rear disc brakes. Its seat is at a fixed angle that might not be comfortable for all riders. The bike comes with a powered light, a brake light, and a kickstand, and it's easily customizable with add-ons, such as a rear seat for passengers. Its upright position and small wheels take
some getting used to
, but this bike handles well—as long as the e-assist is on. Without it, this is a very poor single-speed bike. If you run out of power, you may find climbing hills almost impossible.
Raleigh Retroglide Royale 2.0 iE Step Over
Price: $2,600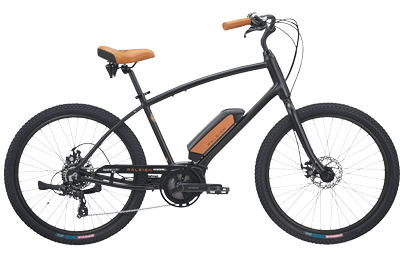 Throttle: No
Computer speed/distance: Yes
Assist levels: 4
Gears: 8
Motor: Midmount
Seat type: Cruiser saddle
Headlight: No
Battery amp-hours: 10
Removable battery: Yes
CR'S TAKE:
This was the only middrive model in our tests, and its large battery lasted for miles longer than any other bike on our hilly course. The performance of this style of bike is contingent on choosing the correct gearing, so be sure to switch to lower gears when accelerating or climbing hills. Otherwise, you'll miss out on the full power of the assist. The Raleigh was the most expensive bike in our tests, and also the only model that had hydraulic disc brakes, which were more responsive (by a small margin) than any other braking system we evaluated. Its swept-back handlebars, however, felt less supportive to our test riders during hard braking than the flatter handlebars in other models. Overall, this bike offers a comfortable, relaxed ride—even when the battery runs out of juice—and it comes with fenders, a computer, and a cup holder (though no lights).
Update:
Though the model we tested isn't available for sale anymore, the
Retroglide 2.0 IE
is similar—and cheaper at $2,150. It doesn't have fenders (the Royale version does), has a smaller battery, and includes some different hardware, but our testers expect it would perform similarly.