When you shop through retailer links on our site, we may earn affiliate commissions. 100% of the fees we collect are used to support our nonprofit mission.
Learn more.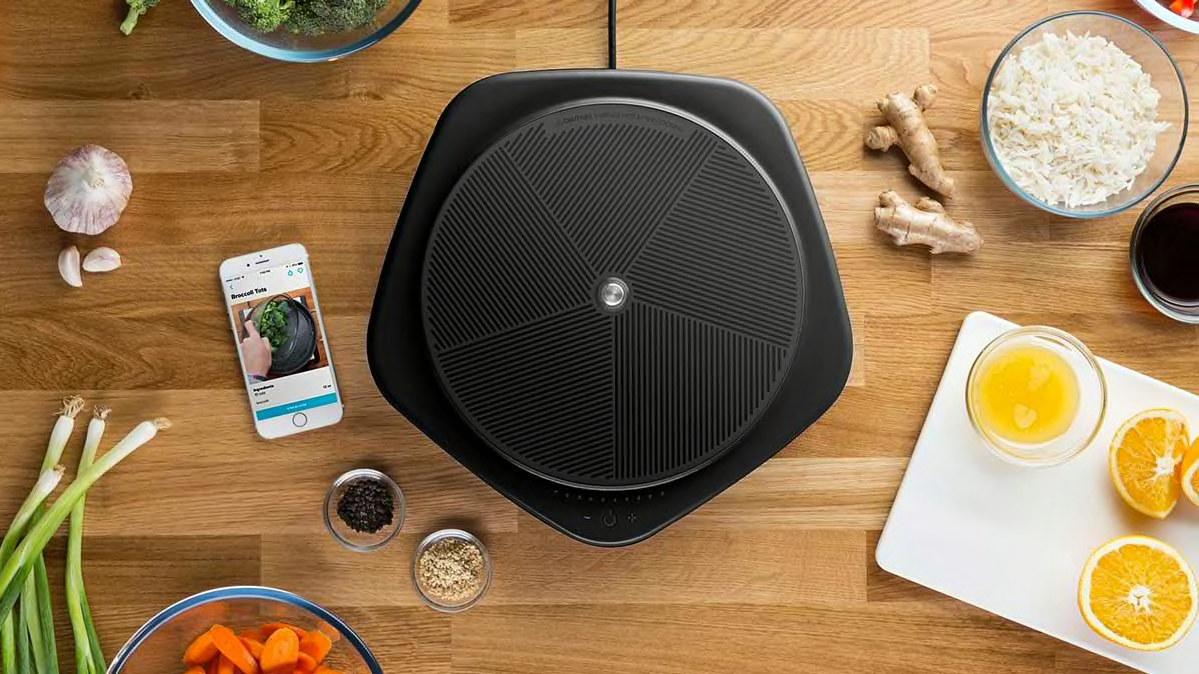 If Americans aren't quite ready to embrace induction technology in their ranges and cooktops, standalone induction burners like the Tasty One Top may warm them to the idea.
In Consumer Reports testing, induction ranges and cooktops routinely outperform their gas and radiant electric counterparts, with some models scoring a perfect 100. "But despite all the advantages, induction ranges account for only about 5 percent of all ranges sold in the United States," says Claudette Ennis, the CR market analyst who tracks the cooking market.
Standalone induction burners plug directly into a standard outlet and promise the best of both worlds: You get to keep your familiar gas or electric stove and use a single burner when you want the precise control of induction.
The Tasty One Top, $149, is one of the newest iterations of these burners, and more. It works with a partner app that draws content from the Tasty app (iOS only) that features recipes and video how-to guides. With the app you can cook a handful of recipes, with your iPhone doubling as your sous-chef. The burner has a built-in thermometer and communicates with the app to prompt you to flip steaks or stir caramelizing sugar, based on programmed time and temperature settings.
So how does the burner perform? And does the app deliver on its promise of making cooking easier? To answer those questions, we used the Tasty One Top to boil water and simmer tomato sauce, and we also tested it with several of the built-in recipes and on several different functions—searing and sous vide cooking among them. Here's what we found in our cooking lab.
Simmering and Boiling
Before we tested the Tasty One Top's built-in recipes, we wanted to see how it performs compared with a traditional induction burner on a range. The Tasty One Top operates between 850 and 1,500 watts. That puts it in line with modestly powered electric burners but still a far cry from the 2,000-plus-watt burners you'll find on the newest induction ranges. Other standalone induction burners we've evaluated typically max out around 1,300 watts.
As a result, it takes about twice as long to boil water as the best induction burners you'll find on a range or cooktop. That's not far off from how long many gas ranges take to boil water—yes, gas is slower to boil than induction. But for simmering, the Tasty One Top is a rock star. It maintains precise, steady temperatures, keeping tomato sauce just below a boil, which is what you want for a long, slow simmer to allow the sauce to reduce without scorching.
In addition to using the Tasty One Top to boil water and simmer tomato sauce, we tested it with several of the built-in recipes and on several different functions—searing and sous vide cooking among them.
Cooking Meat
The One Top has an integrated meat thermometer, which you insert in food during cooking. It displays the temperature on your iPhone in real time and tells you when to turn food. That feature sets the One Top apart from other freestanding induction burners. We tested it when cooking a rib-eye steak, which we prepared following the directions in the Tasty app.
When you select a recipe from the app, a video prompts you to follow a series of steps. It starts with an excellent demonstration of properly placing the built-in thermometer, shows you how to preheat the pan, then prompts you when it's time to add the steak.
Following along on the app, we cooked the steak for 2 minutes on each side as instructed. While the timer worked throughout the cooking process, the steak's internal temperature stopped displaying. We flipped the steak after 2 minutes, as prompted, but at the end of the 4-minute cooking time, we found the steak to be overcooked. (We had selected medium-rare.)
The experience led our testers to conclude that the burner itself did a fine job, but the app led us astray. We would have been better off ignoring the app and using a regular meat thermometer.
Cooking Fish
Here we found that the Tasty One Top got hot enough to really sear the fish and crisp the skin, and following the prompts yielded an excellent result: The fillet was crisp on the outside without overcooking the inside. The thermometer updated the temperature on our iPhone in real time and prompted us to turn the fillet at just the right moment.
This excellent result led our testers to believe that the problems we experienced with the rib-eye steak may be unique to that recipe. Still, the number of compatible recipes in the Tasty app is limited, and you'd want them all to work flawlessly.
Sous Vide
Because induction uses electromagnetic pulses, not heat, to warm a pan, it lends itself very well to delicate cooking tasks such as melting chocolate or even cooking sous-vide-style—the French term for vacuum-sealing food and poaching it to perfection over time in a hot water bath. The Tasty One Top aced our sous vide test, holding the temperature of a hot water bath at 140° F for 2 hours with little deviation.
In this case, the Tasty One Top is more versatile than an induction burner on a range because the app allows you to program in a specific temperature for a sous vide water bath—the built-in thermometer monitors the water temperature and automatically adjusts the burner output to hold the temperature steady.
The Bottom Line
The burner. Absent its partner app, we think the Tasty One Top is a capable freestanding induction burner, albeit an expensive one. It holds a perfectly steady simmer, maintains steady temperatures, and heats faster than a traditional hotplate. That said, don't expect it to boil water any faster than a stove, and know that it will take quite a bit longer than the burners on an induction range. If you can live without the app, we'd suggest considering the NuWave Induction Burner, $70. It's less than half the price and comes with a free induction-compatible frying pan.
The app. The Tasty One Top's app is both its biggest selling point and, according to CR tests, its biggest limitation because it falls short of its promised versatility. In addition to technical problems with the app—on multiple occasions it stopped communicating with the thermometer or failed to advance to the next step in a video recipe—it also lacks a broad collection of recipes. At the time of testing, our app offered integrated walk-throughs for just 31 recipes.
Additionally, basic foods (such as chicken breast) can be prepared following a video walk-through, but the cook is left on his own to make an accompanying sauce. (And everybody knows it's all about the sauce.) For these reasons, we think folks are better served buying a standalone induction burner and an instant-read meat thermometer.
And, who knows, once you're comfortable using induction, you might just consider it for your next range.