When you shop through retailer links on our site, we may earn affiliate commissions. 100% of the fees we collect are used to support our nonprofit mission.
Learn more.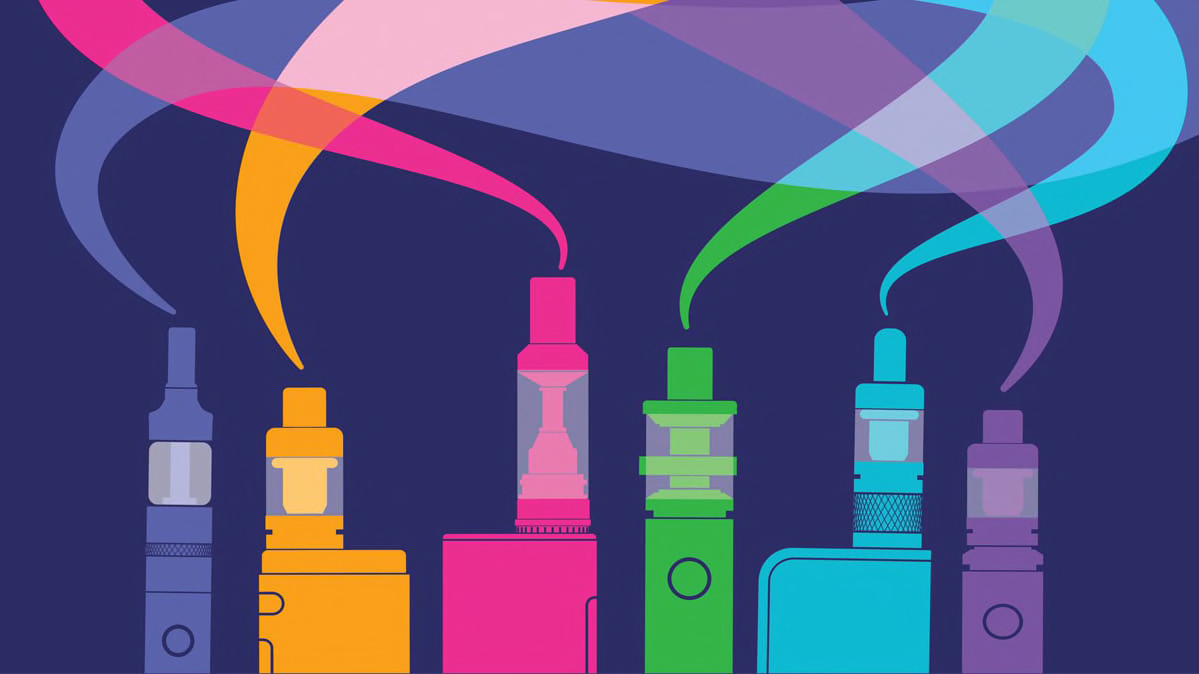 From 2017 to 2018, the number of middle and high school students who said they had used a tobacco product within the previous 30 days rose by 38.3 percent, according to a new report from the Centers for Disease Control and Prevention.
Cigarette smoking rates have remained flat among teens; the sharp increase was driven by surging rates of e-cigarette use, with 1.5 million more students reporting vaping (in the past 30 days) in 2018 than in 2017, according to the report.
In that one year, the share of high schoolers using e-cigarettes grew from 11.7 percent to 20.8 percent; use among middle schoolers grew from 3.3 percent to 4.9 percent.
"The skyrocketing growth of young people's e-cigarette use over the past year threatens to erase progress made in reducing youth tobacco use," CDC Director Robert R. Redfield, M.D., said in a statement. "It's putting a new generation at risk for nicotine addiction."
FDA Commissioner Scott Gottlieb, who has taken steps to ramp up enforcement of the growing e-cigarette industry, released a statement about the new numbers that called teen vaping "an exploding epidemic."
Experts—including the American Academy of Pediatrics—have expressed concerns about the addictive nature of e-cigarettes and the potentially adverse health effects of their ingredients.
"As young people become addicted to nicotine, they are more likely to become users of other tobacco products as well," says Jonathan Klein, M.D., M.P.H., a professor of pediatrics at the University of Illinois at Chicago.
E-cigarette vapor also has harmful effects on the respiratory system, he says, adding that "nicotine is not just addictive, it's toxic"—with links to increased risks of cardiovascular problems and cancer, as well as worrisome effects on the developing brain.
The Rapid Rise of E-Cigarettes
In 2011, just 1.5 percent of high schoolers—about 220,000 teens in total—said they were current e-cigarette users. By 2018, that number was up to 3.05 million high schoolers, as the FDA and CDC announced when they first released data from last fall's 2018 National Youth Tobacco Survey by the CDC, FDA, Office on Smoking and Health, and Center for Tobacco Products.
The rapid rise in teen use has been paralleled by the rise of popular e-cigarette brands such as Juul, the most commonly sold e-cigarette in the U.S., according to the CDC report. In particular, Gottlieb says that kids have been attracted to the flavored nicotine pods sold by Juul and other companies, which he says kids are buying both from stores and online.
"We are committed to fighting underage use of vaping products, including Juul products," Victoria Davis, a Juul Labs spokesperson, said in a statement. "Our mission is to eliminate cigarettes by offering existing adult smokers a true alternative to combustible cigarettes."
Since CDC numbers on youth e-cig usage were first released in September, the company has "stopped the sale of flavored Juul pods to retail stores, enhanced our online age-verification, and are continuously working to remove inappropriate third-party social media content," according to the statement.
Despite steps taken so far, the FDA expects that underage use of the products will continue to rise.
"Based on a growing body of evidence, I fear the youth trends will continue in 2019, forcing us to make some tough decisions about the regulatory status of e-cigarettes," Gottlieb said in his statement. "The signs that we're seeing are not encouraging."
To reverse this trend, Klein says that the minimum age for tobacco purchases should be raised to 21 from 18—something Davis says Juul supports—and that the FDA should end the sale of flavored e-cigarette products entirely. (The FDA has said these products can remain on the market until 2022 while companies apply for new authorization, though Gottlieb said in his statement that the agency may take additional steps sooner because of the new data.)
"We need to have done something about this two years ago," Klein says. "Absent that, we need to do something right now."
Growing Health Concerns
E-cigarette manufacturers say that their products are intended to help adults stop smoking, and there is evidence that they are in many ways less harmful than traditional cigarettes, according to a report released in January of 2018 by the National Academies of Sciences, Engineering, and Medicine. But they are not risk-free.
Part of the concern with e-cigarettes is that use by young people could lead to more nicotine use and later smoking, because young brains are particularly susceptible to addiction.
There's debate about how much of a smoking "gateway" effect there might be from e-cigarettes. But there is more and more data that suggest that kids who use e-cigarettes are indeed more likely to smoke.
The 2018 report from the National Academies concluded that there was "substantial evidence" that e-cigarette use increased risk for cigarette use. And a nationally representative youth study published in the journal JAMA Network Open on Feb. 1 found that youths who tried e-cigarettes were more than four times more likely to try smoking later, compared with those who abstained. The authors estimated that 15.3 percent of current U.S. youth cigarette use could be attributed to e-cigarette use.
Still, experts including David Abrams, a behavioral and population health researcher who studies tobacco control at New York University, have told CR that the kids using e-cigarettes are the ones most likely to try other harmful behaviors like smoking in the first place—making it difficult to prove a causal effect between trying e-cigs first and regular cigarettes later.
Whether or not trying e-cigarettes increases the risk for smoking, there are other health risks associated with vaping. Regular nicotine use has been linked to an increased risk of heart disease and stroke, something that becomes a concern if people develop a lifelong addiction as children. E-cigarettes also expose users to toxic heavy metals and cancer-causing chemicals, though usually at lower levels than traditional cigarettes, according to the National Academies report.
Plus, there have been rare but serious cases of poorly made products exploding.
While these products may help adults stop smoking, the safest course for kids and teens is to not use them, experts say. The American Academy of Pediatrics suggests parents talk to their children about e-cigarette use to help make sure they understand the associated risks.