Apple Announces iOS 16, M2 MacBooks at WWDC 2022
Users will be able to unsend and edit messages, replace some passwords with "passkeys," and use a new macOS feature to manage open apps on crowded laptop displays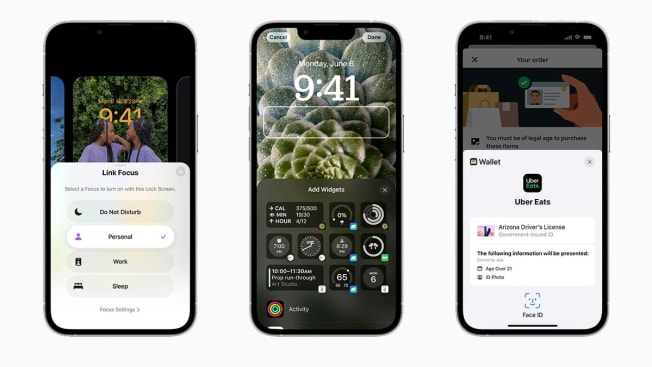 Consumers can expect a string of improvements to the software that runs their iPhone and other Apple devices this fall. The updates will include major changes to the way the iPhone's lock screen presents useful information at a glance.
Apple announced the updates during the keynote address of its annual Worldwide Developers Conference, better known as the WWDC. The keynote address was led by CEO Tim Cook and featured other well-known executives, including Craig Federighi, who leads software development, and Kevin Lynch, who leads Apple Watch development.
A limited live audience of developers and reporters was present for the first time since the COVID-19 pandemic began.
iOS 16, iPadOS 16, and watchOS 9
The headline feature for the next version of iOS 16 is a major change to the way the lock screen displays relevant information, like the weather and whatever music the phone is playing. Users will be able to customize the look of select elements on the lock screen, too, including the font and color used by the date and time.
Apple is also revamping the way notifications work in iOS 16. Notifications now roll up from the bottom of the screen, and a new type of notification, called Live Activities, makes it easier to follow ongoing events such as a live sports event or an incoming Uber ride.
Other enhancements will allow users to edit and undo-send messages sent using the Messages app, pay for large purchases made with Apple Pay in installments, and set multistop trip routes in the Maps app.
Apple also introduced a mechanism called Safety Check that can help people in abusive relationships by signing them out of all devices (not including the one being used to reset access) and stopping the sharing of their location. Apple also previewed a major revamp of CarPlay, expected in late 2023, that would place Apple-designed user interface elements throughout the dashboard of the car and not just on the infotainment screen.
While many of the improvements to iOS 16 will carry over to iPadOS 16, Apple placed a special emphasis on enhancing the iPad's ability to be a productivity-focused device. One new app, called Freeform, is effectively a whiteboard app where users can write down and share notes in real time. App windows in iPadOS 16 can be resized and moved around like in macOS. Apple also enhanced the ability to use an external display with an iPad, with users now able to drag and drop files between windows spread across the displays.
WatchOS, which powers the Apple Watch, saw more modest updates, primarily centered around fitness tracking. For example, the Workout app will now keep track of your heart rate zones, so you can see at a glance if you're above or below your target zone. The app can also record outdoor run or cycling routes, so you can try to beat your previous time more easily.
The Workout app is also being made available for the iPhone for the first time, with the device's sensors estimating metrics like calories burned.
macOS 13 Ventura and M2-based MacBook Air
MacOS 13 Ventura includes a handful of updates to some of macOS's core apps like Mail, Safari, and Messages, and improvements to the way users manage multitasking.
One of the bigger new features, called Stage Manager, handles how users switch among multiple apps. Once activated, Stage Manager will place icons of all your background apps on the left side of your screen with the currently open app placed front and center. It's basically a spiffed-up version of alt-tabbing among different apps.
Mail, Safari, and Messages all see useful improvements. With Mail, for example, you can now undo just-sent email messages as well as schedule emails to be sent later. Apple also claims the built-in search has been improved, and will now turn up results in real time while you type into the search box. In Safari, users will be able to use what Apple is calling "passkeys," which are a biometric (here, using Touch ID) form of authentication to sign in to websites. The company says it's more secure than relying on passwords. And like its iOS counterpart, the macOS version of Messages will also support editing sent messages.
MacOS 16 will also support using your iPhone as a webcam.
As for the newly announced Macs, Apple says the M2-powered MacBook Air, which sees the return of the MagSafe power connector, is roughly 20 percent more powerful than the M1 version.
Apple claims this updated MacBook Air can last 18 hours on a single battery charge while watching video, which is roughly in line with the company's estimates for the M1-based MacBook Air. (Our own battery tests found battery life to be a little bit less than that.) The updated MacBook Air will also be available in four colors: silver, gray, gold, and a deep "midnight" blue.
The 13-inch MacBook Pro retains the Touch Bar at the top of the keyboard.