Choosing the Best Soundbar
A quick look at our TV ratings will show that while many TVs these days offer great picture quality, that's not as true for sound. Only about 80 of the 200-plus televisions in our TV ratings can deliver satisfying sound quality. You'll notice the shortcomings the most if you're watching a movie or TV show with a dramatic soundtrack. 
One great—and increasingly popular—option is to add a soundbar speaker. A soundbar has several speakers and the electronics to power them in one thin enclosure that you connect to your TV, with no need for a receiver. Some have a separate subwoofer, usually wireless, and a few have rear speakers to create a full surround-sound system.
Most soundbars are mounted on a wall or placed on a shelf above or below the TV. There are also pedestal-style soundbars called sound bases that your TV can sit on.
Soundbar speakers are found in a wide range of prices. You can spend as little as $100 or more than $1,000. Many sell for between $200 and $600.
Bar Crawl: Soundbar Types
Here's an important note for CR members, who can access all our ratings. In our ratings, a soundbar speaker is held to a higher standard than a TV for audio quality. We judge them more like speakers designed for listening to music. That means a soundbar with a Good rating for sound will sound better than a TV with a Good rating. 
Note that many less expensive soundbars have less power and fewer features than a component audio system, so they're not the best choice for a very large room, nor for audiophiles craving a theaterlike experience. Many inexpensive soundbars can be great if you have a small or medium space and want a simple way to enhance your TV's sound. But there are also some newer, pricier models that have enough power to fill even a larger room.
One other thing to consider: Do you want the ability to use your voice to control the speaker? Many soundbars are now smart speakers that can respond to voice commands to raise the volume, change inputs, and sometimes control a TV or other smart devices in your home. Some come with popular voice systems, such as Amazon Alexa, Apple HomeKit (with Siri), or Google Assistant built in, and others require the use of another voice-enabled smart speaker to respond to voice commands.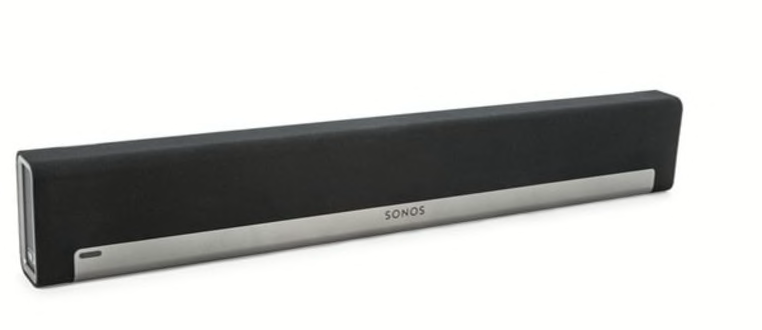 Soundbars
Most soundbar speakers are about 30 inches or longer, and can be mounted on the wall or placed on a shelf above or below a TV. Some models, often from the same brand as your TV, are designed to fit between the TV's legs. For larger TVs, consider a longer model for a wider stereo image (the spatial location of the sound). For smaller TVs, consider one that's no wider than the screen.
Soundbars can have anywhere from two to five or more speakers in the main enclosure. Some have drivers that angle outward toward the sides of the room, or that are located on the sides of the bar, to create a broader sound environment. Models that support Dolby Atmos or DTS:X 3D audio typically also have upfiring speakers to create a sense of height. Many soundbars come with a wireless subwoofer that you can put almost anywhere in a room, even out of sight. Some also have, or let you add, rear satellite speakers.
Soundbars Ratings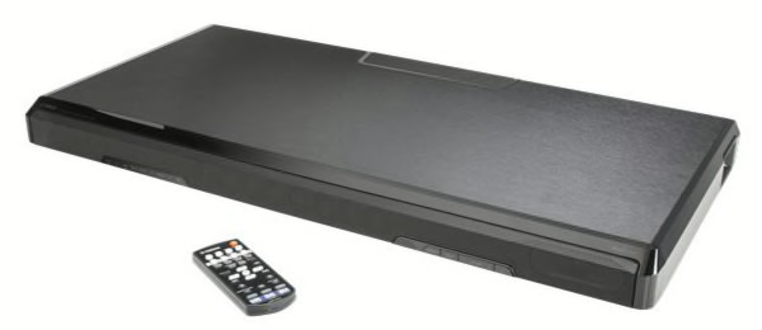 Sound Bases
If your space is limited, consider a sound base that will sit underneath the TV. However, there are far fewer of these models to choose from.
With sound bases, you don't have to worry about placement or deal with mounting the device on a wall. Just make sure the sound base can support the weight of your set if you plan to put your TV on top of it. Also make sure it's wide and deep enough for the TV's base or legs. (Some soundbars may be slim enough to sit underneath a TV if its legs are at the edges of the screen.) 
Sound bases also have speaker arrays, but most have built-in subwoofers rather than separate ones. To be clear, we rate sound bases alongside soundbars—the two are close siblings.
Soundbars Ratings
Bar Exam: How to Evaluate a Soundbar
Try them out. Soundbars with similar scores in our ratings for sound quality are likely to sound different from each other because of the way they handle various frequencies and how they interact with the acoustics in your room. Audition soundbars in the store if you can, and ask about returns and exchanges if the one you buy doesn't suit you once you get it home.
Decide how many channels you want. If you simply want to enhance your TV sound, a soundbar with 2.1 channels (two front channels and a separate subwoofer) could be enough. If you want true surround sound, buy a soundbar with a subwoofer and rear speakers—preferably wireless—for multichannel sound. Some new models include Dolby Atmos, a newer immersive sound technology that adds the element of height to speaker systems. With soundbar speaker systems, this is usually accomplished by having upfiring drivers in the main enclosure, and sometimes also in the rear satellites.
Consider placement. If you'll be placing the soundbar on your TV stand, make sure there's enough room in front of the set, and check to see that the soundbar isn't so tall that it will block the remote control's line of sight to the TV.
Don't overbuy. If you're using the soundbar only for listening to your TV, you can go for a low-priced, no-frills model that has at least decent sound quality in our ratings. It will be a step up from almost any TV's built-in sound. But if you want to use the soundbar for music as well as TV, we recommend a model with a Very Good or Excellent score for sound quality.
Compare warranties. Most manufacturers provide 12 months of coverage, but check before you buy.
You'll need a variety of inputs for connecting various audio and video sources, so make sure the inputs on the soundbar or sound base match the outputs on the source components. Additional options allow you to stream content wirelessly.
HDMI: Some soundbars have one or more HDMI inputs and may include an HDMI output to the TV, allowing you to use the soundbar to switch between video source components. Many HDMI connections now support audio return channels—either ARC or eARC, the latter with more bandwidth for higher-resolution and immersive audio formats—a feature that lets a TV send audio back to the sound base or soundbar. This allows a single connection from the soundbar to the TV if your source component, such as a cable box, is connected directly to the TV. If you intend to connect a Blu-ray player or an ultra-high definition Blu-ray player with 4K HDR video capability, make sure the soundbar has a pass-through feature to send these signals to your TV.
Bluetooth: More soundbars now support Bluetooth, which allows you to send music from mobile devices (tablets, phones, or computers) wirelessly to the soundbar speaker. Some support near field communication (NFC), which is a quick way to make an initial Bluetooth connection. Some have two-way Bluetooth, which will let you send music from the soundbar to Bluetooth-enabled speakers or headphones.
WiFi: Models with built-in WiFi let you access online music services such as Pandora and Spotify directly from the soundbar. Some models may include an Ethernet jack for a wired connection to your home network.
Audio inputs: Most soundbars now receive digital audio signals over an HDMI cable. Some models, especially those without HDMI, will include optical or coaxial digital audio inputs, as well as analog stereo RCA (red and white) or minijack inputs, for connecting older cable boxes, TVs, disc players, portable music players, and other gear. In recent years, optical digital audio inputs and outputs have become the more common of the two types of connections. But increasingly, newer equipment—such as cable boxes and Blu-ray players—send digital audio signals over an HDMI cable.
Streaming: Some soundbars offer access to streaming movies or TV shows from services such as Amazon, Hulu, and Netflix; internet radio stations such as Pandora and Spotify; and social networking sites such as Facebook, Instagram, and Twitter. This is a plus if your TV doesn't have this capability built in and you don't own a media player such as a Roku or an Apple TV.
Other Considerations Before You Buy
Do you want to use your soundbar to switch between sources?
If so, make sure it has at least two HDMI inputs, plus an optical input for a component that lacks HDMI. If you've moved up to a 4K TV with high dynamic range (HDR), make sure the soundbar has a pass-through feature that sends 4K HDR video signals to a 4K TV.
Are new immersive audio formats, such as Dolby Atmos, important?
Many soundbars offer multichannel audio, but a few newer models now also support Dolby Atmos and/or DTS:X, the two newest surround-sound formats. Both are "object based" audio technologies, where sound engineers are able to place sounds almost anywhere in a listener's environment during the recording and mixing process. 
Both Dolby Atmos and DTS:X try to map sound effects, or "objects," in a three-dimensional space. Dolby Atmos, which was initially developed for movie theaters, does this by adding the element of height to a surround-sound setup. In soundbars, this is achieved by using upfiring speakers that bounce sound off the ceiling toward your listening position. This can create overhead sound effects, such as a plane flying above you and then disappearing in the distance.
DTS:X is a bit different: It doesn't require special "height" speakers, though it will work with them. Instead, it will remap the sound effects based on the number of channels you have in your system. 
Soundbars and other components that support Dolby Atmos use three sets of numbers to describe the system instead of just two. For example, in a regular 5.1-channel system, the first number indicates the number of channels and speakers, while the second shows whether it has one or more subwoofers. But a Dolby Atmos setup has three sets of numbers (5.1.2), the last one indicating the number of upfiring (or ceiling-mounted) height speakers.
DTS:X tends to use the more conventional naming system, though you may see a higher number, such as 11.1, which indicates additional channels and speakers, such as height speakers.
With Dolby Atmos and DTS:X, the content has to be encoded to support the format. Dolby Atmos is currently more widely available, on some Blu-ray and 4K Blu-ray discs, as well as on some titles offered by streaming services such as Hulu, Netflix, and Vudu. DTS:X is playing catch-up, and it's available on a few dozen Blu-ray and 4K Blu-ray discs but so far not from any streaming services. Most new A/V receivers now support both formats.
Note that some soundbars, usually less expensive ones, offer "virtual" Dolby Atmos (Dolby Atmos Height Virtualization) and DTS:X (DTS Virtual:X) experiences. These attempt to produce three-dimensional surround sound without extra speakers.
Bar Menu: The Important Features
Once you have an idea of which type of soundbar you'd like to purchase and what your budget is, you can consider the features or specs you might want. 
Soundbar Brands
Most of the major electronics companies make home-theater-in-a-box systems. Some offer systems across all categories, and others concentrate on a specific price range. You can use this alphabetized guide to compare home-theater-in-a-box brands.
Bose offers a variety of home-theater systems, including soundbars, sound bases, and 2.1- and 5.1-channel systems. Bose products tend to be higher-priced.
Edifier is a Chinese audio manufacturer that produces wireless speakers, soundbar speakers, music systems, headphones, and audio products. Prices are typically in the midrange.
Insignia is a house brand sold exclusively at Best Buy. Insignia's products are positioned as a value line offering a decent number of features at a relatively modest price.
Klipsch is part of Voxx International, formerly known as Audiovox, which also owns the Jamo and Energy speaker brands. Klipsch is well-known for its speakers, soundbars, and sound base systems.
LG Electronics is a major consumer electronics brand that manufactures a wide range of products in the U.S. Its products include soundbar and sound base systems, and 5.1-channel, 7.1-channel, and Dolby Atmos home-theater systems. Prices are typically in the lower range to higher midrange.
Onn is Walmart's house brand for consumer electronics, including products such as TVs, soundbars, headphones, and accessories. Its prices tend to be much lower than those of its competitors.
Polk Audio is a well-known speaker company that has a full line of soundbars with and without separate subwoofers. Its products are typically priced in the middle to higher ranges. It is now owned by Sound United.
Samsung is a major electronics brand in multiple product categories, including home-theater systems. It sells soundbars, sound bases, and 5.1- and 7.1-channel home-theater systems. Prices vary widely, though they are typically moderate to somewhat expensive.
Sonos has helped pioneer the multiroom wireless speaker category. It now offers several styles of WiFi speakers at varying prices, and a soundbar that can be used independently, as part of a multichannel sound system, or as a speaker in a multiroom system.
Sony, a major consumer electronics brand, sells home-theater products across a wide range of categories, including soundbar and sound base systems, and 5.1-channel home-theater systems. Sony products cover all price ranges.
TCL is a fast-growing Chinese consumer electronics company that makes TVs, soundbars, smartphones, headphones, and accessories. It's a value brand that's typically priced below major brand-name competitors.
A major TV brand, Vizio also offers a wide range of soundbar speakers, including 5.1-channel and Dolby Atmos models, many with wireless rear speakers. Vizio's products are typically value-priced.
Yamaha sells products in all categories of home theater, including soundbars and 5.1-channel home-theater systems. Its products are typically in the middle to higher price ranges.
Zvox helped to pioneer the sound base speaker category. It now offers sound base speakers in several sizes, typically at midrange prices. It has a technology called AccuVoice that's designed to improve dialogue for those with hearing issues.
1. Boston Acoustics: Boston Acoustics is a midpriced audio brand best known for its speakers. The company, part of D&M Group—which also includes Denon and Marantz—now sells soundbars and a sound base to complement flat-screen TVs. 2. Cambridge Audio: Cambridge Audio is a British audio company that makes a variety of consumer electronics products, including headphones, soundbar speakers, wireless speakers, integrated amplifiers, and network players. Prices run the gamut from low to high, but most are in the midpriced range. 3. Onkyo: Onkyo, which had been purchased by guitar maker Gibson in 2017, is now another brand owned by Sound United, which purchased the company in 2019 It offers 5.1-, 5.2-, and 7.1-channel home-theater systems. Onkyo also offers products under the Integra and Pioneer brands. Its products typically carry midrange prices, though they can escalate as the number of features increases. 4. Panasonic: Panasonic is a major consumer-electronics brand in several audio and video categories. It manufactures soundbars, sound bases, and 5.1-channel home-theater systems. The products are competitively priced and widely available. 5. Pioneer: Pioneer is a well-known consumer electronics company whose products include soundbars, sound bases, and 5.1-channel home-theater systems. Its products tend to be midpriced. The company, which had been purchased by Onkyo, is now owned by Sound United, which owns brands such as Boston Acoustic, Denon, Onkyo, and Polk. 6. Q Acoustics: Q Acoustics is a British audio specialist company that makes speakers, soundbars, cables, and audio accessories. Its parent company, Armour Home, also has the higher-end Goldring and QED audio brands.
Thanks for sharing.
Oops, we messed up. Try again later
Recently Tested Soundbars
BEST TIME TO BUY:
January, November, December
Do you know when is the best time to buy Soundbars? Learn more
More From Consumer Reports