When you shop through retailer links on our site, we may earn affiliate commissions. 100% of the fees we collect are used to support our nonprofit mission.
Learn more.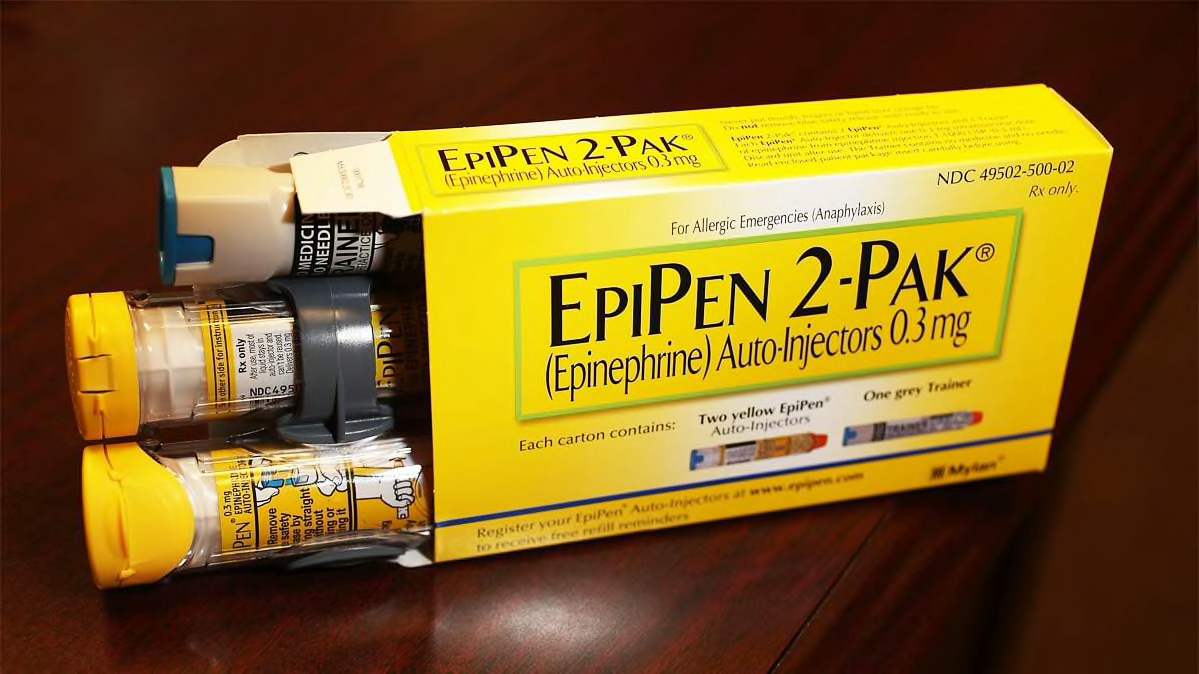 Hoping to ease the shortage of epinephrine auto-injectors, the Food and Drug Administration announced that it is extending the expiration date for specific lots of the allergy drug by four months.
Epinephrine auto-injectors, such as EpiPen and EpiPen Jr (the version for children) can halt life-threatening allergic reactions to substances such as nuts, eggs, and bees. Yet due to manufacturing issues, the medication has been difficult to find and purchase over the past several months.
This has left many people unequipped to deal with a severe allergic episode. Parents of children with allergies have been scrambling to find epinephrine pens to send to school with their kids before classes start.
Holly Hatch, who lives in California's Monterey Bay area, has been unable to purchase a new EpiPen Jr for her almost 3-year-old daughter due to a lack of supply at her local pharmacies.
"She'll be going to school where people will be bringing food, and she needs her EpiPen," said Hatch of her daughter, who is severely allergic to eggs and tree nuts. "These are life-and-death situations for children and families."
When CR alerted Hatch to the FDA's announcement, she was encouraged and eagerly went to check her daughter's expired EpiPen to see whether she could still use it.
The FDA hopes that by extending the expiration date of Mylan's branded EpiPen products and their "authorized generic" version, more people will have access to epinephrine auto-injectors that they might otherwise have discarded.
"We are doing everything we can to help mitigate shortages of these products, especially ahead of the back-to-school season," said Janet Woodcock, M.D., director of the FDA's Center for Drug Evaluation and Research, in a statement. "We're hopeful this action will ensure patients have access to this important medication and provide additional peace-of-mind to parents as the agency works with the manufacturer to increase supply."
Earlier this week the FDA also approved a new generic competitor to the EpiPen—made by Teva Pharmaceuticals. The agency hopes that will eventually prevent allergy medication shortages and bring down the cost of all epinephrine auto-injectors, which currently retail for anywhere from $109 to $500 per two-pen package—without insurance or discounts.
In addition to EpiPen and its own generic, there are other epinephrine auto-injectors currently on the market: Adrenaclick and Auvi-Q. Though these options are effective, they're designed differently than the EpiPen and can't be substituted for the EpiPen by a pharmacist without a doctor's approval. (Your doctor will probably need to write a prescription for an epinephrine auto-injector that doesn't specify a brand name.)
What to Do If You Have an Expired EpiPen
Check your old EpiPen. Then go to the FDA's website for a listing of the specific epinephrine auto-injector batches that have extended expiration dates. If your device's number is one of those listed, you will be able to use that injector through the new corresponding dates. And keep checking the website because the FDA will expand the list as new data becomes available.
Store your auto-injector properly. Epinephrine medication that is kept at room temperature will have the longest shelf life. Though you or your child may need to carry an injector around with you when you're on the go, when storing the device at home, keep it in a dry, dark place. When storing the device at school, ask the nurse to keep it. Many schools have special storage areas for medications to ensure their efficacy.
Don't use discolored medication. CR experts have long recommended that if all you have is an outdated epinephrine auto-injector, it's better to use that device in an emergency than to use nothing at all. In fact, a study published in the Annals of Internal Medicine looked at 31 EpiPens and nine EpiPen Jrs that were up to two years past their expiration date and found that 19 of the EpiPens (65 percent) and five of the EpiPen Jrs (56 percent) retained at least 90 percent of the initial dose listed on the labeling. Of course, experts don't recommend that you hold on to your EpiPen for that long. Also, it's important to note that if the epinephrine liquid is cloudy, pink, or brown (rather than colorless), or if it contains solid particles, that indicates that the medicine has decayed and is unsafe to use.
Call around. If you don't have an EpiPen or the one you currently have is not included in the FDA's expanded list, call a variety of pharmacies in your area to see whether they have access to more auto-injectors now that the FDA has extended its date requirements.
Ask Mylan for help. If you need help finding a store in your area that may have more inventory, call Mylan customer relations at 800-796-9526, then press 2. Customer service is open between 8 a.m. and 5 p.m. EST. Or email customer.service@mylan.com.
Look into alternatives. Ask whether generic Adrenaclick is in stock—and whether it's covered by your insurance. And if your insurer does not cover an alternative, it's worth asking whether it will make an exception because of the shortage—or whether there is a coupon that will help lower the cost.
Search for discounts. Look for coupons on websites such as Good Rx or Blink Health, which offer discounts on many drugs. Or look into manufacturer coupons. Kaleo, the maker of Auvi-Q, has an assistance program that enables people with commercial insurance or those without insurance and a household income of less than $100,000 to obtain Auvi-Q for $0 out of pocket. Note that it can take several days to get the medication because your doctor will need to submit an application on your behalf and the company will need to review it to see whether you qualify.