When you shop through retailer links on our site, we may earn affiliate commissions. 100% of the fees we collect are used to support our nonprofit mission.
Learn more.
You might want to pay attention if you own one of the diesel Ram pickups or Jeep Grand Cherokees at the heart of the federal government's suit against Fiat Chrysler Automobiles that accuses the company of cheating on emissions tests.
Though it may take some time for the lawsuit to be resolved, the outcome could mean big bucks for you in the long run.
What's the Suit About?
The U.S. federal government filed suit against FCA on Tuesday in Detroit, alleging the automaker used "defeat devices," special software on vehicles designed to defeat tests that measure diesel emissions. The suit alleges the software is in roughly 104,000 Ram pickup trucks and Jeep Grand Cherokees that have its 3.0-liter EcoDiesel engines from the 2014 through 2016 model years.
Federal regulators are seeking penalties of "up to $37,500 per motor vehicle for each violation occurring between Jan. 13, 2009, and Nov. 2, 2015, and up to $45,268 per motor vehicle for each violation occurring after Nov. 2, 2015," according to the court filing. That could amount to a hefty fine.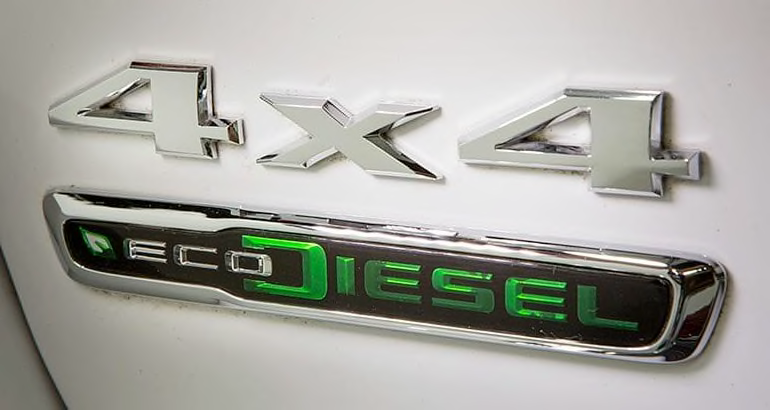 What Does FCA Say?
Fiat Chrysler says, essentially, that it's about ready to fix the problem and just needs some time. It says there are no defeat devices, and that it's continuing to work with the Environmental Protection Agency and the California Air Resources Board to address their concerns for 2017 models.
FCA says that it has developed new software, which needs to be approved by the EPA and CARB, for 2017 diesel models. That software, it says, could be retrofitted into the earlier 2014-2016 vehicles and fix their issues.
Is This the Same as the Volkswagen Emissions Scandal?
What Can Ram and Jeep Owners Do Now?
Nothing right now, but owners should certainly pay attention: VW has offered cash payments to the owners of its affected diesels, even owners who had sold their cars before the scandal came to light. That same approach could be employed here. VW bought back some models outright, or made smaller payments (that still ran from more than $8,000 to more than $17,000) and repairs to vehicles whose owners wanted to keep their VW. The lesson here: Stay tuned.