When you shop through retailer links on our site, we may earn affiliate commissions. 100% of the fees we collect are used to support our nonprofit mission.
Learn more.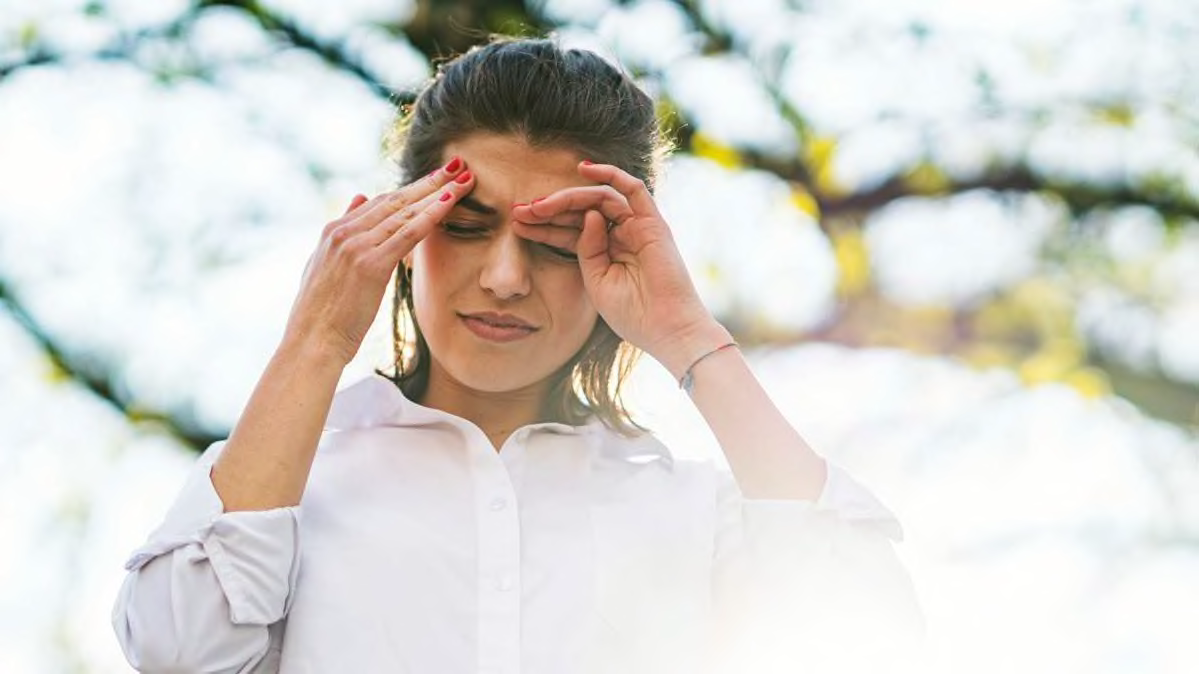 Now that spring has arrived and the weather is warming, you may assume flu season is over.
That's not quite true, according to the Centers for Disease Control and Prevention. According to the latest data, released Friday, flu activity is still widespread in Puerto Rico and 16 states (Alaska, California, Connecticut, Delaware, Indiana, Maine, Maryland, Massachusetts, Nebraska, New Hampshire, New York, Ohio, Oklahoma, Rhode Island, Virginia, and Wisconsin).
And overall, the percentage of doctor's office and emergency room visits for flulike illness is still elevated.
But flu activity has dropped in the past few weeks, suggesting that flu season might soon be coming to an end. "Flu is abating very, very rapidly," says William Schaffner, M.D., professor of preventive medicine and infectious diseases at the Vanderbilt University School of Medicine in Nashville. That's good news, given that this year's flu season has been one of the worst in recent years.
With at least a few weeks of flu season probably still remaining, we provide answers to three lingering questions you may have about this tough season.
Do I Still Need to Worry About the Flu?
Some flu is still circulating. So it's important to continue your good hygiene practices—including hand-washing, coughing and sneezing into a tissue or your elbow, and staying home if you're sick—to prevent the spread of flu and other contagious bugs.
Still, the worst of the season is now over, Schaffner says. "If you look at CDC data, year in and year out, you'll see that once the rates come down, they continue to come down," he says—so don't expect a second spike in the prevalence of the disease.
Is Flu Type B Really Worse for Kids?
You may have seen some news reports suggesting that flu B is more severe in children than other strains. But in children, a case of any strain of flu can cause serious illness, so parents shouldn't be any more (or less) worried about flu B than the other strains, says Lynnette Brammer, M.P.H., an epidemiologist with the CDC's influenza division.
As often happens late in flu season, influenza B has become the dominant circulating strain: By mid-March, more doctors and clinics were seeing patients who tested positive for flu B than for flu A, according to the CDC.
In one way, that's good news, Brammer says, because it means there are fewer cases of H3N2 (a strain of influenza A), which dominated for most of the season and is known to cause more severe illness, more hospitalizations, and more deaths from flu than other strains—especially in older adults.
But research on the relative severity of different flu strains is mixed, which has led to some confusion. One recent study (PDF), published in the journal Pediatrics, found that children hospitalized from flu B were slightly more likely to die than those hospitalized with flu A.
Still, that study's author, Dat Tran, M.D., public health physician for the Oregon Health Authority, says that the results of his study don't mean that a flu B infection is always worse in children. "It does vary from year to year," he says, based partially on how severe the predominant strain of flu A was.
I Never Got a Flu Shot. Should I Bother Getting One Now?
Officially, the CDC still recommends the flu vaccine to anyone who hasn't gotten it yet.
"We don't want people to think that there's no flu activity out there," Brammer says. "If you're still unvaccinated, there is still potential to benefit."
You might need to hunt a little to find the shot; some doctors' offices and pharmacies may be out of doses. Use the CDC's Vaccine Finder tool, and call ahead to the pharmacy before you go in.
Still, know that the shot takes up to two weeks to be fully effective, so the amount of protection it can afford you at this point may be small.
Schaffner has this advice for people who haven't been vaccinated yet: Make the resolution right now to get a flu shot next fall, when it can do the most good and protect you through the whole flu season. The best time to get it is usually in October.