When you shop through retailer links on our site, we may earn affiliate commissions. 100% of the fees we collect are used to support our nonprofit mission.
Learn more.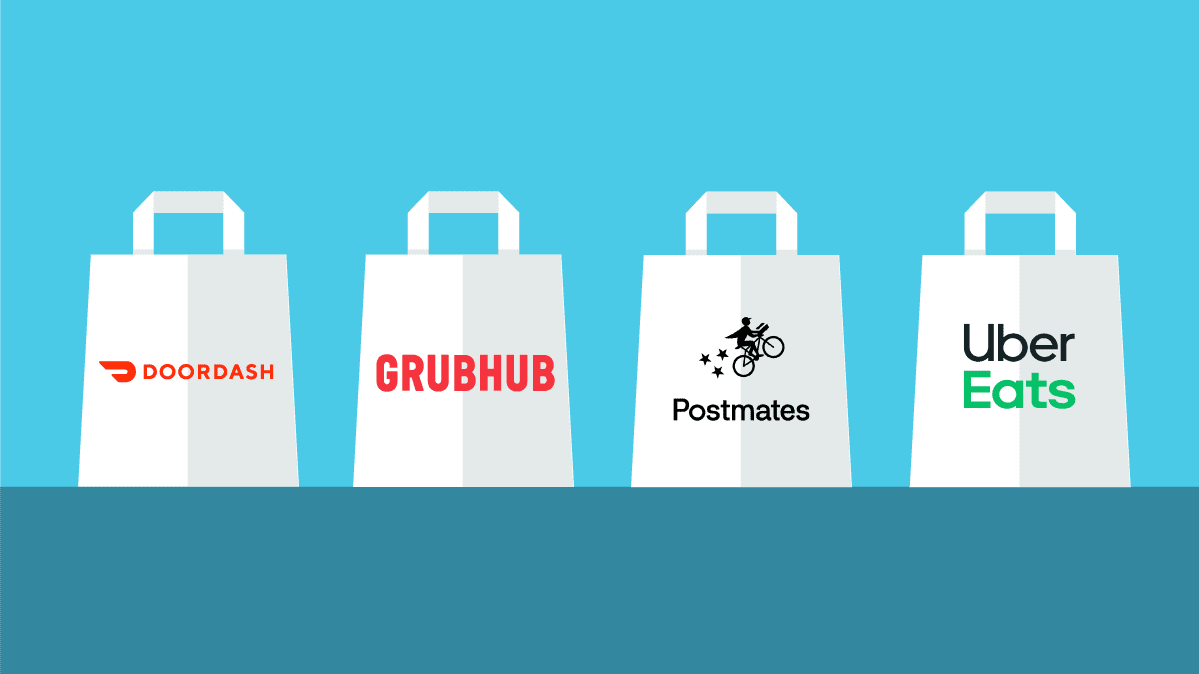 About 40 percent of Americans say they've ordered restaurant takeout more often during the coronavirus pandemic than they did before, according to an S&P Global Market Intelligence survey. And for many, those meals have been arriving courtesy of a food courier service app, such as DoorDash, Grubhub, Postmates, or Uber Eats. These services are called "third-party platforms" because they act as an intermediary between the customer and the restaurant.
The advantage to consumers for using them is that the apps provide access to a seemingly endless number of restaurant options that you can order from with just a few clicks. Restaurants can benefit, too, potentially adding to their takeout business during the pandemic when many across the country were (and still are in many places) closed to in-house dining.
more on food during the pandemic
The arrangement sounds like a good deal for both sides. But these third-party platforms have recently come under increasing scrutiny for the prices they've been charging both consumers and the restaurants they work with. In April, a group of consumers filed suit against some of these businesses for charging "exorbitant fees" that drive up costs for consumers and restaurants. And several cities across the U.S. are either considering or have already implemented caps on the commission fees that these apps charge restaurants on food sold via their platforms.
But just how good is the service you receive when you use a food delivery app? CR decided to evaluate consumers' experiences with four major players in this market—DoorDash, Grubhub, Postmates, and Uber Eats—to see just how well they performed. We also reached out to all four companies with specific questions about their services and about the issues we identified.
We investigated four areas:
• How easy the apps were to use.
• Whether customers were kept informed of their order status.
• Whether the right order arrived in the time frame promised.
• Whether drivers followed instructions for contactless delivery.
"Although the consumer experiences with these four brands were more favorable than not, we did find some common problems," says Charu Ahuja, who directs CR's consumer experience program.
What Our Evaluation Found
To conduct our evaluation, we drafted 24 longtime users of at least one of the four services we looked at, using an online research tool that allowed CR's experts to collect real-time data as the participants ordered their food. We asked each user to order two meals over the course of a week (for a total of 48 takeout orders) from the service they used most often and answer a detailed, standardized set of questions about highlights and problems they experienced. "This allows us to collect objective results and capture important details about the consumer's experience with the service in a rigorous way," Ahuja says.
The participants had all used these services before the pandemic hit, and the majority of them said they relied on them more now that restaurants in their areas were closed. Everyone said they'd recommend the service they used most often to others during this time, but some issues did surface over the course of the study.
Menu confusion. Restaurant menu offerings on the delivery app didn't always match the menu on a restaurant's website. In one instance, a Postmates user, Tim Y. in San Diego, ordered six tacos—four of one type, and two of another. (We're using only first names and last initials to protect our participants' privacy.) Just the latter two arrived. He wasn't charged for the missing four, but Postmates didn't let him know there was a problem, and, he said, "my kids had nothing to eat for lunch." He later checked the restaurant's website and found that the type of taco he ordered for his kids was no longer on the menu, a change that wasn't reflected when he was ordering via the Postmates app. Other users reported frustration about not being able to specify special requests or customizations on some menu items.
Mistimed deliveries. A handful of deliveries were delayed by anywhere from 5 minutes to 30 minutes. Out of the 48 total orders, six arrived later than the predicted delivery time, and one was canceled altogether. The canceled order caused particular ire for Nicole J., of Portland, an Uber Eats customer. "I'm feeling frustrated, and I wish the notification would have come through quicker because now we're trying to time it," she said. "We need dinner, we need to put the baby down—that sort of thing." On the other hand, 20 orders were delivered ahead of the predicted arrival time. Some of our study participants saw this as a boon. But for people who must buzz delivery people into an apartment building, rather than just having the food left on their doorstep, we could see how early delivery might cause a headache. "It could be an inconvenience for someone who was using that time to feed the baby, take a shower, or do something else where answering the door might not be possible," Ahuja says.
Grubhub users experienced most of the delays, but that service also tied with DoorDash for the most on-time deliveries. (Grubhub told us drivers sometimes encounter unavoidable delays, such as traffic and longer-than-expected food prep time at restaurants.) All 12 Postmates deliveries arrived ahead of schedule.
Communication difficulties. In a few cases, our participants reported that they had trouble contacting delivery drivers or keeping an eye on where their order was. Each of the services offered ways to track an order, but the tracking feature didn't work in some cases. "I would like to have more contact when it comes to knowing what part of the process my order is at," said Ashley A., one of our study participants and a Grubhub user in Los Angeles. "It has a tracking option, but for the entire time it basically says the order is being worked [on], and then randomly I get a call saying the delivery person is here."
And one DoorDash user reported trying to call a phone number provided for checking on the order but receiving a message that the number was no longer in service. Another DoorDash user said the app repeatedly crashed, and suspected this was due to overloaded servers—possibly because of more use during the pandemic. "The stability of the app has definitely decreased since COVID has hit," said DoorDash user Akash L. in North Kansas City, Mo. "I think we've had about three orders [in the past few weeks] where . . . the app has gone down or we were trying to place an order and it just wouldn't go through and the app wouldn't open." When we reached out to ask about this, DoorDash said that it couldn't comment on any outage problems but that it has made platform stability a priority.
Contactless delivery instructions not followed. Amid the COVID-19 pandemic, delivery apps have put in place protocols for contactless delivery so that you and the delivery person won't come face to face, therefore reducing the risk of transmitting the virus. DoorDash, Grubhub, and Uber Eats told CR that contactless delivery was the default option in their apps. Postmates didn't respond to our interview requests, but its website says that contact-free delivery is now an option for customers. But in our study, things didn't always go as planned. "It appears that some drivers don't have the required training or a consistent understanding of what contactless delivery means," Ahuja says. For example, Natasha R., an Uber Eats user in East Haven, Conn., said, "My husband was outside at the time, so [the driver] tried to hand [our order] to him." In other cases, the drivers seemed to not follow instructions for where to leave the package, for example leaving it at the front of the building door rather than the customer's apartment door.
More on the Fees You're Charged
Most people realize that using a delivery app has a cost, and in general the participants in our study were accepting of the fact that they were being charged service and delivery fees. "It's okay with me to pay extra for convenience," said Heather D., 32, a Brooklyn, N.Y., Grubhub user. But that didn't mean that they didn't do some price comparisons among the services in their area. "I think some friendly competition is good, but I like to keep the prices of delivery down because [these services] are basically like the middleman," said Antonieta S., 29, of Boston, a Grubhub user who said she looked at the fees charged by different services. When we analyzed the receipts for our test participants' orders, we saw that delivery fees, for example, ranged from $0 to $5.99. Grubhub and DoorDash told us that service fees and delivery fees go toward operating costs, such as driver background checks, insurance, maintaining and updating the delivery app technology, and more. (When we asked about the differences between service and delivery fees, we didn't get any clear answers from the companies we talked to.)
What many were not aware of, however, is that prices for dishes on the menu are often higher when you use a third-party platform than they might be if you ordered directly from the restaurant. We were able to compare the prices charged on the apps with the prices listed on menus posted on restaurants' websites for 46 out of 74 of the items our testers ordered. For 25 of those items, the price was the same. But for 14 items, the price listed in the app the participant used was higher than the restaurant's price on their website. This discrepancy confused some of our participants. "I don't understand the upcharge when there is already a service fee," said Michelle L. of Glendale, Calif., a Postmates user. Still, a few participants got a deal: Seven items sold for less via the delivery app than the price listed on the restaurant's website.
The price differences may be a result of the restaurant trying to offset the commission it's being charged by the delivery service, according to Brian Casey, owner of Oak Hill Tavern in Rhode Island and vice chair of the National Restaurant Association. None of the apps we reached out to told us what their typical commission charges are—they all said that these fees can be negotiated on a case-by-case basis. However, Eli Wilson, PhD, an assistant professor in the sociology department at the University of New Mexico, who studies restaurant labor, told CR that those commissions might in some cases be about 25 to 30 percent.
Tipping was also a sore spot for many of our participants. It's not that they objected to tipping; they wanted more control over it and wanted to be asked after seeing how the service fared. The primary complaint was having to add a tip before the delivery was complete. "I don't like the default tip amount," said Baltimore Grubhub user Steve P. "I prefer to tip after the service is provided."
Dallas DoorDash user Mara M. had a different concern: "Typically I use cash for the tip because I've heard they don't actually give it to the driver." To address that worry, we asked each of the companies to tell us more about where each type of added fee—tip, service fee, and delivery fee—goes. All four services say that 100 percent of the tip goes to the driver who delivers your food.
Tips for Ordering Takeout and Delivery
For consumers searching for the best prices on food, note that many of the services right now are offering various introductory deals for first-time users or other types of discounts, such as free delivery. This means that comparing the services' offerings might help you find good deals on a variety of restaurants. Participants in our study noted these offers as a plus for them. "I do like the little specials they run, like free delivery or $10 off coupons, things like that," said Steve P., the Baltimore Grubhub user.
If you're concerned about your favorite local restaurant surviving the shutdowns necessitated by the pandemic, you may be wondering if there are things you can do, aside from simply buying food from the restaurant, to help it survive.
One clear way to help out a restaurant, Casey says, is to order directly from the establishment itself, rather than going through a third-party app. That allows the restaurant to avoid paying the commission to the app, meaning more of your money will go directly to the restaurant. And, as noted above, it might also mean you end up paying less for your food.
Some restaurants have their own online ordering platforms and delivery drivers, though you may also need to phone the restaurant directly and pick up your food yourself. Ask about curbside or contactless pickup when you call.
But you can enjoy the convenience of a third-party app and still support your favorite eateries. One option, if you're able and feel comfortable doing so, is to order your food to pick up, rather than for delivery, Wilson advises. That's because some apps may charge restaurants a lower commission for orders placed via their platform for pickup rather than delivery. DoorDash, for instance, told us it's not charging restaurants any commission fees on pickup orders right now. Other suggestions:
Consider ordering more than one meal's worth of food. For example, buy not only tonight's dinner but also tomorrow's lunch, as some of our participants did. This has two advantages: First, the restaurant's revenue from your order is higher. And second, you can also save a little money because you'll be paying only one delivery and service fee. Or coordinate with your neighbors to place one order for several households (if it's possible to do so while maintaining social distancing). According to the Postmates website, the company facilitates a version of this, called Postmates Party, which shows you restaurants that people near you are ordering from—and then waives the delivery charge on your order if it costs more than $10.

Tip your delivery driver the same proportion you would your server—at least 20 percent. Unfortunately, Wilson says, front-of-house restaurant workers, such as servers, hosts, bartenders, and others, aren't helped by takeout and delivery because they don't play a role in that part of the restaurant's business. But that doesn't mean you shouldn't tip the people who are involved—especially your delivery driver, Wilson says. "Think of them as mobile servers," he says.

Consider tipping the restaurant, too. Some services, notably Uber Eats, are offering consumers the opportunity to do this. Several of our study participants who had this option said they appreciated being able to do this and give the restaurant another little boost.