When you shop through retailer links on our site, we may earn affiliate commissions. 100% of the fees we collect are used to support our nonprofit mission.
Learn more.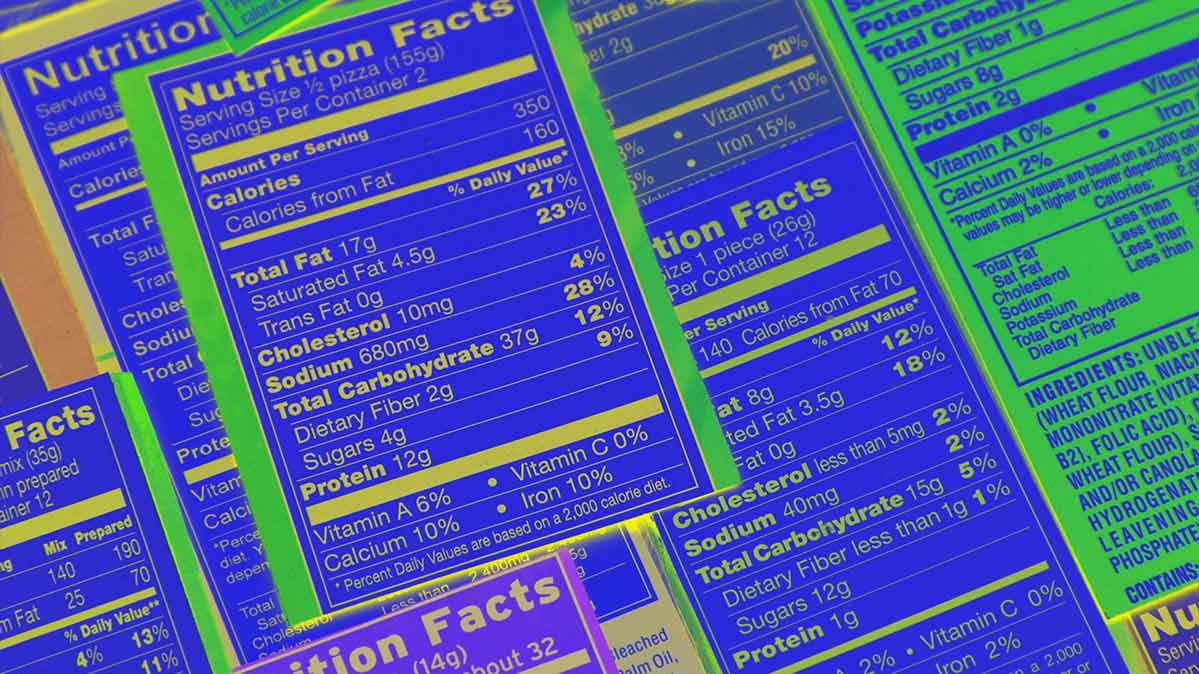 Food labels that include information about added sugars may prevent hundreds of thousands of cases of diabetes and heart disease and help people live longer, healthier lives, according to a new study published Monday in the journal Circulation.
The results show that new Food and Drug Administration policies, which require that food labels list added sugars, have the potential to improve public health and reduce healthcare costs. The FDA first announced the new labels in 2016. After several delays, they're now set to debut on store shelves in 2020.
"These findings . . . generate much-needed evidence to support practice change and help U.S. policymakers prioritize options to improve diets and health," said study author Renata Micha, Ph.D., associate research professor at the Tufts University Friedman School of Nutrition Science and Policy, in an email.
Here's what you need to know about the new findings, and how you can monitor your own added sugar intake.
Understanding Added Sugars
Added sugars are sugars that a manufacturer has added to a processed food product. These are different from the sugars that are intrinsically present in dairy, fruit, and some other foods. But current food labels in the U.S. don't differentiate between the two.
Eating too much added sugar is a risk factor for diseases like obesity and diabetes, and the FDA recommends that no more than 10 percent of your daily calories come from added sugars. That's 50 grams, or about 12.5 teaspoons, if you're on a 2,000-calorie diet.
Other organizations suggest an even lower limit. For example, the American Heart Association sets the limit at 24 grams for women and 36 grams for men. The World Health Organization recommends keeping added sugars to less than 10 percent of daily calories but says that reducing intake to less than 5 percent could provide additional health benefits.
What the Study Found
Because the new labels that include added sugars have not been implemented yet, there haven't been any studies directly observing their impact on sugar consumption. Instead, the authors estimated the labels' potential future impact using research showing that adding calorie counts to labels reduces calorie intake.
People in the U.S. are already beginning to eat less added sugar. But the researchers' predictions suggest that listing added sugar on food labels could spur the average person to make additional small reductions to their daily sugar intake.
Although those reductions might be small on an individual level, the researchers estimate that over the course of 20 years, that shift would cut enough sugar out of the nation's diet to prevent over 300,000 new cases of cardiovascular disease and about 27,000 deaths from cardiovascular disease.
The researchers predict it would also prevent nearly 600,000 cases of type 2 diabetes and over 16,000 deaths from type 2 diabetes. In total, nationwide, the researchers estimate that people would live an additional 727,000 years without disease.
Listing added sugars on nutrition labels could save $31 billion in healthcare costs over that 20-year period, the study found.
These results, while encouraging, should be viewed with caution, some experts say.
Predicting behaviors with limited data is always challenging, says Nicole Larson, Ph.D., M.P.H., R.D.N., an instructor in the division of epidemiology and community health at the University of Minnesota School of Public Health.
The researchers in this study were fairly conservative in their predictions, she says, and the findings are "useful as we think about how important it is to implement these policies."
It will be important, however, to follow economic and public health outcomes after the policy is introduced, says Larson, and to monitor the real-world impact of the new labels.
How New Labels Might Change Products
In 2003, when the FDA mandated that food labels include information about trans fats, food manufacturers changed their products to reduce the amount of trans fats in their products, research shows. It's likely, then, that added sugar labels will also spur changes, Micha says.
The study estimated that the added sugar in between 7.5 and 9 percent of food products would go down by an average of 25 percent each year over the course of the four years after labeling rules began. When the model estimating the health benefits of the labeling changes accounts for that additional reduction in added sugar, it shows that twice as many cardiovascular disease and diabetes cases could be prevented.
Amy Keating, R.D., a nutritionist at Consumer Reports, says there's a concern that food manufacturers would simply swap out added sugars for non-nutritive (often artificial) sweeteners. "We'd like to see manufacturers reduce added sugars in packaged food without increasing the use of non-nutritive sweeteners, since research about them is still emerging," she says.
Tracking Your Added Sugar Intake
The new findings suggest that there could be significant health and financial benefits if the labels listing added sugars—which have been repeatedly delayed—are implemented sooner rather than later, Micha says. Labeling changes, she adds, can have a more significant effect on the overall health of the population of the U.S. than things like food education because they reach everyone.

But until the new rules are put in place, you can still take steps to reduce your added sugar intake. Cutting out sugar-sweetened beverages can go a long way, Keating says.
You can also use the information already on food labels to keep track of added sugars and try to limit your intake.
Check the ingredients for different types of added sugars, which are listed under a variety of names, including cane sugar, fructose, corn syrup, tapioca syrup, fruit juice concentrate, dextrose, and more.
You can also compare the sugar content of the plain version of foods, such as yogurt, with the amount in their flavored or sweet versions to estimate added sugar, Keating suggests.
Julia Calderone contributed to this report.
Added Sugar in Breakfast
You might not realize how much added sugar is lurking in your breakfast. On the 'Consumer 101' TV show, host Jack Rico learns from Consumer Reports' Chief Scientific Officer, James Dickerson, how to avoid an overload of the sweet stuff.