Bagged Kale Is Recalled at Kroger and Other Grocery Stores
The 1-pound bags may be contaminated with listeria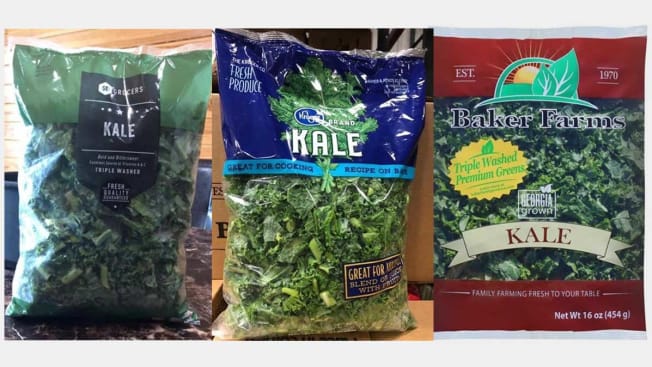 Kroger said Thursday that it is recalling its Kroger Kale brand of bagged kale, produced by Baker Farms, because the greens could be contaminated with listeria monocytogenes.
The kale was sold in 1-pound bags at Kroger stores in Georgia; South Carolina; Auburn and Huntsville, Ala.; Hopkinsville and Bowling Green, Ky.; central and northwest Ohio; Nashville and Knoxville, Tenn.; and northwestern Virginia.
Baker Farms also recalled two additional bagged kale brands, Baker Farms and SEG Grocers, from stores in Alabama, Arkansas, Florida, Georgia, Louisiana, Missouri, Mississippi, North Carolina, New York, and Virginia.
Listeria can be extremely harmful in young children, older people, those who are pregnant, and people with a weakened immune system by causing significant and sometimes deadly infections. Symptoms can include fever and diarrhea, headache, stiff neck, confusion, loss of balance, and convulsions, in addition to fever and muscle aches.
How does listeria get into produce like kale? "Listeria can be an environmental contaminant of a processing facility and can be found all over, including in drains, floors, ceilings, piping, and surfaces," says James E. Rogers PhD, director of food safety research and testing at Consumer Reports. "Because of this, any leafy greens being washed, sorted, and packaged in a contaminated facility may become contaminated with the environmental listeria."
Listeria is the third leading cause of food poisoning in the U.S., resulting in about 1,600 illnesses and 260 deaths annually, according to the Centers for Disease Control and Prevention.
Products recalled: 1-pound bags of Baker Farms Kale, Kroger Kale, and SEG Grocers Kale.
The problem: The kale may be contaminated with listeria monocytogenes.
The fix: Throw away the kale or return it to the store where you bought it for a refund.
How to contact the manufacturer: Call Kroger customer service at 800-576-4377, 8 a.m. to 9 p.m. EST. For Baker Farms, call 229-769-3113, Monday to Friday, 8 a.m. to 5:00 p.m. EST.