When you shop through retailer links on our site, we may earn affiliate commissions. 100% of the fees we collect are used to support our nonprofit mission.
Learn more.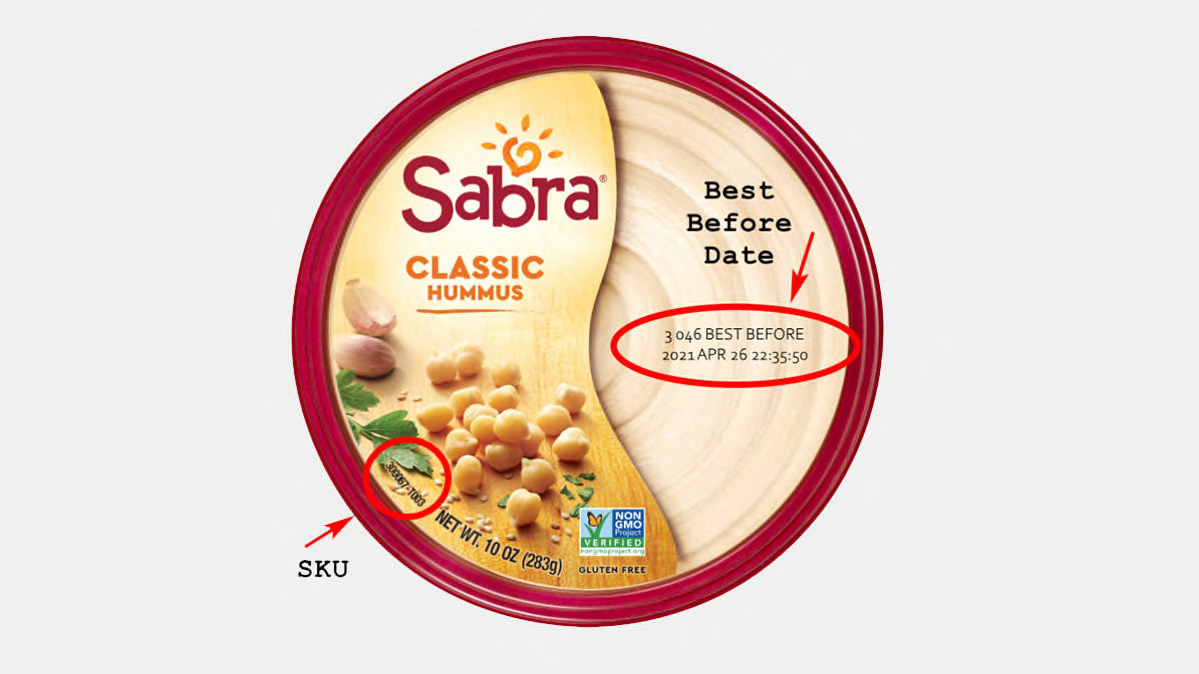 The Sabra Dipping Company is recalling approximately 2,100 cases of its Classic Hummus because it could be contaminated with salmonella, according to a company release posted Tuesday on the Food and Drug Administration's website.
The recall was prompted by a routine FDA screening, which found bacteria in a single tub of the hummus.
The recall is limited to 10-ounce packages produced between 6 p.m. and 11:59 p.m. Feb. 10, 2021. They will show a time stamp between those hours (in military time), a "best before" date of April 26, 2021, and an SKU code of 300067 on the package lid (shown above).
The hummus was shipped to stores in Alabama, Arizona, Arkansas, California, Florida, Indiana, Mississippi, Maine, Missouri, Nebraska, North Carolina, New Jersey, Utah, Virginia, Washington, and Wisconsin.
Sabra did not immediately respond to CR's request for comment.
In the release, the company said that because the recalled hummus was more than halfway through its shelf life, it was unlikely to still be available in stores. But it could be in consumers' refrigerators.
Facts About Salmonella
Salmonella is one of the most common foodborne illnesses, according to the Centers for Disease Control and Prevention, affecting about 1.2 million Americans each year.
The bacteria are found in animal feces. Salmonella is most often associated with raw or undercooked eggs and poultry. But other foods can be a source, too, if they come into contact with water or manure (used for fertilizer) that's contaminated with salmonella, says James E. Rogers, PhD, director of food safety research and testing at Consumer Reports.
Cross-contamination can also happen at a manufacturing plant if machinery, utensils, and surfaces aren't properly sterilized. "We won't know how it happened in this case until the investigation is finalized," Rogers says.
Salmonella bacteria can cause diarrhea, fever, and stomach cramps starting from 6 hours to six days after a person is exposed. The illness usually lasts four to seven days and resolves without treatment.
But some people may become so ill that they require hospitalization. Call a doctor if you have a fever higher than 102° F, diarrhea that doesn't improve in three days, or bloody stools. Be on alert for dehydration symptoms: dry mouth and throat, dizziness when standing, and making very little urine. Contact your physician if you experience any of these problems.
The Details
Product recalled: 10-ounce Sabra Classic Hummus produced Feb. 10, 2021, with a "best before" date of April 26, 2021, an SKU code of 300067, and a time stamp between 18:00 and 23:59 (6 p.m. and 11:59 p.m.).
The problem: The product may be contaminated with salmonella.
The fix: Return the hummus to the store where it was purchased for a full refund or fill out a form at the company's website to be reimbursed. You can also toss it into the trash.
How to contact the manufacturer: Call Sabra consumer relations at 866-265-6761 between 8 a.m. and 8 p.m. EDT Monday through Friday.