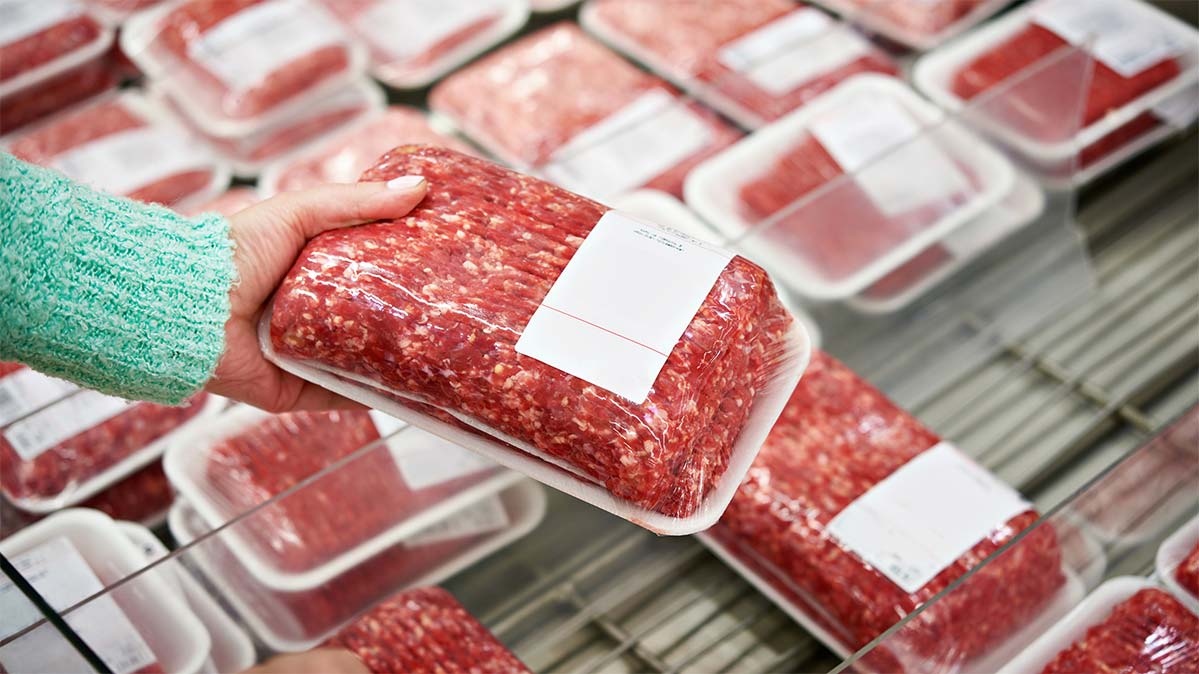 If you have ground beef or beef sirloin trimmings in your freezer purchased from mid-July through the end of September this year, Consumer Reports says you should avoid eating it for now.
This advice stems from an alert issued Thursday by the Department of Agriculture's Food Safety and Inspection Service (FSIS). It said that more than 6.9 million pounds of beef were being recalled by JBS USA—one of the nation's largest meat producers—due to possible salmonella contamination. The meat came from the company's facility in Tolleson, Ariz., and was produced between July 21 and Sept. 7.
Similar to a ground beef recall by Cargill due to E. coli fears, the FSIS provided a list of products and labels to avoid, including the brands Cedar River Farms, Comnor Perfect Choice, Gourmet Burger, Grass Run Farms Natural, and Showcase/Walmart. This current recall involves almost 50 times more ground beef than the Cargill recall earlier this fall, enough to make more than 17 million 6-ounce hamburgers.
The last use by/sell by date for the products currently listed was Sept. 27, so none of the potentially affected meat should still be on store shelves. However, the FSIS notes that consumers may still have it in their freezers.
CR's Advice
The FSIS suggests that consumers throw away or return any products they have with the listed labels or with a USDA inspection code of EST. 267.
But much of the recalled ground beef was distributed to retailers in bulk and was likely repackaged, says Jean Halloran, director of food policy initiatives at Consumers Union, the advocacy division of Consumer Reports.
Because the new packaging will not carry the initial label or indicate the establishment code, consumers may not be able to tell whether the beef they bought is part of the recall. And consumers who often rewrap beef before they put it in the freezer won't know whether the meat they've frozen is affected.
"The FSIS has not yet provided a full list of retailers that received the product, and their product list will not help if you purchased beef that was repackaged," says Halloran. "If you have any product in your freezer and you know it is part of the ground beef recall, throw it away or return it to the store. But if you aren't sure, I'd give the same advice I'd give a friend: You can throw it out or wait to see if we get more information, but for now don't eat any ground beef in your freezer purchased from mid-July through the end of September."
Limited Information
The Centers for Disease Control and Prevention says that 57 people in 16 states were sickened by tainted beef between Aug. 5 and Sept. 6. Fourteen of them were hospitalized.
The people who got sick were in Arizona, California, Colorado, Idaho, Iowa, Illinois, Indiana, Kentucky, Minnesota, Montana, Nevada, Ohio, Oregon, South Dakota, Utah, and Wyoming. The FSIS website indicates that the beef was distributed to more than 20 states including Texas, California, and New York.
After one of the victims provided a store receipt on Sept. 19, the FSIS was able to trace the illness to ground beef from JBS. In total, the FSIS now has eight store receipts from salmonella victims for JBS-produced ground beef.
When asked for information about potential retailers involved, an FSIS spokesperson said it would eventually be posted on its recall web page but declined to give a time frame. FSIS referred Consumer Reports to JBS.
JBS did not provide CR with a list of retailers. A spokesperson said: "Our priority at all times is consumer safety. We are working in close partnership with USDA to make sure all potentially impacted product is removed from stores and homes."
Rep. Rosa DeLauro, D-Conn., criticized the FSIS Tuesday, stating in part:
"Within the span of just a few weeks there have been two large, nationwide recalls related to ground beef. This is a direct consequence of the USDA's abdication of its regulatory responsibility. FSIS has not updated ground-beef safety standards that were originally set in 1996 and has provided no time frame for doing so—despite a 2014 announcement that it would take action."
How to Stay Safe
Ground meat is especially susceptible to contamination because bacteria that may be on the surface of the meat before it's processed can get mixed into it, and there can be meat from many animals in a single package. That's why, in addition to avoiding potentially contaminated ground beef, it's also prudent to always cook it to an internal temperature of 160° F, which is typically considered medium doneness. This is the best way to kill dangerous salmonella, E. coli, and other bacteria.
The most common symptoms of salmonellosis are diarrhea, abdominal cramps, and fever within 12 to 72 hours after eating a contaminated product. The illness usually lasts four to seven days. Most people recover without treatment. In some cases the diarrhea may be so severe that the sufferer needs to be hospitalized. Older adults, infants, and people with weakened immune systems are more likely to develop a severe illness.
The CDC recommends seeing a doctor if you have a high fever, bloody diarrhea, or severe vomiting, or if diarrhea lasts longer than three days.
Editor's note: This story was updated on Oct. 5, when the recall expanded from 6.5 million pounds to more than 6.9 million pounds.
Shopping links are provided by eBay Commerce Network and Amazon, which makes it easy to find the right product from a variety of online retailers. Clicking any of the links will take you to the retailer's website to shop for this product. Please note that Consumer Reports collects fees from both eBay Commerce Network and Amazon for referring users. We use 100% of these fees to fund our testing programs.