When you shop through retailer links on our site, we may earn affiliate commissions. 100% of the fees we collect are used to support our nonprofit mission.
Learn more.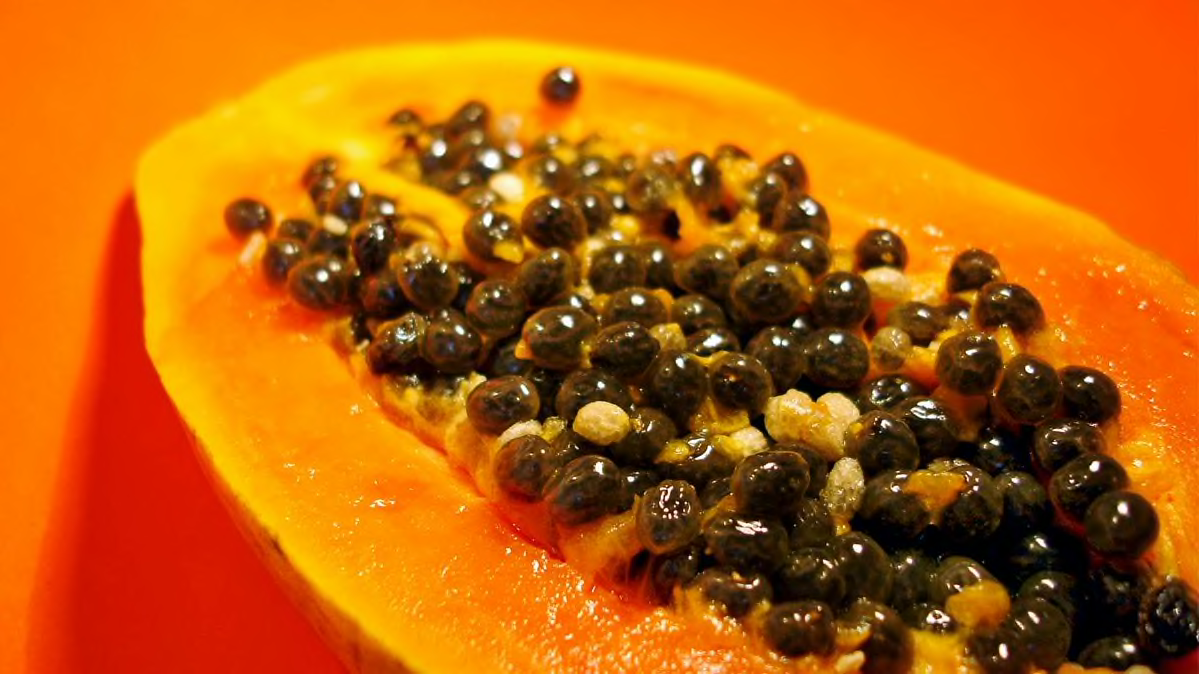 Update: The likely source of this outbreak is Cavi brand whole, fresh papayas, according to the Centers for Disease Control and Prevention and the Food and Drug Administration. The number of people who have become ill has increased to 71 and Florida and Texas have been added to the list of states where illness have been reported. The agencies are no longer advising people to avoid all fresh papaya from Mexico; only the Cavi brand. Before purchasing fresh papaya, be sure it is not from Cavi (ask at the store if the papaya is not labeled). If you can't determine the brand, don't buy it. If you have fresh papaya in your refrigerator and you don't know for sure that it is not from Cavi, don't eat it.
Thinking about making a fruit salad for your next cookout? You may want to skip papaya. The Centers for Disease Control and Prevention announced today that papaya from Mexico is the source of an outbreak of Salmonella Uganda in six states.
More than 60 people have been sickened, and 23 of them were hospitalized.
The states involved are in the Northeast: Connecticut, Massachusetts, New Jersey, New York, Pennsylvania, and Rhode Island. One person who was from Florida had traveled to Connecticut the week before getting sick. The agency is looking into the case of a person from Texas who became ill.
The Food and Drug Administration is strongly advising grocery stores, restaurants, and other food service providers in all states not to sell or serve papayas imported from Mexico.
"Salmonella Uganda is a very rare strain in the U.S.," says James E. Rogers, Ph.D., director of food safety research and testing at Consumer Reports, "but this is a high hospitalization rate."
The papaya was sold whole, but it's possible that individual grocery stores may have sliced it and are selling it in containers or salad bars.
"Whole or sliced, it can be difficult to tell where the fruit was grown at the grocery store," Rogers says. "Unless you are absolutely sure the fruit didn't come from Mexico, don't eat it, especially if you live in the states where people have become ill." The CDC said that this is a fast-moving investigation, so more cases and more locations may be announced as it uncovers more information.
It's always a good idea to take food-safety precautions when you're preparing any type of fruit. Wash fruit before you eat it, and use a vegetable brush to scrub hard fruits, even if you don't plan to eat the skin. "Any time you chop or cut into a food, you increase the risk of contamination," Rogers says. "If you're cutting an avocado, papaya, or melon, dirt or bacteria or other germs from the rind can be transferred to the knives, prep surfaces, or to the inside of the fruit."
You can stay up to date on food-safety outbreaks and recalls by going to foodsafety.gov.
Symptoms of Salmonella
Most people will get diarrhea, a fever, and abdominal cramps 12 to 72 hours after they eat tainted food, with symptoms usually lasting four to seven days. Vomiting can occur but isn't a classic symptom.
If you're sick, the most important thing is to stay hydrated. Drink plenty of water, juice, broth, or other caffeine-free, nonalcoholic fluids.

Call your doctor if you have diarrhea that lasts for more than three days, if the diarrhea is bloody, or if you have a fever of 101.5° F or higher.
The Details
Products involved: Papayas grown in Mexico.
The problem: The fruit may be contaminated with Salmonella Uganda. More than 60 people in six states have become ill: Connecticut, Massachusetts, New Jersey, New York, Pennsylvania, and Rhode Island.
The fix: If you shop in one of the six states, don't buy papaya unless you're sure that it's not from Mexico. If you have any papaya in your refrigerator, throw it away.
How to contact stores or suppliers: The CDC has not yet identified a single store or supplier.