How to Make Stuffing Healthier
Use these tips to slash fat and sodium while adding fiber and flavor
When you shop through retailer links on our site, we may earn affiliate commissions. 100% of the fees we collect are used to support our nonprofit mission. Learn more.
Stuffing, or dressing as it is called in some parts of the South, is the favorite Thanksgiving side dish, according to a recent poll of nearly 1,000 Americans by YouGov, a research data and analytics group.
But in the time-crunched frenzy of putting together a holiday feast, preparing made-from-scratch stuffing may feel like one task too many.
Still, you don't want something that you (and your guests) look forward to eating all year to disappoint. The good news is that it is possible to dress up a packaged stuffing to make it tastier—and healthier.
What Makes for a Good Stuffing?
"Flavor matters, but texture is a big part of what stuffing is all about," says Ellen Klosz, M.S., a Consumer Reports nutritionist. "It should be uniformly moist and soft, not mushy or soggy, with pieces that hold their shape rather than break down into a pastelike consistency."
Stuffing is essentially bread, salt, and butter, so it probably comes as no surprise that it isn't the healthiest food served on Thanksgiving. But you can cut its sodium and saturated fat, and pump up its nutritional profile.
Most packaged stuffings contain a significant amount of sodium, so you don't need to add more salt to the dish. "Use unsalted butter and a lower-sodium or unsalted broth or stock to moisten the stuffing. We've found that it doesn't affect the flavor, but can put a real dent in the sodium content," says Klosz.
Stock tends to have less sodium than broth because it's often used as a base in recipes that call for added seasoning, so it's perfect to use in stuffing. In CR's tests, our panel of professional tasters judged Swanson Chicken Cooking Stock (510 mg sodium) and Swanson Chicken Bone Broth (350 mg) to be well flavored.
In addition to using lower-sodium broth and unsalted butter, try using less butter than what's called for in the instructions or switch to olive oil or a lower-fat vegetable oil-based spread.
Adding plenty of chopped vegetables—onions, carrots, and celery—or even fruits like apples or pears will stretch the stuffing and lower the calorie, fat, and sodium content per serving.
And keep an eye on portions. When you're spooning stuffing out at the dinner table, serve yourself about an ice-cream-scoop-sized helping; that should be about ½ cup. But if you really love stuffing and must have more, skip additional starchy sides, such as mashed potatoes and dinner rolls.
Remember, too, that a safe stuffing is a healthier stuffing. Whether in the oven or on the stove, stuffing is best prepared outside the turkey. The juices from the turkey can be absorbed by the stuffing, and could contain salmonella or other bacteria that can cause food poisoning.
To make sure the stuffing inside a bird is safe, you have to cook it until it reaches a temperature of 165° F. (Use a meat thermometer. See below for recommended thermometers from CR's tests.) By the time it gets there, the turkey itself would likely be overcooked. If you want the flavor of the turkey juices in your stuffing, spoon it out of the roasting pan once the turkey is ready and mix it into the stuffing before serving.
3 Creative Ways to Spruce Up Stuffing
Stuffing takes well to all kinds of seasonings, so you can easily create different combinations. Start with a packaged stuffing as your base, follow the stovetop directions on the package, and then pick from the three options here.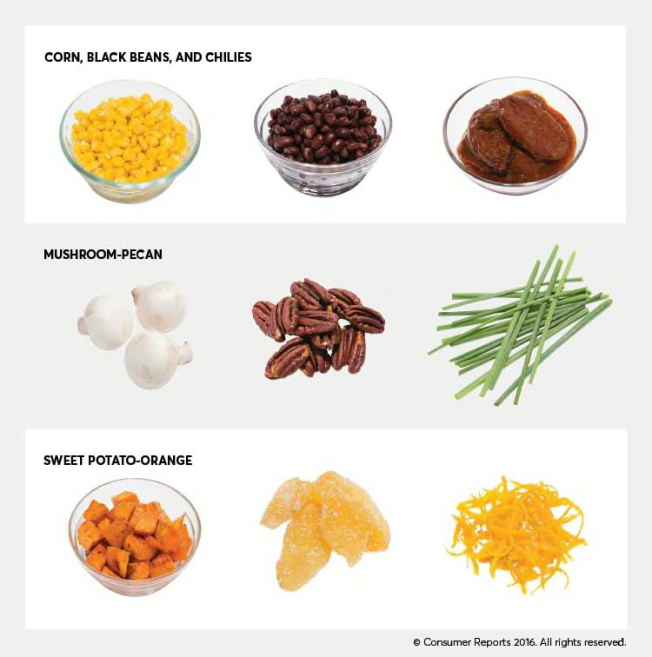 Corn, Black Beans, and Chilies
1 cup frozen corn kernels, thawed
2 Tbsp. chipotle chilies, chopped
¾ cup canned black beans, drained and rinsed
Combine corn and chilies with celery and onions called for in the package recipe. Add stuffing mix, broth, and beans. Heat through and serve.
Mushroom-Pecan
1 Tbsp. extra-virgin olive oil
1 cup diced mushrooms
1½ cup toasted pecans
1 Tbsp. finely chopped chives
1 large egg
Using 1 tablespoon of olive oil (instead of the butter called for in the package recipe), sauté mushrooms with celery and onions. Add stuffing mix and broth. When liquid is absorbed, add pecans, chives, and egg, and toss. Place mixture in a buttered 8x8-inch dish; bake for 30 minutes at 400° F.
Sweet Potato-Orange
1 sweet potato, peeled, diced, and roasted
¼ cup orange juice
2 tsp. crystallized ginger, finely chopped
1 Tbsp. orange zest
(For this recipe, use ½ cup broth instead of the 1½ cups called for in the package recipe.) Combine roasted potatoes, sautéed celery, and onions. Heat through. Add stuffing mix, broth, and orange juice. Mix well. Reduce heat and add crystallized ginger and orange zest. Heat through and serve.
Recommended Meat Thermometers From Consumer Reports' Tests
Whether you're cooking a Thanksgiving turkey or burgers on the grill, you need a reliable, accurate meat thermometer. Cooking meat to the proper temperature is the only way to be sure it is safe from foodborne bacteria. These two models performed well in Consumer Reports' tests.