No matter which team you're rooting for on Super Bowl Sunday, you'll want your party guests to be cheering for the food you've cooked up. But crowd-pleasing party food isn't always healthy. Super Bowl recipes can be heavy on the calories and packed with fat, sodium, and sugar.
Help is here. Our Super Bowl recipes for slow-cooker turkey chili, mac and cheese with cauliflower, and lighter vegetable lasagna add a healthier twist to these old favorites—so you can indulge (almost) guilt-free. With added veggies, they're lower in calories than their traditional counterparts, yet they're winners when it comes to taste. And you won't miss the game because you can prepare these dishes in advance.

Slow-Cooker Turkey Chili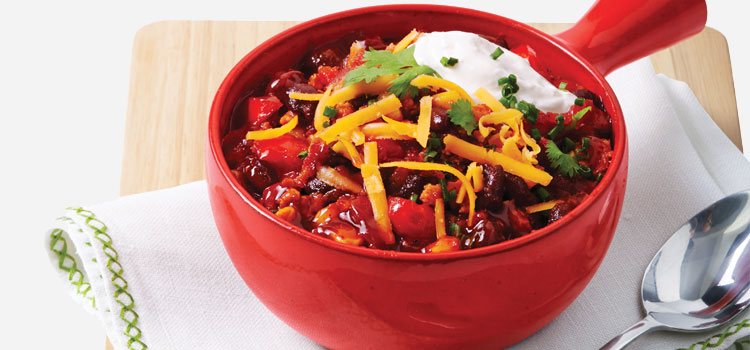 Photo: Christopher Testani
1 teaspoon olive oil
1 pound ground turkey
1 large onion, chopped
1 clove garlic, minced
2 red bell peppers, chopped
2 cups frozen corn
1 can (28 ounces) no-salt-added diced tomatoes
1 can (15 ounces) low-sodium black beans, rinsed
2 tablespoons tomato paste
2 tablespoons chili powder
1 teaspoon cumin
½ teaspoon cayenne pepper
½ teaspoon salt
⅛ teaspoon cinnamon
¼ cup fat-free sour cream
½ cup shredded cheddar cheese
1 bunch chives, snipped
Directions
1. In large skillet, heat oil and cook turkey, onion, and garlic over medium-high heat, stirring until turkey crumbles and is no longer pink; drain.
2. Spoon mixture into a 5-quart slow cooker; stir in peppers, corn, tomatoes, beans, tomato paste, chili powder, cumin, cayenne, salt, and cinnamon until well-blended.
3. Cook on high for 4 to 5 hours or on low for 6 to 8 hours. Serve with sour cream, cheese, and chives.
Makes 6 servings.
Nutrition Information: One serving contains 300 calories, 6 g fat, 40 mg cholesterol, 440 mg sodium, 9 g dietary fiber, 8 g sugar, and 29 g protein.

Mac and Cheese With Cauliflower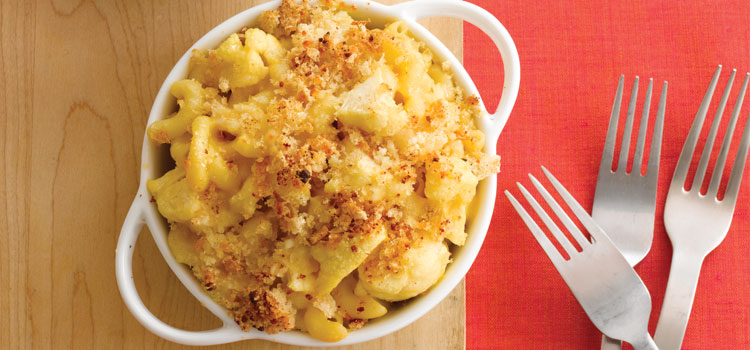 1 box (1 pound) elbow-shaped pasta
½ medium head cauliflower, trimmed and cut into small florets
2 slices whole-wheat bread
1 tablespoon olive oil
8 ounces sharp cheddar, grated
4 ounces low-fat cream cheese
4 tablespoons grated Parmesan cheese
½ cup fat-free half and half
½ teaspoon each salt and freshly ground black pepper
Directions
1. Heat oven to 350° F. Grease a 9x13-inch baking dish.
2. Bring large pot of water to boil. Add pasta and cauliflower and cook according to the pasta-package instructions.

3. Meanwhile, pulse the bread, olive oil, and 1 tablespoon Parmesan cheese in a food processor until coarse crumbs form. Set aside.
4. After pasta and cauliflower are cooked, reserve 1⁄2 cup of the cooking water. Drain pasta and cauliflower.
5. Place cheddar, cream cheese, 3 tablespoons Parmesan cheese, half and half, salt, and pepper in used cooking pot.
6. Add pasta and cauliflower and stir until well-combined and cheese is melted. Add reserved cooking liquid.
7. Place in prepared baking dish. Top with reserved bread crumbs. Bake until mac and cheese is bubbling and crumbs are browned, about 15 to 20 minutes.
Makes about 8 servings.
Nutrition information: One serving contains 410 calories, 15 g fat, 35 mg cholesterol, 480 mg sodium, 3 g dietary fiber, 5 g sugar, and 17 g protein.

Lighter Vegetable Lasagna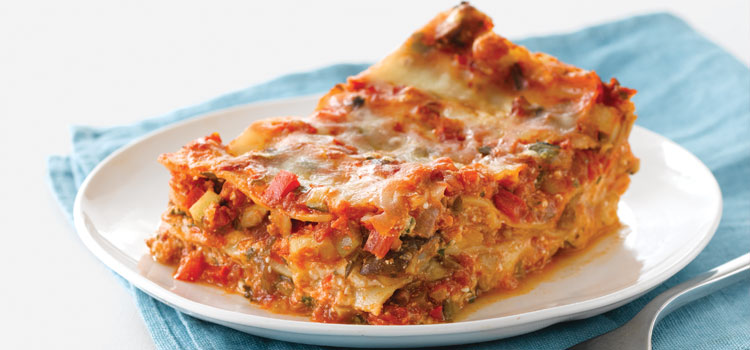 1 tablespoon olive oil
1 medium onion, chopped
1 small red bell pepper, chopped
8 ounces baby bella mushrooms, chopped
1 small zucchini, chopped
2 cloves of garlic, minced
1 jar (25 ounces) tomato basil sauce
1 container (16 ounces) low-fat small-curd cottage cheese
1 egg white
¼ cup grated Parmesan cheese
¼ cup parsley leaves
8 ounces part-skim mozzarella, cut into cubes
¼ teaspoon each salt and pepper
9 oven-ready lasagna noodles
Directions
1. Heat oven to 400° F.
2. Heat oil in a large skillet over medium-high heat. Add onion, pepper, mushrooms, and zucchini. Cook about 10 minutes, stirring frequently until vegetables are soft and liquid has evaporated. Add garlic. Cook 1 minute, stirring. Add sauce and simmer 20 minutes, partially covered.
3. Meanwhile, place cottage cheese, egg white, Parmesan cheese, and parsley leaves in container of food processor. Process until smooth. Transfer into bowl and stir in mozzarella, salt, and pepper.
4. Spread 1⁄4 of the vegetable sauce mixture into a 9x13-inch baking dish; spread to cover. Top with 3 noodles, 1⁄2 of the cheese mixture and another 1⁄4 of the sauce. Repeat process one more time and top with remaining sauce. Spray aluminum foil with cooking spray and cover lasagna.
5. Bake covered 25 to 30 minutes or until bubbling. Uncover and bake 5 to 10 minutes more. Let sit 10 minutes before serving.
Makes about 9 servings.
Nutrition information: One serving contains 250 calories, 8 g fat, 25 mg cholesterol, 620 mg sodium, 3 g dietary fiber, 8 g sugar, and 17 g protein.
Consumer Reports is an independent, non-profit organization dedicated to helping consumers. We make it easy to buy the right product from a variety of retailers. Clicking a retailer link will take you to that retailer's website to shop. When you shop through retailer links on our site, we may earn an affiliate commission – 100% of the fees we collect are used to support our mission.
Learn more.
Our service is unbiased: retailers can't influence placement. All prices are subject to change.