When you shop through retailer links on our site, we may earn affiliate commissions. 100% of the fees we collect are used to support our nonprofit mission.
Learn more.
Samsung calls its new Family Hub refrigerator "a revolutionary advancement that changes the refrigerator category in meaningful ways." With its Wi-Fi-ready 21.5-inch LCD screen, which lets you watch TV, order groceries, and manage your family calendar, it's unlike any other refrigerator we've brought into Consumer Reports' labs for testing. And that novelty will appeal to a certain kind of consumer. But based on our preliminary test results of this $5,800 refrigerator, we're not sure there's revolution in the air—at least not yet.
That's not to say the Samsung Family Hub refrigerator is a terrible concept. It's the execution that's lacking. More on that in a moment. First, let's look at some of the unique features of the LCD screen, which is meant to serve as the family's digital command center.
Grocery management. The Family Hub comes with two apps that let you order food directly from the screen. Instacart, the national online grocery delivery service, can have items delivered to your front door in under an hour. Groceries by MasterCard lets you order online from leading retailers like Fresh Direct and ShopRite.
There are also three tiny cameras positioned inside the refrigerator that capture an image each time the doors close. So if you're at the store and can't remember if you're out of milk, you can in theory see inside your refrigerator through the smartphone app.
Family message center. The StickiBoard and WhiteBoard features let you leave messages for family members and sync up calendars from your connected mobile device.
Entertainment. If you have a Samsung smart TV from 2015 or later, you can mirror shows on the screen of the Family Hub. And you can stream music and podcasts through apps such as Pandora via the built-in speakers. The fridge also connects to external Bluetooth wireless speakers outside of the kitchen.
Those are some of the most innovative concepts in the Samsung Family Hub refrigerator—and you'll probably be seeing more of them with the launch this week of an ad campaign featuring real-life celebrity couple Kristen Bell and Dax Shepard. Unfortunately, testing in our electronics lab revealed several key deficiencies with the refrigerator's digital command center.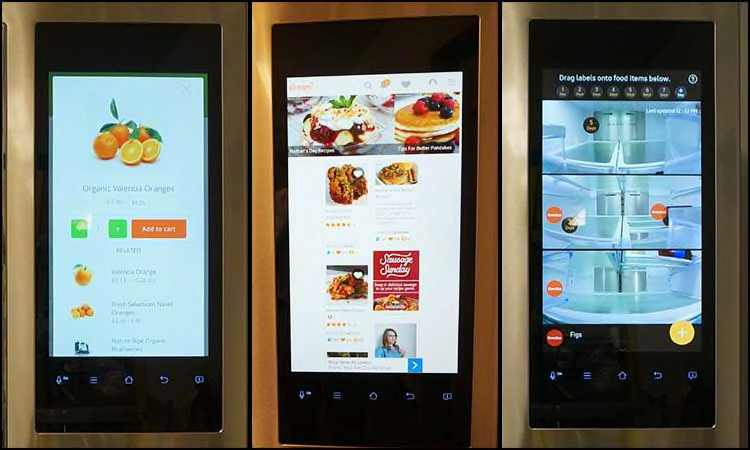 Consumer Reports' Lab Tests
Setup is a pain. For starters, the instructions for connection were not included in the manual. Instead we had to find them in the mobile app. Plus the language and wording in the apps was not the same as what we found on the fridge. Samsung did tell us that it would it eventually offer free delivery and set-up, working with Best Buy and the Geek Squad, but that service isn't available now.
Camera visibility is limited. Items placed to the far sides of the fridge are likely to be unseen. That's true even for large items, like a 32-ounce bottle of orange juice. And if an item on the door is anywhere close to the camera it can obstruct the view of what's in the fridge.
Response time is slow. The touch screen on the LCD, which you use for most of commands, was very slow and inaccurate. At times, the screen didn't seem to register the touch of our fingers, and when using the virtual keyboard we frequently had to tap a key multiple times. The user interface was also painfully slow. For example, it could take up to 5 seconds for the camera on the fridge to load a current picture of the contents inside.
Sound quality is lousy. The built-in speakers had a telephone-like quality that would probably disappoint anyone who wanted to use the Pandora music app or the refrigerator's TV-mirroring feature. Just about any speaker in our speaker Ratings will provide superior sound quality.
There's no app store. The screen on the Samsung Family Hub refrigerator looks like a conventional tablet, but it doesn't do many of the things that other tablets do. And one of its main shortcomings is that you can't download third-party apps—or delete the apps that come preloaded on the device. If you want to use a different app for communicating with your kids, finding recipes, or maintaining your to-do list, the gargantuan screen on your refrigerator door won't accommodate you.
Obsolescence could be an issue. Even if the Family Hub's embedded tablet were the best one ever, it might still be out of date in two or three years as screens and processors advance, long before the refrigerator itself is ready to go. It's sort of like built-in, proprietary navigation systems in cars—a suspect approach to incorporating connectivity into a device that's meant to last for years.
The microphone is barely used. Several months ago, it appeared that the Family Hub would support Amazon's Alexa digital assistant. That would have been useful—we could imagine a baker with flour-covered hands using voice commands to call up recipe details. But the final product only uses the mic to leave voice memos, and there's not even a voice-to-text function. That's disappointing.
If there were just a couple deficiencies with the Samsung Family Hub refrigerator, we might have come away with a more positive first impression. That's too bad, too, because Samsung has been cranking out some pretty dynamite refrigerators, including the Samsung T9000 RF32FMQDBSR, $3,500, which is a similar four-door platform that the Family Hub is built on.
The Family Hub has moved from our electronics lab into the refrigerator chamber, where we'll test its temperature control, energy efficiency, and more. Stay tuned for those results.
Even if it nails that battery of tests, you might be better off going with the Samsung T9000 and using Velcro to attach a full-featured tablet to the door. You'll get a far more capable digital device—and save more than a thousand bucks.