Easy Ways to Grow Vegetables
Container gardens can provide healthy produce and fresh herbs all summer long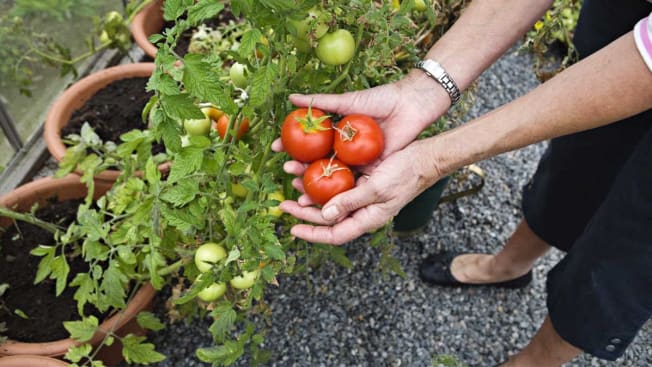 Whether you've been growing vegetables in your yard for years or—like many people—started last summer as a way to get fresh produce more easily during the COVID-19 pandemic, gardening can be a satisfying and healthy pastime. Plus, you can grow some produce and herbs in minimal spaces without having to do a lot of kneeling and bending, which can be hard on your joints. These tips will help simplify the planting and care of your garden.
Vegetables are filled with plant nutrients, vitamins, and minerals. And homegrown veggies can be picked at the peak of ripeness, when they're bursting with flavor—and you may be inspired to eat more of them. Most of us don't get enough produce. For older adults, who should get 2 to 3½ cups a day, eating more vegetables is linked to a reduced risk of chronic diseases.
Containers Make It Simpler
If you have arthritis or don't move like you used to, using containers or pots is a less demanding way to grow plants. You can place them on benches or tabletops so that you don't have to kneel and bend as much. And if the pots are light enough, you can move them to catch the sun and bring them indoors in bad weather, says Leonard Githinji, PhD, an associate professor at Virginia State University who studies sustainable agriculture. Individual containers also protect plants from pests, particularly if you use store-bought potting soil rather than dirt from your yard. Pots are even preferable for some plants, such as mint, that spread rapidly and can crowd out other plants in garden beds, says Julie McConnell, a horticulture extension agent with the University of Florida Institute of Food and Agricultural Sciences.
Plenty of herbs and veggies can be grown in containers. Consider these pointers.
Plant According to Season
Some vegetables, like peppers and tomatoes, grow best in summer. Others, like greens and broccoli, thrive in spring and fall months.
Pick containers that are big enough to give plant roots plenty of room, McConnell advises, and allow for drainage. Veggies that will fit in 1-gallon containers include two or three carrot plants, three to five green onion plants, or two lettuce plants. A 2-gallon container will hold a cucumber or cherry tomato plant, or one or two pepper plants.
Most vegetables need lots of sunlight. Leafy greens like spinach generally need at least 5 or 6 hours of direct sunlight. Tomatoes and peppers typically require closer to 8 hours and no less than 6.
Feed and Water Them Right
You may need to water plants in containers a little more often than those in the ground because they have limited space from which to draw moisture, McConnell says. The soil should be slightly damp but not soggy; stick a finger a few inches into it to check. Githinji recommends adding fertilizer once every two weeks or so.