When you shop through retailer links on our site, we may earn affiliate commissions. 100% of the fees we collect are used to support our nonprofit mission.
Learn more.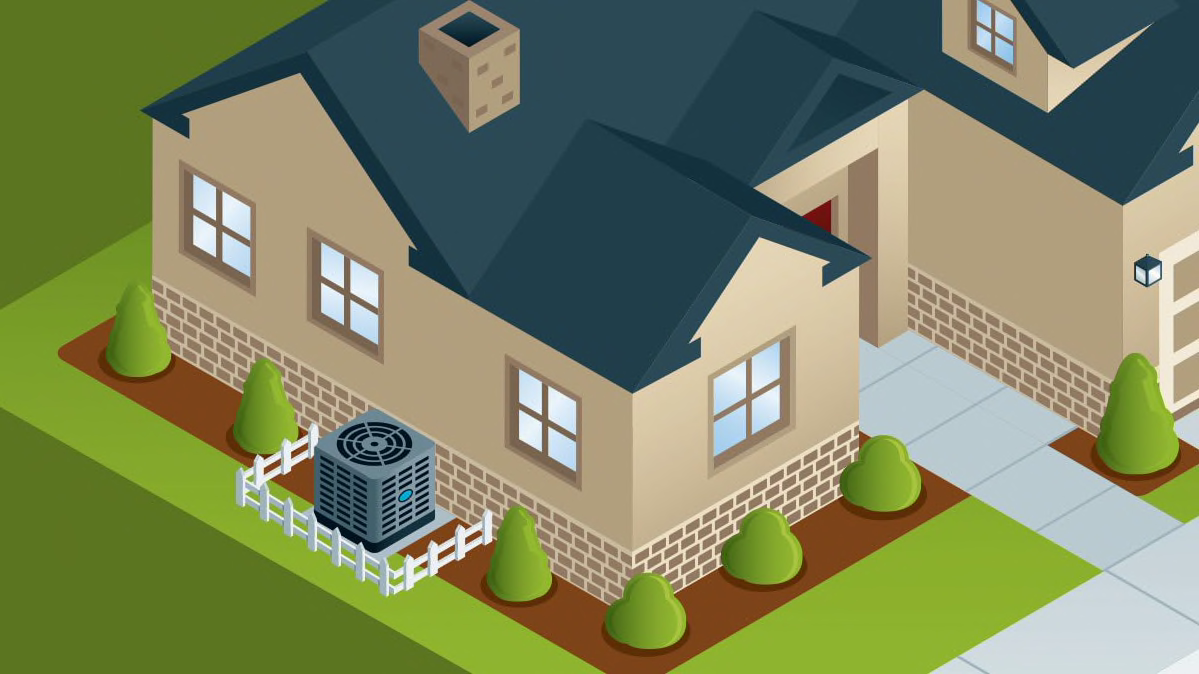 Having a central air conditioner is a beautiful thing. What's not so lovely is the eyesore of an outdoor compressor. But with some strategically placed landscaping, you can keep the outdoor unit out of sight and help your system run more efficiently while you're at it.
"Landscaping for privacy or to screen views is also known as green fencing," says Lisa Stryker, vice president of communications and marketing for the National Association of Landscape Professionals. "This functional approach to landscaping is often incorporated from the beginning of the landscape design process."
Here are tips for green fencing from Stryker and the Department of Energy.
5 Ways to Protect Your Central AC Unit
1. Let it breathe. The compressor needs adequate airflow to operate correctly, so make sure to keep at least 2 to 3 feet of space between the unit and any plants or structures. "Check the owner's manual to confirm the proper amount of space," says Stryker. Keep in mind that you'll want to leave enough space for you or a technician to access and service the unit. And there should also be 5 feet of clearance between the top of the unit and any trees above.
2. Put it in the shade. Installing the unit where it will be out of the hot sun will help it run more efficiently. In fact, shading both your house and the compressor is the most cost-effective way to reduce solar heat gain in your house and reduce air-conditioning costs, according to the DOE.
3. Plan your plants. A hedge is a good way to conceal a unit as long as you keep it trimmed. To keep the unit free of falling leaves, which can impede the fan, select trees that retain their leaves during the winter, like evergreens or some oak and beech trees. (Check with a local nursery or arborist to make sure.)
If you don't have room for a hedge, don't give up. "A lattice with greenery and colorful vines could also make for a beautiful screening option," says Stryker.
4. Build a border. A dirty condenser coil can force your compressor to work harder than it needs to, increasing energy consumption by 30 percent. So you want to keep grass from your mower and mud from a rainstorm from spraying into the unit. The best way to do that is to surround the pad on which it sits with a stone border filled with crushed rock. That way, rainwater drains away and foliage is kept at bay.

5. Keep lawn gear clear. Your AC unit can be damaged by rocks kicked up by the mower or by being bumped by a string trimmer or mower.
The Most Reliable Central AC Brands
If you're installing central air conditioning for the first time or replacing an older unit, you'll want the most reliable system possible. To estimate the reliability of major brands, we asked 21,770 of our members about their experiences with the central AC systems they purchased and had installed between 2007 and 2018.

To calculate a brand's predicted reliability, we use our extensive survey data to estimate how likely a system is to break or cease to sufficiently cool a home by the end of the fifth year. Of the 21 brands captured in our survey, none earn an Excellent rating for reliability; seven earn a favorable rating of Very Good; and nine brands earn a rating of Good, which is just average.
Brands that earn a Fair or Poor rating for reliability in our product surveys are not eligible to be recommended by Consumer Reports. As a result, at this time we can't recommend central ACs from Coleman, Frigidaire, Luxaire, Maytag, or York.
Our owner satisfaction rating is based on the percentage of members who are extremely likely to recommend their central air brand to others. Five brands get a top rating of Excellent for owner satisfaction: Trane, American Standard, Bryant, Lennox, and Carrier.
See CR's ratings on central AC predicted reliability and owner satisfaction for all of the brands.