When you shop through retailer links on our site, we may earn affiliate commissions. 100% of the fees we collect are used to support our nonprofit mission.
Learn more.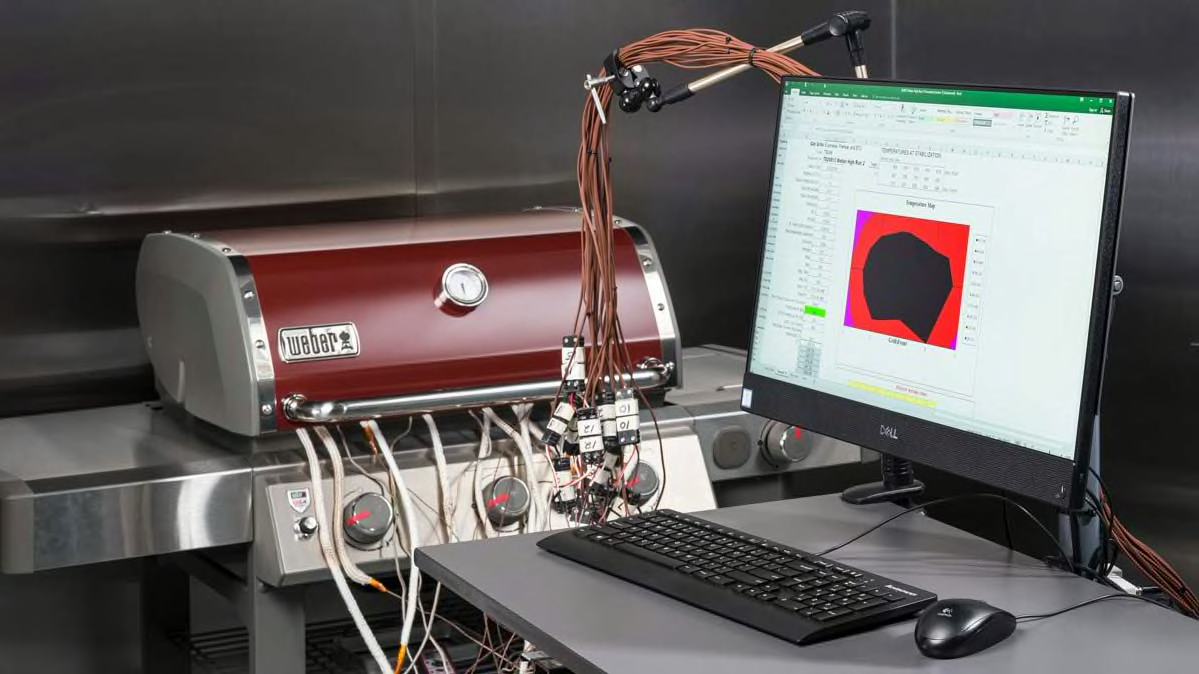 Gas grills remain the tool of choice for cooking burgers and brats in the backyard. They account for more than 60 percent of all grills sold nationally. That's why Consumer Reports tests dozens of new gas grill models every year. The very best get hot quickly, cook evenly across the entire grill surface, and cook well at a wide range of temperatures.
In our lab, we wire the surface of each gas grill with heat-resistant thermocouples and do four crucial temperature tests.
"A grill needs to preheat, just like your oven," says Cindy Fisher, who oversees gas grill testing for CR. "Not only will a preheated grill cook more evenly, but it can help prevent food from sticking to the grates." We measure how hot the surface gets at the 10-minute mark, because that's when our data says most folks like to start cooking.
We also assess how evenly each model heats. That's an important attribute when cooking a giant batch of burgers or bratwursts for a crowd. Everything, no matter where you throw it on the grates, should finish at the same time.
Our indirect cooking test evaluates how well a grill can control moderate heat when food isn't over a direct flame. Picture cooking a thick chicken breast without burning the skin. Temperature range shows the array of temperatures at which you can cook. Grills with the best scores in this test can get hot enough to sear a steak while leaving it rare inside, or cook low and slow for pulled pork or ribs without burning them.
But we don't stop with performance tests. We think a great grill should cook well right out of the box and stand up to season after season of use. That's why we evaluate the sturdiness of each model using a tool we designed to simulate the abuse a grill might suffer when moved across a deck or patio. We also collect data from more than 38,000 CR members about their gas grills to see which brands make the models that work well for the long haul. Those findings are factored into the predicted reliability score you'll see in our full gas grill ratings. These tests and assessments determine the Overall Score of each model.
In our ratings, you'll see grills from brands including Broil-King, Broilmaster, Char-Broil, Dyna-Glo, Huntington, Kenmore, KitchenAid, Landmann, Member's Mark, Napoleon, Nexgrill, Saber, and Weber.
How Big a Grill Do You Need?
We've included the number of 4-inch burger patties each grill can hold to give you a sense of the grill's size relative to the other top-performing models in each class.
• Small gas grills can be tucked neatly onto a balcony or patio and hold up to 18 burgers.
• Midsized grills are the most popular. They make up the bulk of the market—and our ratings—with most designed to hold 18 to 28 burgers at once.
• Large grills can cook for a real crowd, handling 28 burgers or more. But they're pricier and inefficient if you usually cook for a smaller family.
If you're in the market to replace your gas grill, start with our grill buying guide.
CR members can read on for this year's top picks in small, midsized, and large gas grills, listed here in rank order.