When you shop through retailer links on our site, we may earn affiliate commissions. 100% of the fees we collect are used to support our nonprofit mission.
Learn more.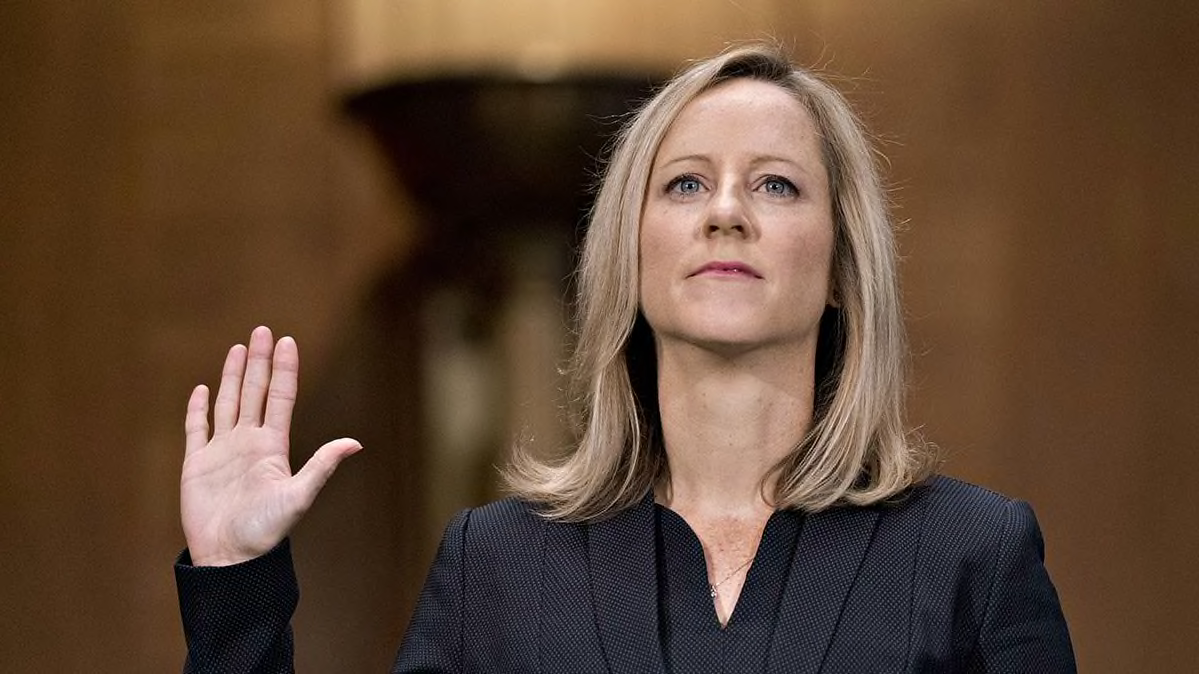 Kathleen L. Kraninger was confirmed Thursday by the Senate 50-49 to head the Consumer Financial Protection Bureau. She is likely to continue leading the federal agency with the same relaxed approach toward financial regulation and enforcement started by her immediate predecessor, John M. "Mick" Mulvaney, many observers say.
Consumer advocates are concerned that financial service companies accused of wrongdoing will continue to be pursued less aggressively.
For financial service companies and others, this means a more limited government, free-market approach and the continued reining in of an agency some thought had been overstepping its mandate.
The CFPB, established in 2010 in the wake of the financial crisis, is responsible for monitoring, supervising, and regulating consumer financial services, specifically those that deal with lending, credit, and debt. It also collects and analyzes data related to consumer financial services and is the only federal agency with a legal mandate to focus on consumer protection.
"Kraninger's testimony last summer before the Senate Committee on Banking, Housing, and Urban Affairs indicates that she agrees with what Mulvaney has done in his time at the CFPB," says Anna Laitin, director of financial policy at Consumer Reports. "We of course want to give her the opportunity to demonstrate that she will put the interest of consumers first, but she's given no indication of that to date."
"At her hearing, Kraninger made it clear she was against the 'regulation by enforcement' policies pursued by the bureau's first director, Richard Cordray," said John Berlau, senior fellow at the Competitive Enterprise Institute, a free-market think tank. "And Congress should then take her up on her offer to help make the agency more accountable."
Berlau was referring to Cordray's numerous lawsuits against companies for alleged violations, leading to significant settlements and fines. As a result of those actions, the CFPB returned more than $12 billion to some 29 million consumers and collected almost $600 million in civil penalties in the years before Mulvaney took control.
Mulvaney's Controversial Legacy
Kraninger was nominated by President Donald Trump and is expected to be sworn in by him shortly for a term of five years. She has no experience in consumer financial protection or even in the consumer financial services industry, and most recently served as associate director at the federal Office of Management and Budget. She is considered a protégée of Mulvaney, who has been leading the OMB at the same time he has been acting director of the CFPB.
Last November President Trump appointed Mulvaney to temporarily replace Cordray, an Obama appointee, who left prematurely to pursue a failed run for governor of Ohio.
More on Money and Consumer Protection
Mulvaney was a longtime critic of the CFPB before taking its helm. Critics maintain he has used his post there to slow, if not completely halt, many of its legally required functions.
For a period, Mulvaney instituted a freeze on new enforcement actions—punishments of financial companies accused of wronging. A recent analysis by The Washington Post shows that publicly announced enforcement actions have declined 75 percent under his tenure.
The financial industry, however, has welcomed Mulvaney's approach.
"He slowed the pace of new regulation," says Ryan Donovan, chief advocacy officer at the Credit Union National Association (CUNA) in Washington, D.C., which represents about 5,500 credit unions and their members. "Our folks were inundated with new regulatory requirements that have impeded how they serve their members. Having a year or so where there have been no new regulations imposed has been helpful and provided some stability and certainty in the market."
Others note that enforcement under Mulvaney hasn't ceased. Rather, he just hasn't publicized it the same way his predecessor did.
"I'm seeing cases where he's still actively litigating against players in the payday loan industry," says Jenny Lee, a partner in the law firm Dorsey & Whitney based in Palo Alto, Calif., who focuses on CFPB enforcement activities.
So-called payday lenders—which the industry calls small-dollar lenders—charge consumers very high interest rates for short-term, unsecured consumer loans.
In moves that have angered consumer advocates, Mulvaney restructured an office that investigates auto-lending violations. Critics say this has hamstrung the agency's work combating racial discrimination in lending. He also dissolved an office focusing on the debt of students and young consumers.
He stopped the bureau's lawsuit against four payday lenders accused of charging triple-digit interest rates to borrowers. He postponed implementation of a rule to curb predatory payday lending practices, and recently proposed rescinding key aspects of the rule entirely.
A recent report commissioned by Sherrod Brown (D-Ohio), ranking member of the Senate Banking Committee, maintains that under Mulvaney, the bureau has abandoned consumer protections for servicemembers and other borrowers, and ignored consumer concerns in the reports it was mandated to provide regularly to Congress, among other moves.
"Mick Mulvaney has undermined the CFPB's important mission and turned an organization meant to stand on the side of the American people into yet another outlet for the financial industry to push its agenda," the Brown report says.
Concerns About Consumer Protections
Speaking in July before the Senate Banking Committee, Kraninger maintained that she would go after bad financial actors.
"Nothing is more destructive to competitive markets and consumer choice than fraudulent behavior," she said.
But her silence on certain subjects—such as whether she would follow Mulvaney's more relaxed approach toward payday lenders—left some consumer advocates concerned that she would focus on ways to reduce the compliance burden on businesses rather than on how to help consumers.
"If Kraninger were sincere in her testimony to go after predatory lenders, then she should have told the committee that she disagreed with Mulvaney's decision to drop several important consumer protection cases," said Yana Miles, senior legislative counsel at the Center for Responsible Lending, a nonprofit based in Durham, N.C.
Alan Kaplinsky, an attorney who specializes in consumer financial services for the law firm Ballard Spahr in Philadelphia, says Kraninger will probably follow Mulvaney's course.
"Given that she doesn't really have a track record in the consumer finance industry, I don't think she brings to the position her own agenda," Kaplinsky says. "That's why I think she'll just pursue the agenda Mulvaney pursued."
Still others say it's impossible to know exactly where she will come down on issues facing the bureau.
"We expect her to be her own person," says Donovan of the CUNA. But, he added, she brings to her job the same free-market perspective as Mulvaney.
"I would not expect a big rule-making agenda in the near-term," Donovan says. "We're going to have to get to know her and figure out what makes her tick."
The CFPB director is nominated by the president and confirmed by the Senate, but his or her actions are, by statute, independent of both branches of government. The director can be fired only for demonstrated incompetence. The bureau's funding is independent as well; it derives from the Federal Reserve rather than through the Congressional appropriations process.
Kraninger's testimony before Congress notwithstanding, some speculate that she is likely to focus on paring down the Payday Lending Rule so that it's more palatable to the industry. They also expect that she will review how the bureau conducts enforcement investigations and update regulations affecting third-party debt collectors.
"There is support in the debt-collection industry to do something about that," Kaplinsky notes.
How Consumers Can Still Use the CFPB
No matter what direction Kraninger takes, the bureau will continue to offer numerous services and tools for consumers. For instance, on the CFPB site you can:
• Lodge a complaint and get a response. The Consumer Complaint Database is open to receive complaints about financial services companies, and is required by law to respond to those complaints by contacting the companies. Consumers also can view what other consumers have said about a company. (While Mulvaney has talked about shutting down its public-facing function, some in the financial industry are using the database's analytics to inform their business operations.)
• Get detailed mortgage-shopping help. Among other services, the CFPB publishes a weekly update of mortgage rates in each state so that consumers can see how the rates they're being offered stack up. It also provides step-by-step instructions on how to shop for a mortgage and includes a worksheet to compare loans.
• Find guidance on protecting an elderly person's finances. The bureau's state-specific guides explain your duties if you have power of attorney over an elderly or disabled person's money.
• Find ways to reduce college costs. An interactive tool lets students and their families compare college costs and financial aid offers. The CFPB also gives advice on dealing with student debt.
• Educate yourself. The bureau's extensive materials—some of them interactive—cover budgeting and daily money management, shopping for an auto loan, dealing with debt, getting credit report errors fixed, protecting yourself from financial fraud, resolving problems if you've been scammed, and numerous other topics.