When you shop through retailer links on our site, we may earn affiliate commissions. 100% of the fees we collect are used to support our nonprofit mission.
Learn more.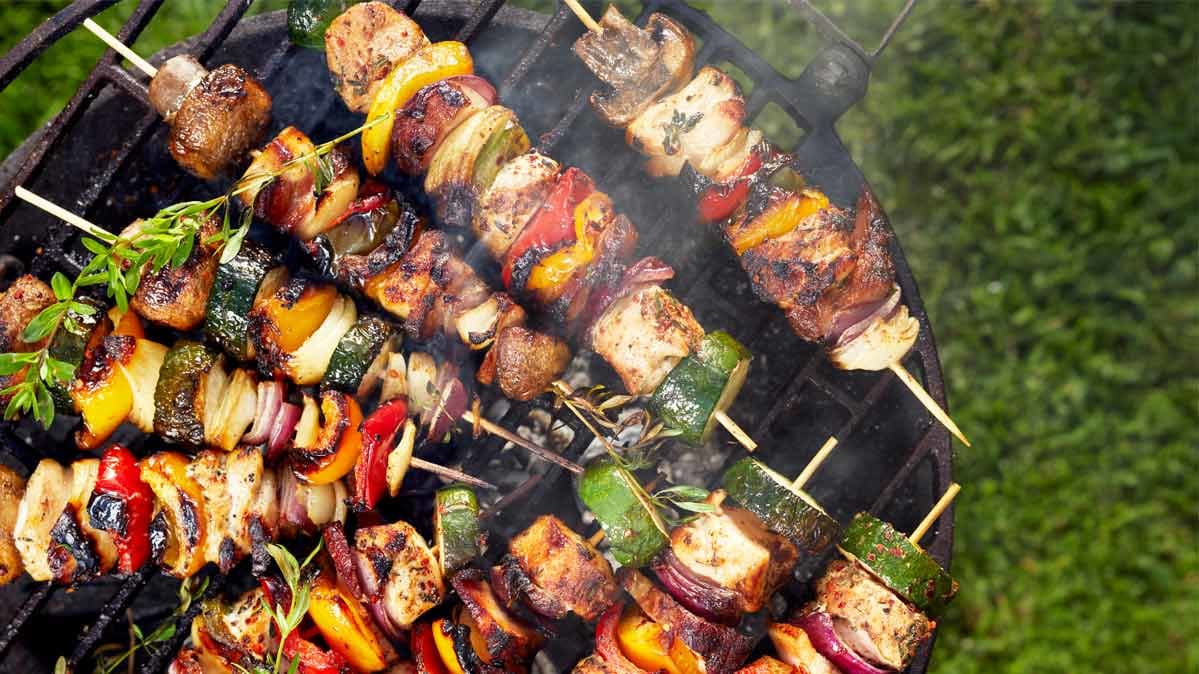 Summer is synonymous with cookouts, but often we don't choose the best foods for healthy grilling. "A beef patty without a bun can clock in at 230 calories and 15 grams of fat," says Amy Keating, R.D., a dietitian at Consumer Reports. "And hot dogs and sausages can be high in saturated fat and sodium." But don't put out the fire just yet! With a few creative changes, summer barbecues can be delicious and nutritious.
Go Easy on the Beef
"Red meat increases your risk of many diseases, so it's smart to limit how much you eat," says Catherine Carpenter, Ph.D., associate adjunct professor at the UCLA Center for Human Nutrition. For example, a 2017 study published in BMJ found that a high intake of red meat increased the risk of dying from nine causes—including cancer, heart disease, liver disease, and stroke—by 26 percent. But white meat, such as chicken, was linked to a reduced risk. "Opt for lean cuts of beef, and use meat as an accent instead of the main dish," says Keating. "For example, put sliced steak over a salad."
Grill Meat and Poultry Safely
Another concern is that eating grilled meat or poultry may increase your exposure to carcinogens. "When meat is charred, substances called heterocyclic amines (HCAs) and polycyclic aromatic hydrocarbons (PAHs) are formed," says Carpenter. These damage DNA and may raise cancer risk. But you can minimize the effect:
Pair with produce. Antioxidants in fruit and vegetables protect cells from carcinogens, Carpenter says. "Eat a variety of produce, especially when you're having grilled meat."
Marinate. Research shows this lowers HCA and PAH levels by up to 88 and 70 percent, respectively. Include herbs, like rosemary, Carpenter says. Their antioxidants help offset the effects of grilling.
Brush the grill. Clean it every time you use it to reduce your exposure to chemicals from previous meals.
Turn before it burns. HCAs are found in char; PAHs in smoke. "Turning meat often and cooking on indirect heat can prevent burning," Carpenter says. Fire up one side of the grill, then cook on the other.
Opt for Fish
The American Heart Association recommends eating seafood at least twice a week for its cardiovascular benefits.
Intimidated about cooking it? Start with shrimp. "The shell helps keep the meat moist," says Cedric Dagois, executive sous-chef of Four Seasons Resort Bora Bora. He suggests marinating medium-sized, shell-on shrimp in olive oil, garlic, and fresh herbs, then grilling for about 3 minutes on each side. Salmon is also easy to grill and is one of the top sources of heart-healthy omega-3s.
Veg Out
Practically any vegetable can be grilled. Cook directly on the grates, or use skewers or a grill basket to prevent small pieces from falling through. You can grill veggie burgers, too: Amy's California Light in Sodium topped CR's tests. Prefer a "meatier" burger? Try Boca All American Flame Grilled.
Cook Up Dessert
Grilling fruit caramelizes its sugars, sweetening the flavor. Nectarines, papaya, peaches, pineapple, and plums work well. "Slice the fruit to a thickness of half an inch," says Dagois. "Then brush on a little olive oil and sprinkle it with cinnamon, red chili flakes, or nutmeg."
Editor's Note: This article also appeared in the August 2018 issue of Consumer Reports On Health.