Best Deals on Grills Right Now
CR helps you find savings on gas, charcoal, kamado, and pellet grills that perform well in our tests
When you shop through retailer links on our site, we may earn affiliate commissions. 100% of the fees we collect are used to support our nonprofit mission. Learn more.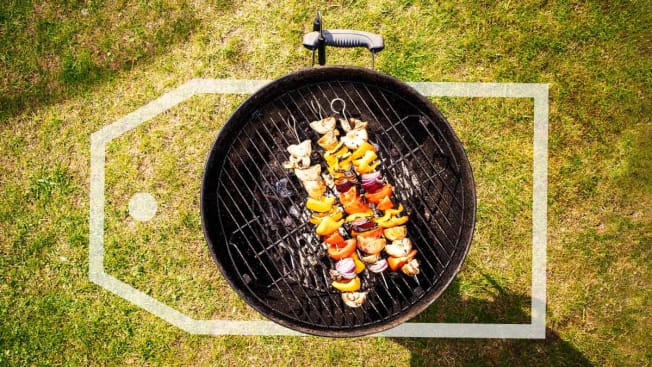 If you've been thinking about buying a grill, you may be able to get the model you want at a discount. Consumer Reports tracks the prices of everything we test, and we tend to see grill deals come and go during the warmer months. There are a few good deals right now, but we expect to see more and better offers as July Fourth approaches.
We'll be updating this list all season long to bring you the best deals for great grills from CR's tests. And because a deal is not just about the price, we look at not only the cost but also our ratings and test results for every charcoal, gas, kamado, pellet, and portable grill we test, as well as manufacturers' suggested retail prices, to determine whether a discount is really a good deal.
Get discounts, product recommendations, and buying advice from the shopping experts at CR. Sign up for our ShopSmart newsletter.
The Char-Broil Kamander is one of four nonceramic kamado grills in our ratings, all of which score very similarly. It hits the sweet spot between price and performance. It's made from double-walled stainless steel, with a powder-coated finish.
On high heat, the Kamander can get to 1,000° F—helping it to char pizza crust perfectly in our tests—and earns high scores for cooking performance. Like ceramic models, it has upper and lower dampers for controlling airflow, but because of its metal construction, it's far lighter than most kamado grills, weighing in at 115 pounds. 
CR's test results: Char-Broil Kamander 17302051 kamado grill
The Char-Broil Kettleman is a modestly priced kettle grill with some nice features. The lid is hinged, so you don't need to remove it entirely to add food, and it can be locked down for moving the grill. It also has a large damper. Those thoughtful touches help the grill earn an above-average rating for convenience even if it lacks the cleaning conveniences you'll find on other grills.
CR's test results: Char-Broil Kettleman 16301878 charcoal kettle grill
The Cuisinart CGG-306 is a high-end portable grill with lots of stainless trim and rotary igniters. It's a strong performer across the board, earning an above-average rating for evenness, convenience, and temperature range. Plus, it gets hot quickly, earning top marks in our preheat test. Clip the on-page coupon for the full savings at Amazon.
CR's test results: Cuisinart CGG-306 portable grill
If you love cooking over charcoal but haven't bothered to upgrade, this barrel grill, one of the best charcoal grills CR has tested, will be a step up from that rusty old kettle grill. This is the standard sale price we tend to see throughout the season. The grill performs well in CR's tests for cooking evenness, convenience, and cleaning. And it has a built-in bottle opener, a fun perk.
CR's test results: Dyna-Glo DGN576DNC-D charcoal grill
The Kamado Joe Classic II is the best kamado we've seen. It offers countless features that make grilling and smoking easier than with other models. For starters, it has a spring-assisted lid that holds in place at any height, whereas most grill lids are either open or closed. The lid also locks, helping control airflow and, in turn, temperature. The upper and lower dampers are easy to adjust, and it has split racks that allow you to cook foods at different heights, so you can sear a steak and cook chicken with indirect heat at the same time. And it's one of the few models that features a pullout ash tray, helping it earn an above-average rating for cleaning.
CR's test results: Kamado Joe Classic II kamado grill
The SmokeFire is Weber's first foray into pellet grills, and it's among the better models we've tested. It gets above-average ratings for cooking evenness and indirect heating. It also has an integrated cooking system called Weber Connect, which is essentially a smartphone app that connects your phone to the grill's internal thermometer and the temperature gauge. The app lets you check the internal temperature of food you're cooking, even when you're across the yard, and it includes recipes with video step-by-step instructions that you can view on your phone.
CR's test results: Weber SmokeFire EX6 pellet grill
The Weber Spirit E-210 is a spiffy, well-polished grill in a small package. It gives above-average performance when it comes to evenness, our most crucial test. Weber is also near the front of the pack when it comes to owner satisfaction and brand reliability, with top ratings for each. The sale price at Amazon, Lowe's, and Wayfair matches the best we've seen this year.
CR's test results: Weber Spirit E-210 small gas grill
The Vision Kamado Professional is one of the least expensive ceramic kamados in our ratings—and one of the best. It delivers delicious food and is easy to use. In addition to a rolling cart and side shelves, the grill features two lower dampers for fine-tuning temperature when you're smoking (most kamados have one). These features earn it an above-average rating for convenience. A special port lets you use an electric charcoal starter (not included) to light your coals. The grill weighs a stout 227 pounds, which is on a par with the Big Green Egg and other ceramic models.
CR's test results: Vision Kamado Professional kamado grill