When you shop through retailer links on our site, we may earn affiliate commissions. 100% of the fees we collect are used to support our nonprofit mission.
Learn more.
What if your health insurer gave you tools to find out which doctors take your insurance, the cost of tests and procedures, or information about the quality of care from a specific physician or hospital?
This is critical information for consumers to have, especially those in high-deductible plans, who shoulder more of the cost of their care. Many insurers provide such tools on their websites, though few consumers are aware they exist.
CR's Health Ratings Center recruited dozens of consumers to test out tools offered by national insurance companies. Most found that even the lower-scoring ones were useful.
Here are ratings for some of the biggest U.S. insurers as well as for stand-alone websites open to all that offer similar services.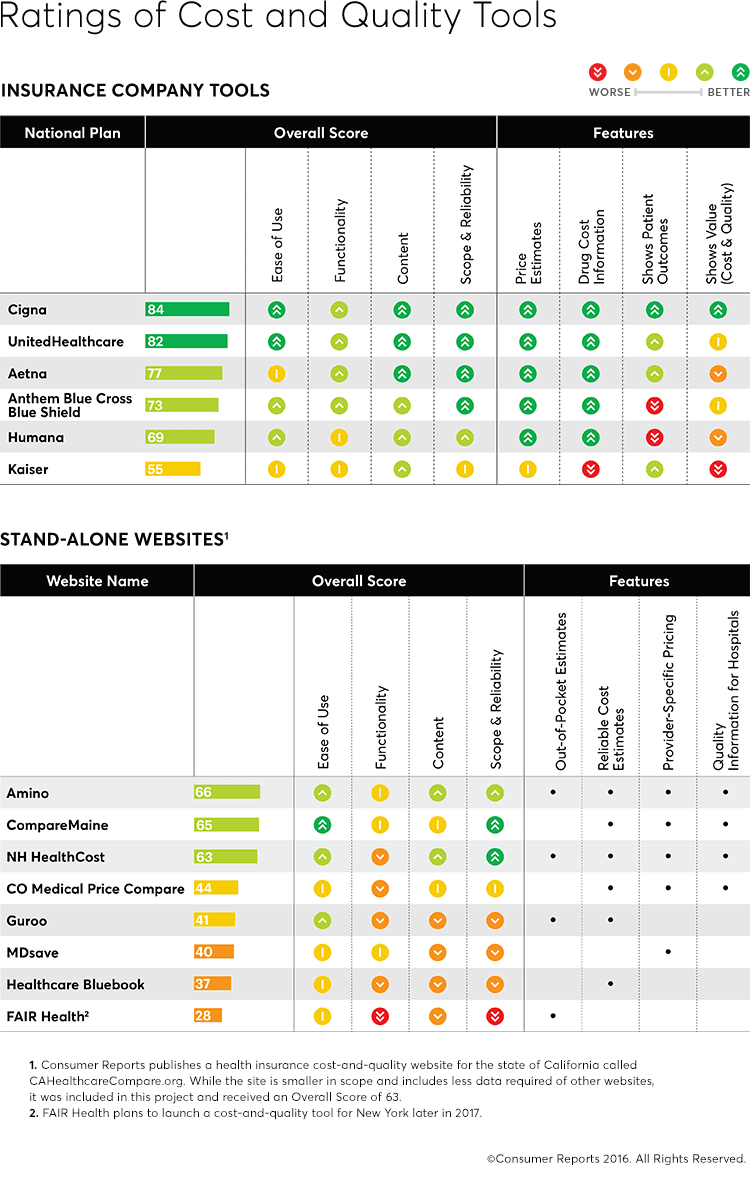 6 Steps to Using Cost and Quality Tools
Almost everyone who tested these tools for Consumer Reports said they provided useful information. So it's worth making the most of whichever tool your insurer offers or trying one of the stand-alone websites that provide some of the same services. Here's what you need to know to use them effectively:
1. Set up a username and password. With almost all of the tools, signing in also gives you access to your claims history and price information based on how much of your deductible you've used up. Save your log-in info. Several plans didn't recognize members from one visit to the next.
2. Get familiar with your plan's benefits and rules. Sure, you know your deductible, but do you know whether there's a co-pay (a specific dollar amount) or coinsurance (a percentage of the bill) for a doctor visit, an imaging test, or a hospital stay? Does your plan cover some services, such as primary care visits, before you've met your deductible? Almost all of the plans we reviewed made it easy to find those details.
3. Use the tool to find providers—but verify the information. Every tool included a list of participating doctors, hospitals, labs, and other providers. Some, such as UnitedHealthcare and Blue Cross Blue Shield, had better tools for narrowing your search. We couldn't independently check the accuracy of the provider directories, but other research suggests they're not always up-to-date. So once you've narrowed your choices, call your insurer and the providers to double-check that they will take your specific plan.
4. Comparison shop when you can plan ahead. You can't always shop around for healthcare. ­After all, you're not going to compare prices in an ambulance after a heart attack. But you can and should shop around for many tests and treatments that are common and can vary widely in price, such as MRIs, lab tests, joint replacements, biopsies, hernia repair, or childbirth. All of the tools we evaluated allow those sort of searches, though they don't always list prices that are specific to a member's personal plan. And note that the tools can sometimes be difficult to find on the websites. So look for the words "cost" and "quality" in the tool's navigation.
5. Check for quality. The best tools present information on the quality of care provided by doctors and hospitals, such as complication rates or patient satisfaction scores, along with cost. That helps you choose providers that offer the best overall value. Cigna, for instance, shows cost and quality side by side. Even if your insurer offers info on quality, check other sources, too, notably Consumer Reports' hospital ratings. And note that higher cost doesn't always mean higher quality.
6. Use stand-alone tools. If your plan doesn't have price information, use a stand-alone website. That can give you a sense of a fair price for the services you're interested in, which you can then compare with prices quoted by your insurer, doctor, or other provider.

For California residents, check out our cost estimator tool that allows you to find both quality information and cost information for providers and healthcare services in your state.

How We Test
We evaluated cost and quality tools developed by health insurance companies as well as those offered by stand-alone websites. In each case, the Overall Score is based on four components: Ease of Use, which focuses on user-friendliness; Functionality, including how easy it is to compare providers as well as filter and sort search results; Content, including what type of price, quality, and other information is available; and Scope and Reliability, reflecting the breadth and the reliability of the price and quality data. For details, see our technical report (PDF).