How Your Shoes Should Fit
Make sure you're getting both comfort and support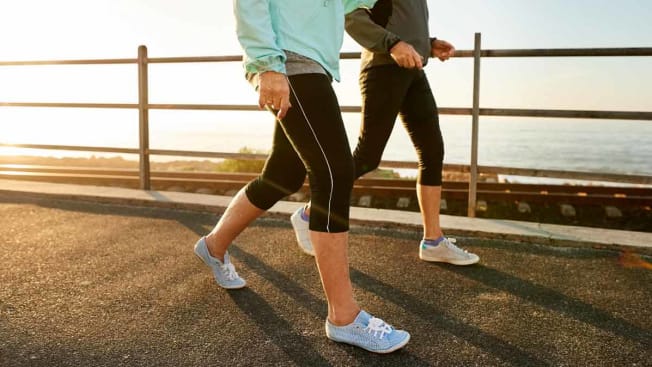 T hroughout the pandemic, many people have padded around the house in slippers or flip-flops. Wearing such unsupportive shoes can be problematic for older adults. That's because our feet lose their natural cushioning and get flatter with age, and we're more likely to have osteoarthritis (OA) and other conditions that contribute to foot pain. "Wearing shoes that are in good condition, appropriate for the activ­ity, supportive, and fit well is key to keeping your feet healthy," says Diane Koshimune, DPM, a podiatrist at Kaiser Permanente in San Jose, Calif., and a spokesperson for the American Podiatric Medical Association. This shoe checkup will help keep your feet pain-free.
To Prevent Falls and Injury
Rubber soles with treads provide the best traction on most surfaces in wet and dry conditions. (Smooth rubber soles are better for plush carpeting because they won't catch in the pile.) Retire narrow stiletto or kitten-heeled shoes and slip-ons, such as mules, flip-flops, and slippers; they all increase the risk of falls. And if you walk regularly, play golf or tennis, or do cardio dance, shoes designed for these activities will provide proper support as well as protection from injury, Koshimune says.
To reduce pain and discomfort if you have OA, choose firm, supportive shoes over flat, flexible pairs (think athletic shoes or styles with arch support instead of ballet flats or summer jellies). And consider Velcro closures—on walking shoes or sandals, for example—if OA or reduced flexibility in your hands makes fastening straps or tying laces difficult. (Laces can also be a tripping hazard.) If you have nerve damage in your feet due to diabetes, fit is critical because even minor irritations can quickly become more serious. You should also avoid shoes with seams or hard materials that may rub and place pressure on bony prominences.
Stretchable fabric or cloth, and round- or square-toed styles, will put less pressure on hammertoes, bunions, or calluses. Also look for a wide size and deep toe box if you have these problems. Inserts or orthotics can provide arch support if you have flat feet and relieve painful soles if your fat pads have thinned.
Your feet will thank you if you follow these tips the next time you buy a new pair of shoes.
Get measured each time you shop. Your shoe size is likely to change over time. Also, one foot may be larger than the other. If so, buy the larger size and add inserts to improve fit for your smaller foot. If the difference is more than ½ inch, consider buying two pairs, so the arch of the shoe matches up with the arch of your foot.
Shop later in the day. Feet swell during the day, so you want a shoe that is roomy enough to accommodate that change.
Try before you buy. Brands you've bought in the past may have had design tweaks that affect fit. Walk around the store to make sure shoes feel good—no pinching, pressure, or sliding. Never buy thinking you'll break shoes in.