Chill Out With Cold Soups This Summer
Take a break from salad and get your veggies in using one of these refreshing recipes
When you shop through retailer links on our site, we may earn affiliate commissions. 100% of the fees we collect are used to support our nonprofit mission. Learn more. We've probably all heard of gazpacho, but there's a world of cold soups out there just waiting to excite your tastebuds this summer. These three recipes, which you can easily whip up in a blender, are not only nutrient-rich but also offer an alternative to salad as a way to get in a serving or two of veggies on a warm day.
Each of these recipes has its own set of healthy perks and unique flavors.
• The carrot ginger soup, with its mildly sweet flavor and just the right kick of ginger, tastes great chilled, at room temperature, or even warm if you're in the mood. Carrots are loaded with beta carotene, an important antioxidant, while ginger offers digestive benefits. Toasted pepitas (pumpkin seeds) provide delicious crunch and healthy fats, and are a good source of magnesium and zinc.
Carrot Ginger Soup With Toasted Pepitas
3 tablespoons olive oil
1 medium yellow onion, chopped
1½ pounds carrots, peeled and chopped
1 inch fresh ginger, minced or pressed
1 clove garlic, minced
4 cups low-sodium chicken or vegetable broth
2 teaspoons fresh lemon juice
1 teaspoon honey or agave
2 tablespoons plain yogurt or nondairy yogurt
¼ cup pepitas
2 to 4 fresh basil leaves cut into ribbons for garnish
Directions
1. Heat the olive oil in a large pot or Dutch oven over medium heat. Add the onions and sauté until translucent, about 3 minutes, stirring intermittently. Add the carrots and continue to cook until carrots are coated in oil and just beginning to soften, about 3 minutes.
2. Add the ginger and garlic and cook for 1 minute more or until just fragrant. Add the broth. Bring the mixture to a low boil. Turn the heat down and let the soup simmer for 20 minutes or until the carrots are fork tender.
3. Remove the soup from heat and let cool. Stir in the lemon juice and honey. Working in batches, pour the soup into a blender and pureé until it reaches your desired consistency; you can leave it a little bit chunky or blend until smooth. Alternatively, use a hand blender (immersion blender) to pureé the soup in the pot.
4. Refrigerate the soup in a covered container for 2 hours before serving cold, or up to 2 days. (The soup may separate a little in the refrigerator, but stirring it gently will combine it again.)
5. When ready to serve, toast the pepitas by heating them in a dry frying pan in an even layer over medium heat for 3 to 5 minutes or until fragrant. Ladle the soup into bowls and garnish with the yogurt and pepitas.
Makes 3 cups
Nutritional information per ¾ cup soup: 295 calories, 18 g fat, 3 g saturated fat, 26 g carbs, 6 g fiber, 11 g sugars (5 g added), 12 g protein, 200 mg sodium
Sweet Corn Soup With Crab
Make this recipe vegan by using a vegan buttermilk and replacing the crab with sliced radishes or roasted chickpeas.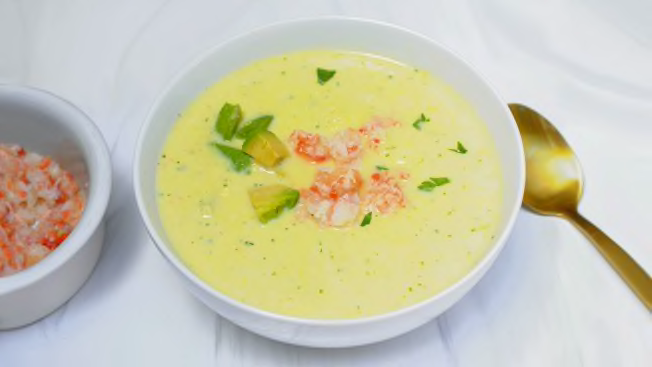 4 cups fresh corn kernels, uncooked (about 5 ears of corn on the cob)
1½ cups buttermilk or vegan buttermilk (see note below)
1 clove garlic, minced
1 scallion, white and 1-inch of the green stem, chopped
2 tablespoons cilantro
½ teaspoon salt
¼ teaspoon chipotle pepper powder
2 teaspoons fresh lime juice
4 ounces fresh cooked (or canned) lump or snow crab meat
1 avocado, chopped
Directions
1. Add 3 cups of the corn kernels, buttermilk, garlic, scallion, 1 tablespoon of the cilantro, salt, and chipotle pepper to a blender. Blend until smooth, about 2 minutes.
2. Pour the soup into a covered container and stir in the remaining 1 cup corn kernels. Chill in the refrigerator for at least 2 hours or up to 2 days.
3. When ready to serve, ladle the soup into bowls and garnish each bowl with 1 ounce of crab meat, chopped avocado, and remaining cilantro.
Note: If you don't have buttermilk on hand or don't want to buy it for this one recipe, you can make it yourself: Mix 1½ cups milk (dairy or unflavored plant-based) with 1½ tablespoons apple cider vinegar, white vinegar, or lemon juice.
Makes 3 cups
Nutrition information per ¾ cup soup: 226 calories, 8 g fat, 1/5 g saturated fat, 31 g carbs, 5 g fiber, 12 g sugars (0 g added), 13 g protein, 370 mg sodium
The addition of garlic toast makes this dish a fun play on the ubiquitous avocado toast, but you can skip the bread if you prefer.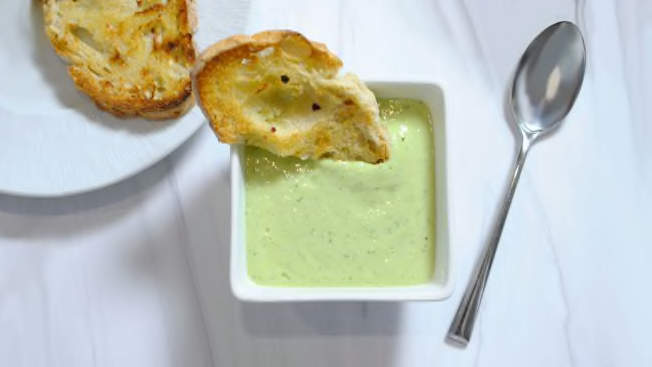 For the soup
1 medium cucumber, peeled, seeded, and diced
1 ripe avocado, peeled, pitted, and cubed
1 cup low-sodium chicken or vegetable broth
⅔ cup plain 2% Greek yogurt or nondairy sour cream
3 tablespoons fresh lemon juice
3 tablespoons parsley
1 tablespoon tarragon
1 tablespoon fresh mint
½ teaspoon salt
For the garlic toast
4 5-inch slices fresh baguette or Italian bread
2 teaspoons olive oil
¼ teaspoon garlic powder
Pinch salt
Pinch red pepper flakes (optional)
Directions
1. Place all soup ingredients into a blender. Process until well-blended and smooth. Chill in a covered container in the refrigerator for 1 to 2 hours or up to 2 days.
2. Just before you're ready to serve, toast the bread for the garlic toast. Mix the olive oil, garlic powder, salt, and red pepper flakes (if using) in a small cup. Brush the oil mixture over each slice of toast. Ladle the soup into bowls and serve with the garlic toast.
Makes 3 cups
Nutrition information per ¾ cup soup: 106 calories, 6 g fat, 2 g saturated fat, 7 g carbs, 3 g fiber, 5 g sugars (0 g added), 7 g protein, 190 mg sodium
Nutrition information per 1 slice garlic toast: 102 calories, 3 g fat, 0 g saturated fat, 15 g carbs, 1 g fiber, 0 g sugars (0 g added), 3 g protein, 180 mg sodium
Top Blenders From CR's Tests
These blenders, listed in alphabetical order, are top performers in Consumer Reports' tests.