Plant-Based Meals You Can Cook on the Grill
Instead of cooking up some beef burgers this weekend, try one of these three satisfying, delicious vegetarian dishes
When you shop through retailer links on our site, we may earn affiliate commissions. 100% of the fees we collect are used to support our nonprofit mission. Learn more.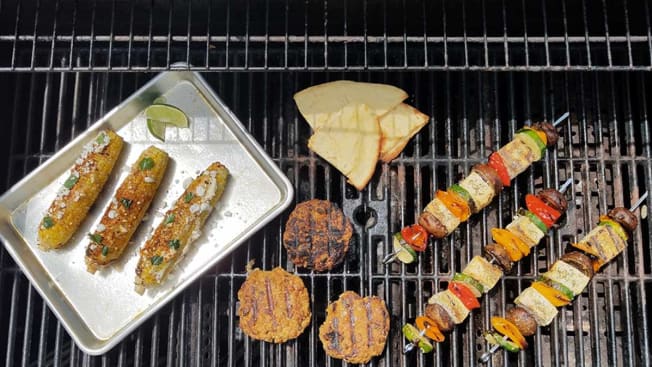 Memorial Day weekend is the unofficial kickoff of the summer grilling season. As you prepare for your cookout, your first instinct might be to head to the meat aisle at your local supermarket. However, this year, why not think differently, and consider using your grill to cook plant-based meals.
Even just cutting back on—rather than eliminating—meat and eating more plants has been linked to a variety of health benefits, such as decreasing the risk of heart disease, type 2 diabetes, and some cancers, and helping you stay at a healthy weight. And raising animals for food has more of an environmental impact in terms of land and water use and greenhouse emissions than growing plant foods.
You won't be giving up flavor when you choose a vegetarian grilled dish. Grilling adds a delicious smoky flavor to plant foods, as well as a subtle sweetness that comes from caramelizing the veggies' natural sugars.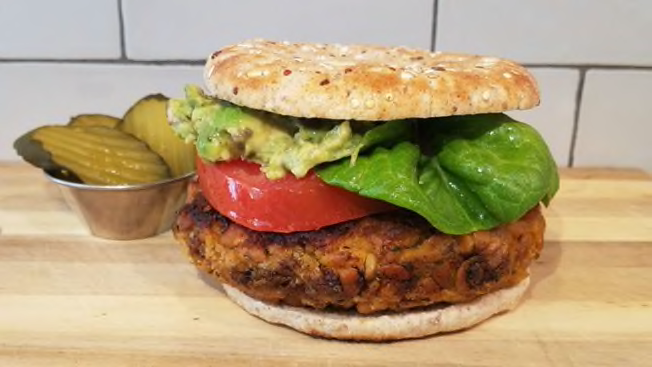 8 ounces of tempeh, cubed
1 small onion, diced
2 tablespoons olive oil
2 tablespoons tamari
½ cup chopped cremini mushrooms
2 green onions, finely chopped
1 tablespoon miso paste (red or white)
¼ teaspoon garlic powder
¼ teaspoon onion powder
¼ teaspoon paprika
¼ teaspoon ground black pepper
Bread crumbs, if needed
8 ounces guacamole
4 tomato slices
4 lettuce leaves
4 buns, 100% whole-grain
Directions
1. Place the tempeh in a steamer basket and steam for 15 minutes, or gently simmer in water in a pot for 5 to 10 minutes. Set aside to cool.
2. Heat a skillet on the stove on medium to medium-high heat. Add the olive oil and the onions and sauté about 5 to 10 minutes, until they start to caramelize. Add the mushrooms and cook for an additional 3 minutes. Stir in the tamari, miso paste, garlic powder, onion powder, paprika, and black pepper. Cook 2 minutes longer. Remove the skillet from the heat and set aside to cool slightly.
3. Meanwhile, crumble the steamed tempeh into a large bowl. Once the onion and mushroom mixture has cooled, add it to the bowl with the tempeh and stir well to combine. Portion the mixture into 4 even patties. If you can't form it into tight patties, the mixture may be too wet. In that case, add either regular bread crumbs or panko, whichever you have in your pantry, 2 tablespoons at a time until the tempeh mixture holds together tightly.
4. Preheat the grill to 450° F. Cook the burgers on medium-high heat about 4 minutes per side. Place burgers on a bun and top with lettuce, tomato, and guacamole.
Makes 4 burgers.
Nutrition information per burger: 397 calories, 20 g fat, 3 g saturated fat, 38 g carbs, 15 g fiber, 6 g sugars (0 g added), 18 g protein, 490 mg sodium
Grilled Corn With Mexican Crema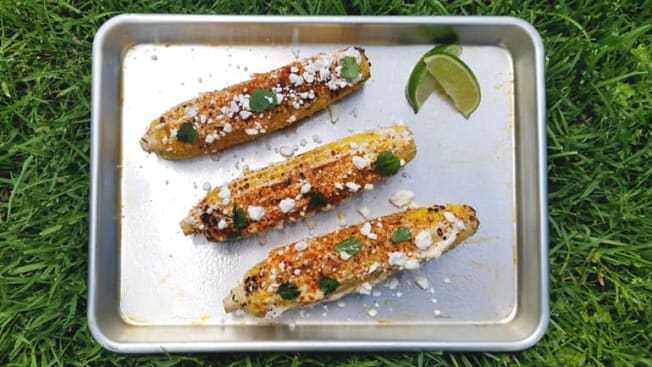 ½ cup Mexican crema or light sour cream
¼ cup light mayonnaise
½ cup minced cilantro, optional
2 cloves garlic, minced
¼ teaspoon ground chipotle pepper, to taste
Zest of one lime (about 2 teaspoons)
Juice of one lime (about 2 tablespoons)
4 ears sweet corn, husks removed, lightly brushed with olive oil
½ cup cotija cheese, crumbled
¼ cup whole cilantro leaves, optional
¼ teaspoon ground black pepper
Lime wedges for serving
Directions
1. Preheat the grill to 400° F.
2. In a medium bowl, add the crema, mayonnaise, minced cilantro (if using), garlic, chipotle pepper, and lime zest and juice. Whisk them together with a fork. Taste the mixture and add a pinch of salt or more chipotle pepper if you like.
3. Place the husked corn directly onto oiled grill grates. Grill for about 3 minutes, until a nice brown char develops. Once you achieve the color you like, rotate each ear of corn a quarter turn. Repeat the process until the whole ear is charred.
4. Using either a kitchen brush or a spoon, coat the corn with the crema mixture. Sprinkle with the crumbled cotija cheese, cilantro leaves (if using), and black pepper. Serve immediately with lime wedges.
Makes 4 servings.
Nutrition information per ear of corn and 1.5 ounces of sauce: 296 calories, 23 g fat, 8 g saturated fat, 18 g carbs, 2 g fiber, 5 g sugars (0 g added), 10 g protein, 430 mg sodium
Tofu and Vegetable Skewers With Z'atar Seasoning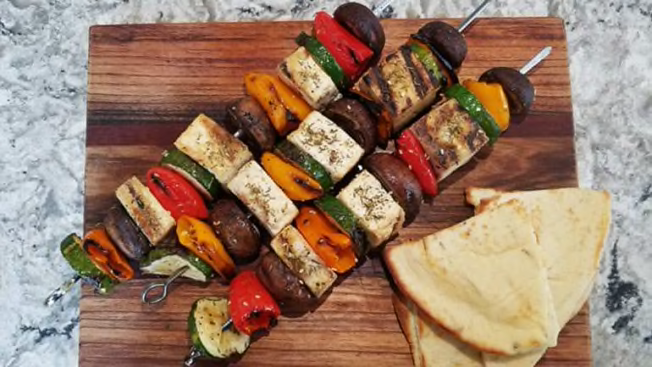 2 tablespoons olive oil
2 tablespoons Z'atar seasoning
1 14-ounce block extra firm tofu, cut into 1-inch squares
3 zucchini, sliced into ½-inch rings
2 red bell peppers, cut into 1-inch square pieces
1 cup cremini or button mushroom caps

Directions
1. Preheat the grill to 400° F. Mix the olive oil and Z'atar seasoning in a small bowl.
2. Thread the vegetables and tofu onto skewers, alternating zucchini, tofu, peppers, and mushrooms. Brush each skewer with the seasoned olive oil.⁠
3. Place the skewers on the grill and cook for 3 to 5 minutes per side, or until your vegetables have the deep caramelization and char that you prefer. Rotate the skewers a quarter turn and repeat the process until all sides are cooked.
Makes 4 servings.
Nutrition information per skewer: 248 calories, 16 g fat, 2 g saturated fat, 13 g carbs, 5 g fiber, 6 g sugars (0 g added), 18 g protein, 25 mg sodium
Great Grills From CR's Tests