When you shop through retailer links on our site, we may earn affiliate commissions. 100% of the fees we collect are used to support our nonprofit mission.
Learn more.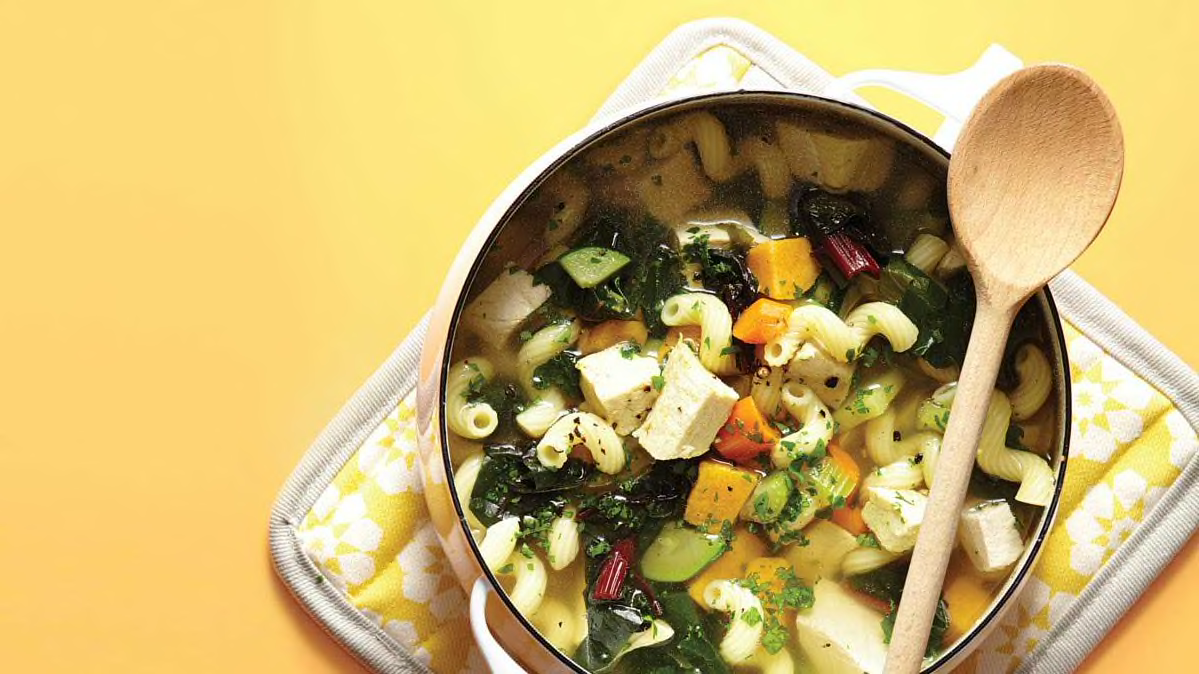 Canned soup has become a pantry staple during the coronavirus pandemic. Sales of Campbell's soups alone have increased 60 percent in the past month or so. It makes sense: Soup is quick, nourishing, and soothing. But making your own is healthier—canned soups tend to be high in sodium—and it's arguably tastier as well. Pretty much any veggie or scrap of poultry, meat, or fish can be tossed into a soup pot, so it's a great way to use up leftovers. (And it's a smart idea to minimize your trips to the grocery store these days.) You don't even need a recipe. Just follow this mix-and-match soup template—the combinations are endless.
Step 1: Start With a Base
In a large pot, sauté one to three of the following aromatics in oil or butter until soft: 2 carrots, chopped; 1 small onion, chopped; 1 stalk celery, chopped; 3 cloves garlic, chopped; 1 tablespoon chopped ginger; ½ cup chopped fennel; ½ cup chopped shallots; ½ cup bell peppers; and ½ cup chopped leeks.
More on Food & Coronavirus
Carefully pour 6 cups of chicken or vegetable broth or stock, preferably low-sodium, into the pot. Don't have 6 cups? Use what you have and add water for the rest. Bring to a simmer.
If you want to make a smaller pot of soup, use 3 cups of stock or broth and cut in half the amounts of the ingredients called for in the steps below.
Step 2: Spice It Up
Stir in ½ to 1 teaspoon of one of the following spices: curry powder, cayenne pepper, cumin, oregano, thyme, rosemary, or smoked paprika.
Step 3: Bulk Up With Veggies
Use cooked, canned, or frozen. Pick two or more of these vegetables (use a total of 2 cups). It's nice to have half of the vegetables be some type of leafy green, but it isn't necessary. If you do add greens, add them toward the end of cooking so they don't turn a dull green.
• Arugula
• Acorn or butternut squash
• Broccoli
• Cabbage (shredded)
• Carrots
• Cauliflower
• Corn
• Escarole
• Green beans
• Kale
• Mixed frozen vegetables
• Mushrooms
• Peas
• Potato
• Spinach
• Sweet potato
• Swiss chard
• Tomatoes
• Zucchini
Step 4: Add a Grain
Use 1½ cups cooked grains (preferably whole), such as one of these.
• Barley
• Bulgur
• Couscous
• Farro
• Millet
• Pasta
• Quinoa
• Rice
• Wheatberries
Step 5: Add a Protein
Use 1 cup chopped cooked beef, chicken, fish, or pork. Or try 1 cup tofu, edamame, or cooked or canned (drained) beans (any type).
Step 6: Simmer
Set the heat to medium, and simmer for 10 minutes or until the soup is heated through. Taste; if necessary, add salt or more spices, which you may need if you replaced some of the broth with water. The soup makes about six servings and will keep in the refrigerator for three to four days.
Best Dutch Ovens From Consumer Reports' Tests
A Dutch oven makes the perfect cooking pot for soup. Here are some of the best.