When you shop through retailer links on our site, we may earn affiliate commissions. 100% of the fees we collect are used to support our nonprofit mission.
Learn more.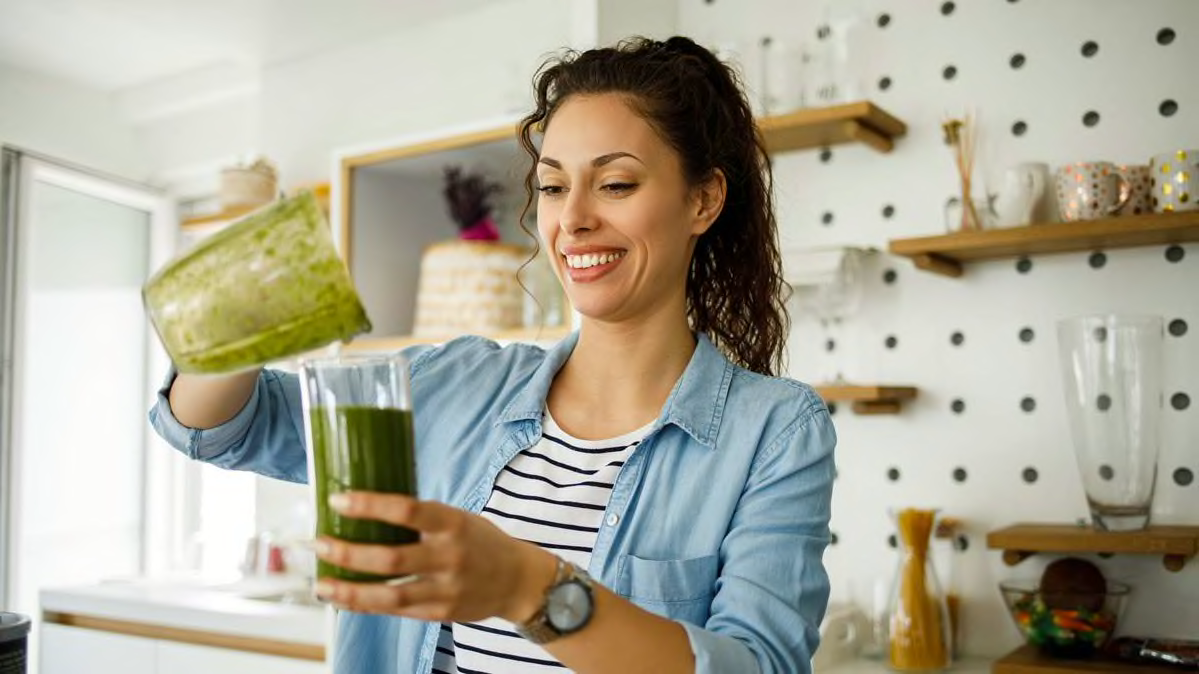 Store-bought smoothies might not be the healthy option you're hoping for; they're often made with juice rather than just whole fruit, which ups the sugars count. (A 15.2-ounce bottle of Naked Green Machine, for example, has 270 calories and 53 grams of sugars.)
"If you have the time, and a good blender, making a smoothie at home is often healthier," says Amy Keating, R.D., a CR nutritionist. Try one of the healthy smoothie recipes below. But with Keating's three tips, you can easily make any smoothie tasty, filling, and nutritious.
1. Perfect Pairing
You can boost the nutritional benefits of your smoothie by adding vitamin-rich leafy greens, such as kale or spinach, or antioxidant-rich veggies like beets. But those ingredients don't need to be the dominant flavor. Spinach pairs well with blueberries, and kale gets a nice flavor kick from tangy pineapple.
2. Thick Texture
Protein-rich foods, such as nuts, nut butters, and Greek yogurt, not only help you feel fuller longer but also help thicken your drink for a more satisfying mouthfeel. "Or boost the texture with a handful of dry oats, which are a healthy whole grain," Keating says. Just put the oats in first, hitting "pulse" to pulverize them.
3. Minimal Waste
"One of the great things about smoothies is that you can use a bruised banana or a slightly overripe strawberry without a taste or texture difference," Keating says. You can also easily freeze leftover fruits and veggies for future blends; just pop the frozen pieces straight into the blender for a refreshing icy texture—great on a hot summer day.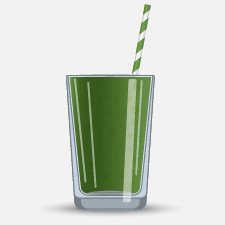 Lean Green Dream
Makes 2 servings
2 tablespoons chia seeds
½ cup milk or unsweetened plant milk
1½ cups chopped pineapple
1 cup nonfat plain Greek yogurt
4 cups chopped kale leaves

Soak chia seeds in milk for 10 minutes. Add to blender along with the rest of the ingredients and blend until smooth.
Nutritional information per serving:
220 calories, 7 g fat, 0.5 g saturated fat, 29 g carbs, 9 g fiber, 17 g sugars, 17 g protein, 150 mg sodium.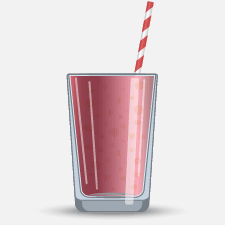 Berry and Fiber Frappé
Makes 2 servings
½ cup oats
3 cups frozen mixed berries
1 cup nonfat plain Greek yogurt
½ cup orange juice
2 teaspoons orange zest

Add oats to the blender first and blend until powdery. Add other ingredients and blend until smooth.
Nutritional information per serving:
280 calories, 3.5 g fat, 0 g saturated fat, 53 g carbs, 8 g fiber, 26 g sugars, 17 g protein, 40 mg sodium.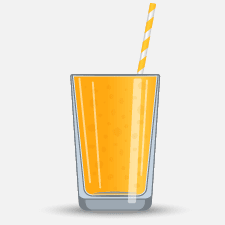 Tropical Temptation
Makes 2 servings
2 cups frozen tropical fruit mix (pineapple, mango, and papaya)
1½ cups nonfat plain Greek yogurt
1 cup unsweetened almond-coconut milk blend

Add ingredients to blender and blend until smooth.
Nutritional information per serving:
210 calories, 2.5 g fat, 0.5 g saturated fat, 30 g carbs, 3 g fiber, 24 g sugars, 19 g protein, 130 mg sodium.
Top Blenders From CR's Tests
These blenders, listed in alphabetical order, performed well in our tests that evaluate smoothness and thickness.
Editor's Note: This article also appeared in the August 2020 issue of Consumer Reports magazine.