The first blenders hit kitchen counters in the 1920s, designed for whipping up malted milks. Today, they're more versatile—and they're the best tool for making tasty smoothies, succulent soups, even homemade nut butters. You can get a plastic personal blender for as little as $20 or splurge on a multifunction, premium glass blender with Bluetooth that will cost more than $600.
Higher price typically means better functionality, versatility, and performance. Still, results are, well, mixed. Some blender blades broke under our rigorous durability tests using only ice. Others blended perfect virgin piña coladas. 
Our buying guide will steer you toward the best blender for your needs and budget.
CR tests blenders on how well they make icy drinks, crush ice, and purée, as well as on convenience, durability, and noise.
In our lab, we make batches of nonalcoholic piña coladas and use a series of sieves (with increasingly smaller mesh sizes) to evaluate smoothness and thickness. "When a blender earns an Excellent score in our icy-drinks tests, the drinks have a smooth, consistent texture," says Larry Ciufo, a CR test engineer who runs our blender lab.
For our ice-crushing tests, we use another set of sieves to separate the big chips from the finer bits. A blender that garners an Excellent rating in our ice-crushing test serves up ice that looks uniformly like snow. A Very Good rating tells you the ice is more like a snow cone. (The lower the score, the bigger—and more irregular—the ice chips.)
In our purée test, we blend veggies and other ingredients in boiling water, operating on the manufacturer's recommended speed (or high) for 15 seconds—three times per model.
The convenience score is measured by how easy it is to use a blender's controls, clean its base, and remove and replace the blade, among other factors. Our durability test involves crushing seven ice cubes (four for personal blenders) without liquid for 1 minute on the highest setting. To gauge noise level, CR blends 1 cup of water and takes an average decibel reading over 30 seconds.
To see how well the full-sized, personal-sized, and immersion blenders perform in our tests, see our blender ratings.
Compare Types
If you're looking to whip up just the occasional milkshake or morning smoothie, you'll want a different model from one you'd use if you're into daily whole-fruit juicing with a taste for homemade almond butter. Here are the four main types, from most to least versatile.
Buying Guide Video
For more, watch our video below.
Don't Forget About Storage
Some blenders are easier to store than others, which could be a real concern if you have a small kitchen. With their super-compact design, immersion blenders tuck easily into a drawer—though, again, they can't take the place of a countertop blender. Personal blenders are also fairly compact.
If you're going for a full-sized unit and plan to keep it on the countertop, a model that is less than 17 inches tall should save space by fitting under the kitchen cabinet when not in use. The height between countertops and the bottom of cabinets is typically 20 to 22 inches, so you want to have enough space to take the top off a blender or insert and remove the jar (though it's a good idea to take a measurement because some cabinets are lower).
Pay attention to the number of attachments and accessories that come with the blender. Some hybrid models feature multiple mixing containers, which might improve their versatility, but they'll also take up storage space in your cabinets.
Blender Features to Consider
Paying more for a blender doesn't necessarily get you more features. For more details, check our blender ratings.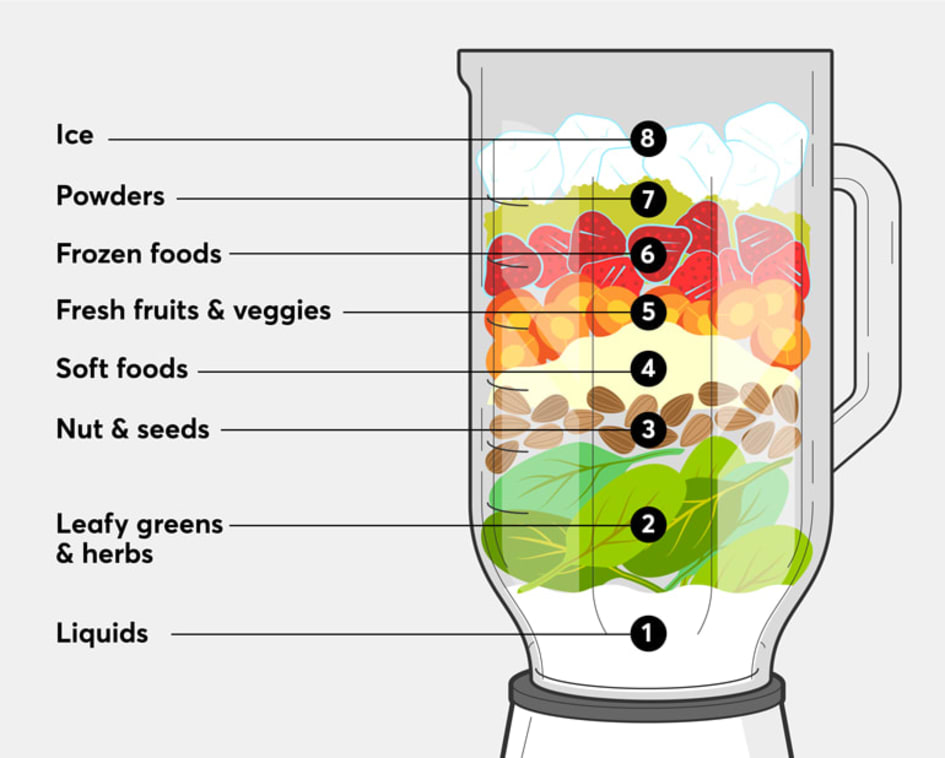 Black+Decker is a well-known American brand that offers a wide range of models available through online retailers as well as at Best Buy, Target, Walmart, and other big-box retailers. Shop Black+Decker blenders on Amazon.
Blendtec is a premium brand whose high-performance blenders are available at specialty retailers and some big-box stores, as well as at Amazon. Costs for most models range from $400 to $700. Shop Blendtec blenders on Amazon.
Braun makes high-performance, German-designed "Jug" blenders sold at retailers including Amazon, Bed Bath & Beyond, Best Buy, Home Depot, Macy's, Target, and Walmart.
Breville is an Australian manufacturer whose upscale countertop and immersion blenders are sold primarily at specialty retailers and some big-box stores, as well as online. Shop Breville blenders on Amazon.
Another widely sold American brand, Cuisinart produces countertop and immersion blenders, which are widely available in department, specialty, and appliance stores, and through online retailers. Shop Cuisinart blenders on Amazon.
Dash makes high-performance countertop blenders with vibrant bases, multiple presets, 1,400-watt motors, and a 1-year warranty. They are sold at Amazon, Bed Bath & Beyond, and Walmart.
Known more for air fryers, GoWise USA makes high-performance, high-speed commercial-grade blenders—including a heating blender. It's sold at Amazon and major stores like Home Depot and Target.
Hamilton Beach is a market-leading manufacturer of products, including countertop, personal, and immersion blenders, widely available through department stores, appliance stores, and big-box retailers. Shop Hamilton Beach blenders on Amazon.
Owned by Whirlpool, KitchenAid is a premium U.S. brand known for its colorful designs. Blenders are sold through department stores, specialty stores, appliance stores, online retailers, and big-box retailers. Shop KitchenAid blenders on Amazon.
Ninja is an infomercial favorite known for its multifunctional countertop and personal blenders, sold online and at some big-box stores. Shop Ninja blenders on Amazon.
NutriBullet is a popular brand of compact personal blenders for making smoothies, protein shakes, veggie drinks, and dips. It manufactures personal, full-sized, and hybrid models with versatile attachments, large pitchers, and serving cups. It's sold at mass retailers (Bed Bath & Beyond, Target, Walmart), warehouse clubs (BJ's, Costco, Sam's Club) and department stores (JCPenney, Kohl's, Macy's), as well as other online retailers.
Another market-share leader, Oster offers mostly budget products sold through department stores, online retailers, Target, Walmart, appliance retailers, and many more outlets. Prices range from $20 to $100. Shop Oster blenders on Amazon.
Vitamix is a premium brand of high-performance blenders. At the higher end of the blender market, its popular products are primarily sold online and through specialty retailers. Shop Vitamix blenders on Amazon.
Thanks for sharing.
Oops, we messed up. Try again later
Recently Tested Blenders
BEST TIME TO BUY:
May, June, November, December
Do you know when is the best time to buy Blenders? Learn more
More From Consumer Reports