When you shop through retailer links on our site, we may earn affiliate commissions. 100% of the fees we collect are used to support our nonprofit mission.
Learn more.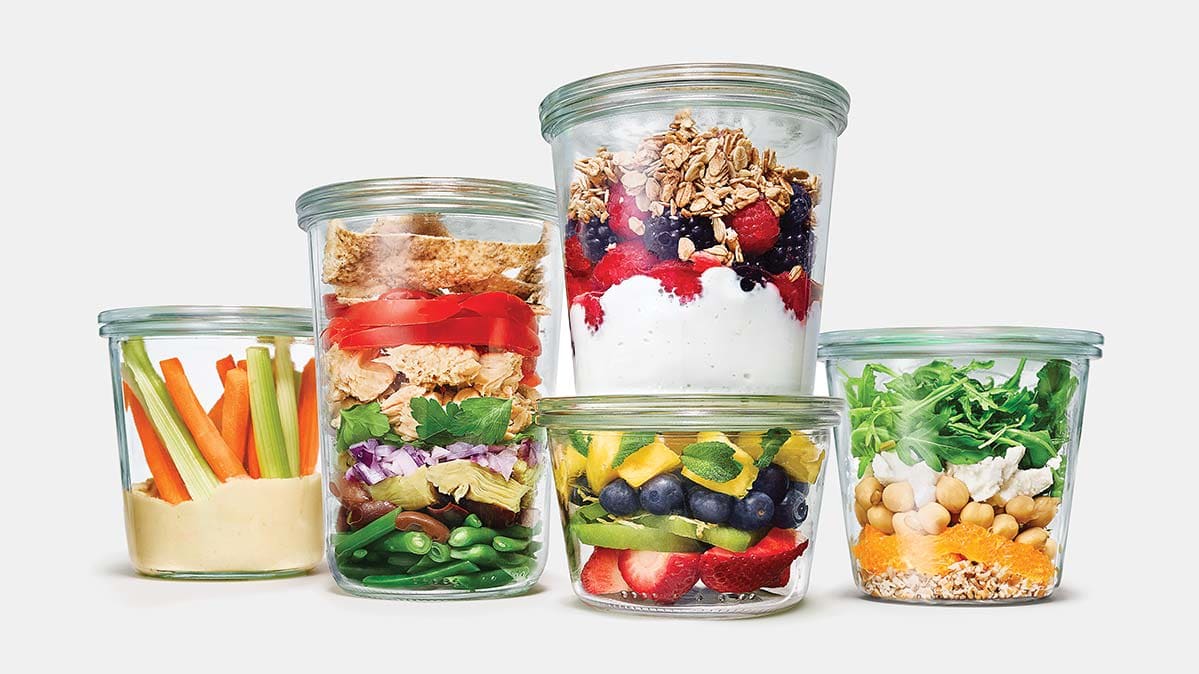 Packing your own lunch can make it easier to eat healthier because you have more control over what goes into your meal. But the standard brown-bag fare can get a bit boring. Why not try one of these creative lunch-in-a-jar ideas (shown above)? They're easy to put together and packed with foods everyone should be eating more of, such as whole grains, fruits, and vegetables. If just one of these seems too light for your lunch, pack two. For example, the salade nicoise and the fruit salad make a nice pair.
Hummus and veggies. Spoon 4 tablespoons prepared hummus into the bottom of a jar. Layer celery and carrot sticks (about five each) on top. Optional (not shown): Add three whole-wheat crackers (such as Triscuits Reduced Fat Crackers) for extra crunch.
Salade nicoise. Layer 1⁄2 cup blanched green beans; 1⁄4 cup Kalamata olives, halved; 1⁄4 cup chopped artichoke hearts (not in oil); 1⁄2 tablespoon chopped red onion; 1 tablespoon parsley leaves; 2 ounces canned salmon; and 1⁄4 cup sliced red peppers in a container. Drizzle with 2 tablespoons prepared Italian dressing. Top with 1⁄4 of a whole-wheat pita, cut into strips.
Yogurt parfait. Spoon 1 cup nonfat Greek plain yogurt into the bottom of a jar. Top with 1⁄4 cup raspberries, 1⁄4 cup blueberries or blackberries, and 2 tablespoons of granola.
Fruit salad. Layer 1⁄4 cup strawberry halves, 1⁄4 cup sliced kiwi, 1⁄4 cup blueberries, and 1⁄4 cup pineapple chunks in a jar. Top with 1 teaspoon chopped mint leaves and 1 teaspoon lemon zest.
Bulgur wheat, chickpea, and orange salad. Layer 1⁄4 cup cooked bulgur wheat, 1⁄4 cup orange segments, 1⁄2 cup chickpeas, 2 tablespoons crumbled goat cheese, 1 cup arugula, and 1 tablespoon sunflower seeds in a jar. Drizzle with 2 tablespoons prepared honey mustard dressing.