When you shop through retailer links on our site, we may earn affiliate commissions. 100% of the fees we collect are used to support our nonprofit mission.
Learn more.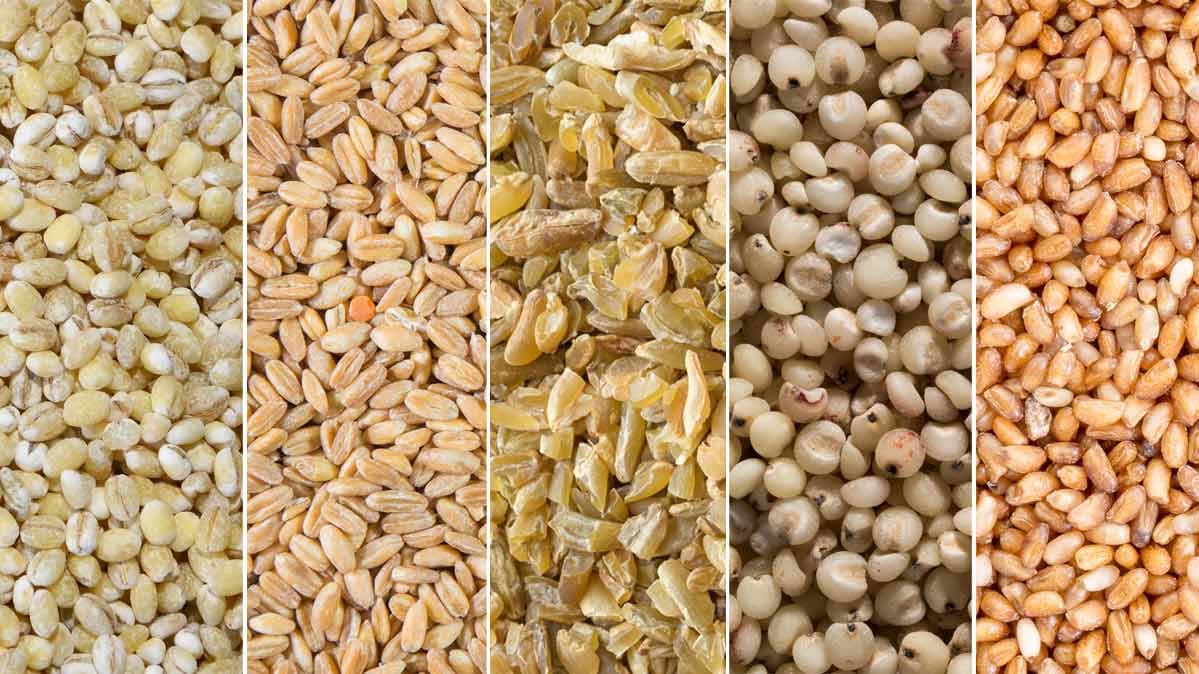 Whole grains may not guarantee a longer life, but eating them may help you prevent age-related illnesses and improve your health now and in the future.
Multiple studies link whole grains (which contain a grain's entire kernel­—bran, endosperm, germ, and husk) to lower risks of heart disease, cancer, diabetes, and obesity. Swapping wheat bread for white is a good start, but these five grains can help further.
Barley
This firm, nutty grain is rich in beta-glucan, the same cholesterol-lowering soluble fiber that's in oats.
Barley can lower two types of "bad" cholesterol, according to a review of 14 studies in the European Journal of Clinical Nutrition. For the most nutrients, choose hulled barley, says William Lendway, M.S., R.D.N., assistant professor of culinary nutrition at Johnson & Wales University. It cooks in 40 minutes.
Use it: In soups and stews, in place of rice in a pilaf, or tossed with roasted squash and herbs in a cold grain salad.
Farro
This form of wheat retains a tasty al dente texture, even if cooked for a long time. As with barley, the whole-grain version gives you the most nutritional benefits. It can take 30 minutes to cook, though you can speed that up by soaking it overnight. A nearly 3/4-cup serving provides at least a quarter of your daily niacin, which your body requires to turn food into energy, and more than 20 percent of your daily immune-boosting zinc.
Use it: Toss with chickpeas, sautéed mushrooms, roasted red peppers, arugula, and white balsamic vinaigrette. Or serve as a side dish, flavored with earthy herbs such as sage and thyme.
Freekeh
A type of wheat that's harvested young, freekeh is typically sold roasted and cracked. This process gives it a bit of a smoky flavor and a shorter cooking time than many other whole grains—around 20 minutes. It's one of the highest-protein grains, with 8 grams per ¾ cup cooked.
Use it: Combine with sautéed leeks, dried apricot, and almonds. Or try it in a cold salad (similar to tabbouleh) with chopped vegetables, herbs such as parsley, and a drizzle of olive oil and lemon juice.
Sorghum
With its mild flavor and rounded shape, sorghum is similar to Israeli couscous, a refined-grain pasta product made from wheat flour. But it's far better for you, with high levels of disease-fighting anti­oxidants—comparable to produce. It's also a good source of the mineral phosphorus, which helps with kidney function; ¾ cup cooked sorghum supplies about 20 percent of your daily needs. It cooks in 25 to 40 minutes.
Use it: Pop it in place of popcorn, another whole-grain food. Lendway likes topping sorghum with a black lentil stew and curried cauliflower.
Teff
This grain resembles brown poppy seeds, and its tiny size means that it cooks faster than other whole grains (in about 15 to 20 minutes). Teff is nutritionally unusual, supplying 92 mg of calcium per ¾ cup cooked—­almost 10 percent of your daily need—and about half the iron adults 50 and older need each day. Like many grains, teff is high in fiber (with 5 grams per ¾ cup cooked). It's a good source of a type of fiber called resistant starch, which may help with blood sugar management and gut health.
Use it: "I love the darker, almost molasses-­like flavor of it," says Lendway, who mixes teff flour into cookie and pancake batters. It also works well as a porridge for a change from your morning oatmeal. Blend it with chopped bananas and top with toasted pecans.