5 Healthy Dips for Holiday Parties
These easy recipes will help you lighten things up
When you shop through retailer links on our site, we may earn affiliate commissions. 100% of the fees we collect are used to support our nonprofit mission. Learn more. Amid the cheeseballs, cocktail meatballs, and pigs-in-a blanket, it's nice to find something to snack on at a holiday party that you won't regret eating the next day. These healthy dips from Consumer Reports' test kitchen fit the bill.
Serve them with whole-grain pita or, ideally, sliced veggies. Try some less-than-usual options such as asparagus, baby artichokes, fennel, jicama, kohlrabi, and radishes along with the standard carrots and celery. Creamy and flavorful, these healthy dips are so tasty that your guests won't even know they've been lightened up.
Note: All recipes can be doubled.
Caramelized Onion Dip With Chives
(Pictured above)
1 tablespoon olive oil
1 pound Vidalia onions, peeled, halved, and thinly sliced
¼ teaspoon salt
¼ teaspoon freshly ground black pepper
½ cup Greek nonfat yogurt
2 ounces Neufchatel cheese
2 tablespoons chopped chives
Directions
1. Heat the oil in a large skillet over medium heat. Add the onions, salt, and pepper, and sauté for 10 minutes, stirring frequently.
2. Reduce the heat to medium-low and cook for 30 minutes, stirring occasionally, until the onions are browned and caramelized. Set aside to cool.
3. Place the yogurt and cheese in a large bowl and mix well. Add cooled onions and chives, and stir until blended.
Makes 10 servings.
Nutrition information per 2 tablespoons: 45 calories, 2.5 g fat, 1 g saturated fat, 5 g carbs, 1 g fiber, 2 g sugars, 2 g protein, 75 mg sodium
Roasted Garlic and Red Pepper Dip
2 heads garlic
2 teaspoons plus 2 tablespoons olive oil
1 8-ounce package Neufchatel
 cheese, softened
⅓ cup chopped, roasted red pepper
⅓ cup flat-leaf parsley leaves
¼ cup reduced-fat sour cream
2 tablespoons fresh lemon juice
½ teaspoon salt
2 teaspoons hot sauce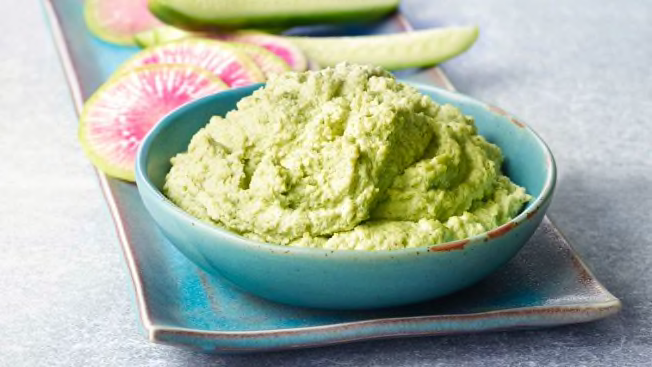 8-ounce package shelled, 
ready-to-eat edamame (about 1½ cups)
⅓ cup cilantro leaves
1 avocado, peeled and chopped
⅓ cup reduced-fat sour cream
⅓ cup water
2 tablespoons fresh lime juice
½ teaspoon salt
½ teaspoon black pepper
¼ teaspoon toasted sesame oil
¼ teaspoon ground cumin (optional)
Directions
1. Put the edamame in a food processor and pulse several times. Add the cilantro and pulse again.
2. Add the remaining 
ingredients and process the mixture until smooth.
Makes 16 servings
Nutrition information per 2 tablespoons: 50 calories, 3 g fat, 0.5 g saturated fat, 3 g carbs, 2 g fiber, 1 g sugars, 2 g protein, 85 mg sodium
2 garlic cloves
6 tablespoons fresh lemon juice
3 tablespoons water
1 19-ounce can chickpeas, drained
⅓ cup tahini
¼ cup olive oil
½ tsp salt
Directions
1. Blend garlic cloves, lemon juice, and water in a food processor for 30 to 60 seconds.
2. Add the chickpeas and pulse. Add half of the tahini and pulse again.
3. Add remaining tahini and purée. Keep the motor running and add the olive oil in a stream. Purée until smooth. Add more water if needed to reach the desired consistency. Stir in the salt.
Makes 16 servings.
Nutrition information per 2 tablespoons: 90 calories, 7 g fat, 1 g saturated fat, 6 g carbs, 2 g fiber, 1 g sugars, 2 g protein, 110 mg sodium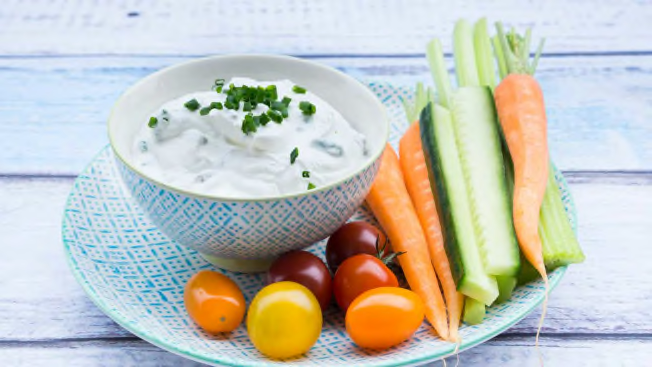 ¾ cup nonfat plain Greek yogurt
1 tablespoon chopped fresh chives
1 tablespoon fresh lemon juice
1 tablespoon minced shallots
1 teaspoon minced garlic
½ teaspoon chopped fresh dill
¼ teaspoon each, salt and pepper
Directions
Place all the ingredients in a medium bowl and mix until well combined. Refrigerate for at least 30 minutes before serving.
Makes 8 servings
Nutrition information per 2 tablespoons: 15 calories, 0 g fat, 0 g saturated fat, 1 g carbs, 0 g fiber, 1 g sugars, 2 g protein, 80 mg sodium
Top Food Processors From Consumer Reports' Tests
In our food processor lab, we test a blade's ability to chop, grate, and purée. If the model comes with slicing attachments, we test the slicing blade and shredding blade. We also measure noise, because while all food processors are noisy, some are much worse than others. Here are three that performed well in our tests.