When you shop through retailer links on our site, we may earn affiliate commissions. 100% of the fees we collect are used to support our nonprofit mission.
Learn more.
Many of the high chairs on the market today claim to grow with your child including one with a weight limit of 300 pounds. Now that's a baby. More typical are the chairs that fit a child from the time he can sit up until he can graduate to a regular dining chair. Consumer Reports included three wooden "grow-with-me" high chairs in its recent tests and found one good enough to recommend. We also found some traditional high chairs with updated features that make them more convenient for busy parents.

Grow-With-Me High Chairs
The recommended Svan Signet Complete, $200, comes with a conversion "baby kit" that is added to a basic chair base. As your child grows, you'll have to keep an Allen wrench handy to make the necessary adjustments. Same goes for the other two grow-with-me chairs we tested, the Badger Basket Embassy, $105, and the Stokke Tripp Trapp, $250. All three are a bit quirky looking but that didn't prevent them from passing our safety tests with flying colors. Where the Badger Basket and the Stokke missed the mark was on our ease of use tests, which the Svan Signet aced.
As for weight limits, the Svan doesn't state one but the Badger Basket can accommodate someone up to 175 pounds and the Stokke a whopping 300.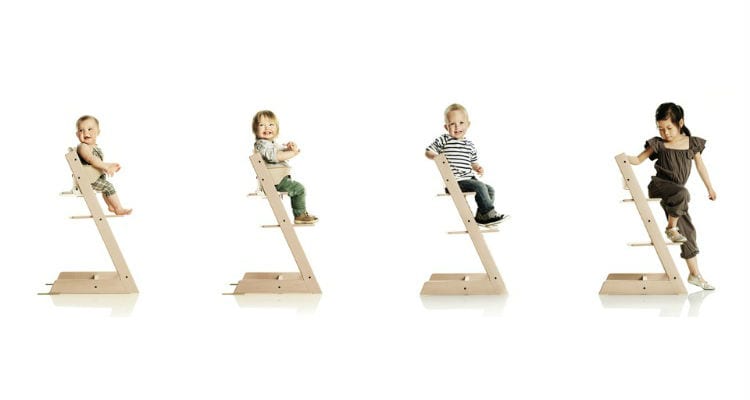 Stackable High Chairs
Another option for growing children or a growing family is a stack-style high chair, which features a booster seat with a tray stacked on a chair base. We liked the Chicco Stack 3-in-1, $130, and the Ingenuity Trio 3-in-1, at $90 a CR Best Buy. Despite its name, the Chicco Stack can be used in four configurations from a full high chair to a youth stool. Both the Chicco and the Ingenuity can be used for two kids with one sitting on the stool and the other in the booster seat fastened to a dining chair.

Other Features We Like
Some high chairs have a big footprint, which can be a challenge in a small kitchen. Graco solved this problem with its chair, the Graco Swift Fold, $130, which was indeed easy to fold in our tests even with the tray attached. Another innovation can be found on the 4Moms high chair, $300, which has a magnetic tray that is simple to glide into place. Another plus is that it comes with a magnetic bowl that stays in place when a child is feeding herself.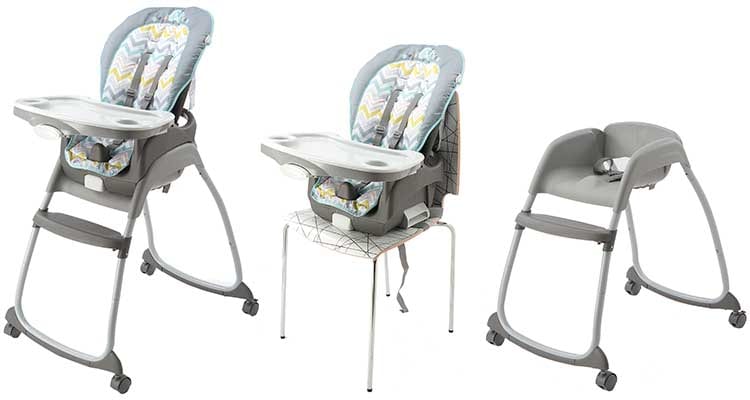 What Parents Want
To make sure our tests cover what's important to parents we asked parents with children under the age of 3 what was important to them when choosing a high chair and what features they disliked on the chair they own. As we suspected, safety was paramount and that's why we give it added weight in our overall score.

Next on parents' lists were features including how much floor space the chair requires. That's why we list each chair's footprint as small, medium, or large on the model pages for each chair under features and specs. Third in importance was price. Some parents don't mind paying a premium for a style and features they like but others balk. The high chairs in our Ratings range in price from $40 to $400 but to get a model on our top picks list plan on spending about $200.

Although ease of cleaning wasn't a top concern of parents when buying a new high chair, they sometimes learned the hard way that cleaning food out of crevices or getting stains out of certain fabrics can be tricky. Some parents wished their current chair was more compact or more sturdy but, for the most part, parents were happy with the high chairs they chose. For plenty of other options, see our full high chair Ratings and recommendations.