We Assembled 6 Artificial Christmas Trees—Here's How to Make It Easy
Hint: Grab a partner and a pair of gloves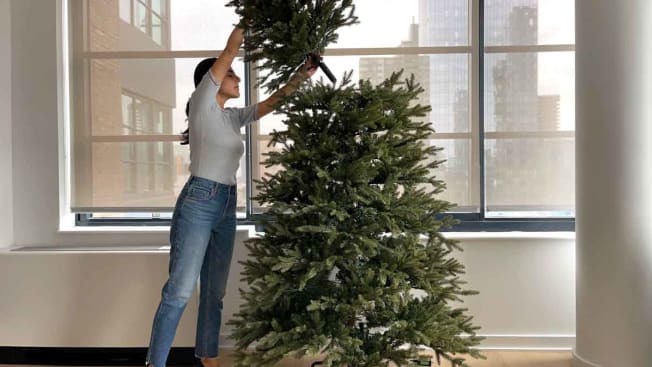 Regardless of what an artificial Christmas tree may look like—whether it's a modest 4-footer or an extravagant 12-foot structure with all the bells and whistles—they all require a certain amount of effort during assembly.
If you own an artificial tree, you're probably well versed in the practice of "fluffing" a tree, a necessary step for shaping the individual branches and overall composition. Needless to say, the larger the tree and ample the tips, the longer it will take.
Be Prepared to Spend More Time Than You Think for Setup
I was shocked by how long it took to set up these trees. Each tree comes in two or more pieces, and though they're a bit awkward and difficult to fit into each other, it was absolutely the "fluffing" that took the greatest amount of time. Each individual branch of the tree needs to be fluffed, and it took me a bit to realize you can actually be pretty rough with them—almost yanking them around so that the pieces are fully spread out instead of in the tight clusters that make the tree packable. I ended up fiddling with the trees for a long time, and always seemed to find a new branch that was inadequately fluffed. 
The Kurt Adler tree, which we purchased from Bed Bath & Beyond, was by far the most frustrating experience in this regard. It was difficult to fluff the tree because the Christmas lights were tangled in the branches; I had to carefully extricate the Christmas light cables from the branches before I was able to adequately separate the branches.
Even still, it didn't look great. There were cables all over the place, running very obviously from branch to branch as if a thick green spiderweb had been spun within the tree. The other trees that I evaluated did not have this issue. The cables were almost invisible and posed no problem during setup. —Angela
Get Someone to Help, If Possible
Some of the layers were surprisingly heavy to lift, especially after I had unfluffed them. And although I managed, it wasn't the easiest to build these myself. —Anna
I actually had to have my husband help me lift the Wayfair Red Barrel Studio Newberry Spruce tree—it was pretty heavy and unwieldy, and it was difficult to fit the pieces into each other since I'm short and not especially strong. It was a lot more like putting together Ikea furniture than I anticipated, so if you despair over the prospect of spending a couple of hours assembling and perfecting a large home décor item, I might stick with a real tree. —Angela
Wear Gloves and Cover Your Forearms
It's also worth noting that the trees can be kind of painful. They can cut up your hands; my husband actually mentioned that his hands and forearms got red and irritated from helping me set up these trees. One tree, the Balsam Hill tree, came with gloves, though unfortunately I didn't notice them until once I was well into assembling that tree. I'd definitely recommend finding garden gloves before diving into your artificial tree setup! —Angela
I'm embarrassed to admit that I didn't think to use gloves until the very end when I was deconstructing the third tree. None of my trees came with a pair, so I used rubber dish gloves, which were covered in a black dusty residue upon completion. But yes, by the end of my evaluations, my hands and arms were pretty scratched up and irritated. —Anna
Consider Alternative Storage Solutions
I was under the impression that after unpacking and fluffing a tree, it would be next to impossible to get it back into the box. Surprisingly, all three of my trees were able to fit back in. That said, if I were to own an artificial Christmas tree, I wouldn't store it in its box (there's no room for it in my studio), nor would I completely "un-fluff" the branches at the end of each holiday season. I'd make the tree as compact as needed and keep it in a bag. This way, I'd cut down on the amount of time it would take to set the tree up each year. —Anna
I was able to get two of the trees back into the box; the third, the Balsam Hill, fit beautifully in the huge storage bag (that frankly resembles a body bag) it came with. I will say, large artificial Christmas trees aren't a great option for people who live in small spaces with little storage area. 
But if I had a bigger space, I'd store it as fluffed-out as possible and keep it in a bag in storage. You can purchase bags online specifically made for artificial Christmas trees, and they're not too expensive. You can get one between $10 and $40. Since many of these bags have handles, they're also much easier to carry than a beat-up cardboard box that's been haphazardly duct-taped closed. —Angela
When you shop through retailer links on our site, we may earn affiliate commissions. 100% of the fees we collect are used to support our nonprofit mission. Learn more.