Christmas Lights You Can Set to Music
We tried out musical light sets from Holiday Showhome, Lumations, and Twinkly to see which one makes the cheeriest holiday display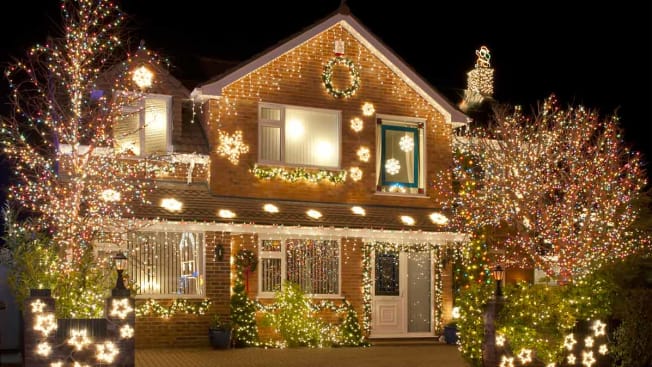 Big gatherings may be out of the question this year, but you can still spread some much needed holiday cheer by making your seasonal outdoor light display really pop—and swing.
To help you do just that, we purchased three popular holiday light sets and installed them to create a holiday light show. They're made by Holiday Showhome, Lumations, and Twinkly, and each displays multicolored patterns and effects that change in sync to music.
The price of a single set ranges from $60 to $200. The lights from Holiday Showhome and Twinkly can connect to WiFi so you can customize the light patterns from your smartphone and control them with your voice via Amazon Alexa and Google Assistant smart speakers.
Speaking of speakers, only one set—Lumations—comes with a speaker, so for the other two you'll need your own. (To find a good one, see our wireless and Bluetooth speaker ratings.) If you're worried about your neighbors getting all Grinchy over hearing Christmas carols, you don't have to set these lights to music.
Read on for details about these lights, and get ready to create some holiday magic!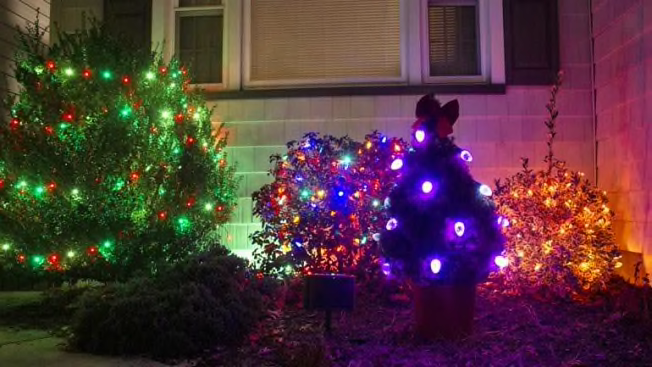 Lumations Holiday Symphony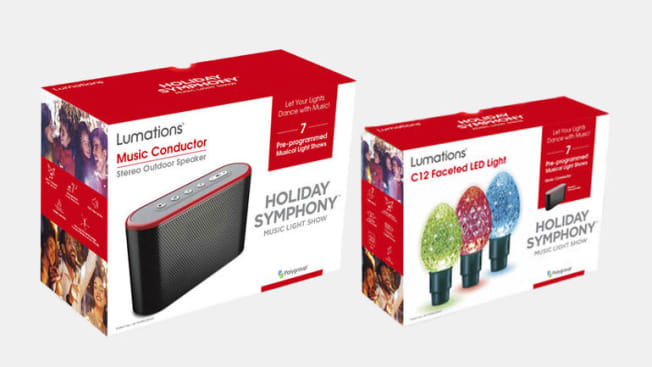 Price: $100 ($50 for the music conductor, $50 per light set, $25 for optional light adapter)
Light Types: C12 Bulbs, G35 Bulbs, Icicles, Snowflakes, Spotlights
Where to buy: Lumations Music Conductor at Lowe's, Lumations C12 String Lights at Lowe's
The Lumations Holiday Symphony is a simple and satisfying plug-and-play option. It consists of lights and the Holiday Symphony Conductor, an outdoor speaker that plays seven preprogrammed Christmas songs and wirelessly controls the separate light sets.
Once you string the lights, setup couldn't be easier: Plug in the lights and press Play on the conductor. There's no syncing of lights to the conductor or futzing with smartphone apps. In fact, it's so simple that at first I couldn't figure it out. The instructions didn't explicitly state that the lights connect to the conductor automatically. I just assumed there was some setup process that I had to go through, which was the case with the other two sets I tried.
This set's light shows looked the most like a traditional holiday light show, with patterns and effects that seemed more in sync with the music than the other sets. The downside? Unlike the other sets, you get only seven songs and light patterns.
Still, the Lumations system allows for a lot of customization in terms of the lights you can use, thanks to its two styles of bulbs, its icicle lights, snowflake lights, and spotlights. And with the Lumations LED Light Wizard light adapter, $25, you can connect lights made by other manufacturers to the system (up to 8,000 bulbs, if you want to go full Clark Griswold) using its four outlets.
Twinkly Generation II Strings and Music Adapter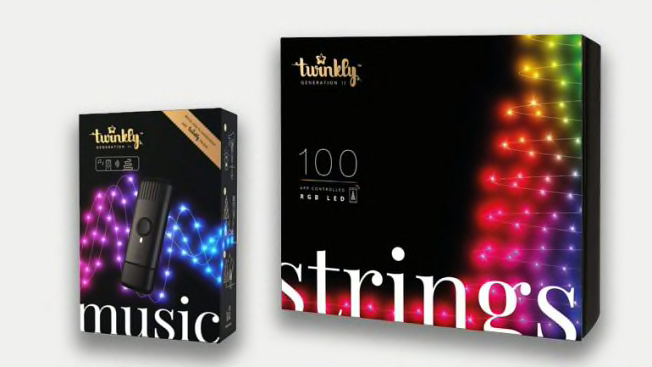 Price: $60 to $200 per light set; $30 for optional music adapter
Light Types: Strings, Icicle Strings, Curtains, Clusters, Spritzers, Festoon Bulbs
Where to buy: Twinkly Strings at Amazon, Twinkly Music at Amazon; Twinkly Strings at Best Buy, Twinkly Music at Best Buy; Twinkly Strings at Target; Twinkly Strings at Walmart, Twinkly Music at Walmart
If you want lights that can display elaborate patterns, Twinkly won't disappoint. These lights connect to your smartphone via WiFi and use its camera to create a 2D or 3D map of the bulbs. With that map, you can change the color of each individual bulb to create highly detailed light patterns.
The setup process was a little clunky at first. The app tried to connect to the lights automatically but couldn't, so I had to make the connection manually. That worked perfectly, though, and soon I was swiping through premade light effects on my phone to see how they looked.
Using the Twinkly app, you can also create your own patterns by "painting" on the digital map of the lights with your finger. You can create both static and moving effects, but the moving effects are difficult to make because you have to paint the lights while the effect loops roughly every 10 seconds. Because the lights display only a given color for a couple seconds, you have to wait for the loop to repeat to make more changes.
Another weird drawback: The set won't play music to a customized light pattern. For that, you have to choose one of the premade light patterns.
Also, to play music you have to keep your phone next to the speaker you're using outside. (The set uses your phone's microphone to "listen" to the music to make the lights work). You can buy the $30 music adapter instead, which has its own microphone, but the adapter works only with its own dedicated set of effects—another limitation.
All of this can be a little confusing, but once you've zeroed in on the light pattern and/or music you want, the Twinkly is appropriately spectacular. It's fun and colorful, and almost gives off a nightclub vibe, if that's your thing.
Holiday Showhome 300 Ultimate Light String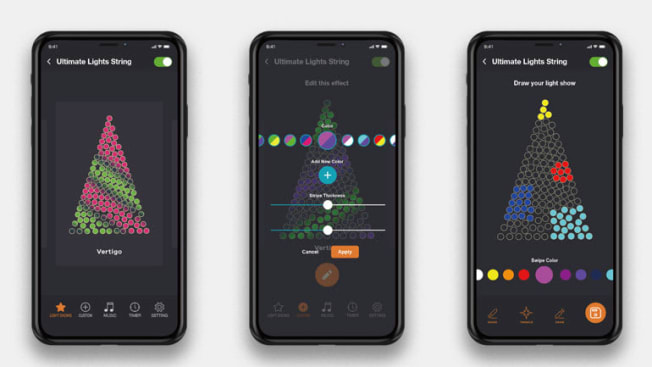 Price: $108
Light Types: String
Where to buy: Home Depot
The Holiday Showhome 300 Ultimate Light String seemed like a promising and more affordable alternative to Twinkly's pricey light sets. And it would be if it wasn't almost impossible to set up.
At first I couldn't get the app to let me create an account, so I had to proceed without one. (You need an account if you want to connect the set to smart speakers for voice control.) I tried for a couple of hours to connect the lights to my WiFi network with no success. There was no customer support number or email address listed in the instructions. So I gave up and tried again a few days later using an iPad instead of a smartphone. Suddenly, it worked.
I'm not sure it was worth the trouble. The light patterns seem to be designed primarily for Christmas trees. They only display correctly when you wrap the lights around a tree or bush, or some other object, in a spiral pattern. To set the lights to music, you have to connect whatever device is playing the music (your phone, computer, stereo, etc.) to the lights using the included audio cable, which is pretty inconvenient.
All in all, this set was a disappointment from the setup to the light show. You won't get the kind of cool musical light shows you would with the Lumations and Twinkly.
When you shop through retailer links on our site, we may earn affiliate commissions. 100% of the fees we collect are used to support our nonprofit mission. Learn more.