Best Google Assistant Devices for Your Smart Home
Top video doorbells, security cameras, smart thermostats, and more that work great with Google's digital assistant
When you shop through retailer links on our site, we may earn affiliate commissions. 100% of the fees we collect are used to support our nonprofit mission. Learn more.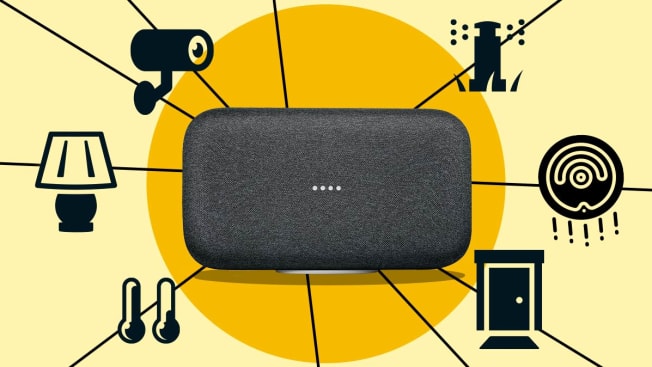 Google Assistant is the most prevalent digital assistant behind Amazon's Alexa, but it can't tell you which of the products that work with it are the best. That's our job.
To help you home in on the best Google Assistant–compatible smart home devices, we rounded up the top-performing models based on hundreds of hours of testing from our ratings of smart speakers, security cameras, video doorbells, DIY security systems, smart thermostats, smart locks, robotic vacuums, smart sprinkler controllers, and more.
"As long as you aren't buying some obscure device, you shouldn't run into compatibility issues," says Mark Allwood, CR's market analyst for smart home devices.
When you connect a number of these devices to Google Assistant, you've got an integrated smart home system. Just say "dinnertime" to your smartphone on your commute home and Google Assistant can turn on the lights, preheat your oven for dinner, and set your robot vacuum to clean up the kitchen floor.
If you're considering something you don't see here, you can check our ratings to see if it works with Google Assistant and how it performs. For step-by-step instructions on connecting these devices, see our article "How to Use Google Assistant to Control Your Smart Home." And if you're looking for ideas about how to put these devices to work, check out our exhaustive smart home toolkit.
Free video storage: 7 days
Optional subscription costs: $3 to $20 per month
CR's take: The Arlo Pro 2 offers superb video quality, and Arlo cameras are the only models in our ratings with Excellent Smart IQ ratings. The Pro 2 also receives a great data security score, but its data privacy could be better. As for features, you get a siren, voice control (via Amazon Alexa, Apple HomeKit/Siri, and Google Assistant), a rechargeable battery, and a rolling seven days of free storage for motion- and audio-triggered video clips, a perk that the other Arlo cameras in our ratings lack. With an Arlo Smart subscription, you can get more video storage as well as monitoring zones; person, package, vehicle, and animal detection; and e911, which allows you to contact your home's local 911 dispatcher from the Arlo app. The company offers subscriptions for 24/7 continuous video recording, too. If you don't want to pay a monthly fee for video storage, you can connect a USB drive to the base station and store footage there instead.
Free video storage: None, but 3 hours of snapshots
Optional subscription: $6 per month (or $60 per year) for 30 days, $12 per month (or $120 per year) for 60 days
CR's take: The Google Nest Hello Video Doorbell is one of the best you can buy. It receives an Excellent rating for response time and offers terrific video quality and data security, but it falls in the middle of the pack when it comes to data privacy and its smart features. The Hello's features include HDR video for vivid picture quality, geofencing, person alerts, unusual sound detection, voice control via Amazon Alexa and Google Assistant, prerecorded messages for when you can't answer the door, and a rolling 3 hours of motion-triggered snapshots (not video clips).
If you sign up for a Nest Aware subscription, you'll get either 30 or 60 days of cloud storage for motion-triggered video clips (depending on the plan), 10 days of 24/7 continuous video recordings (only on the $12-per-month plan), facial recognition, package detection, monitoring zones, and e911 to call your home's 911 dispatcher regardless of your physical location. The Nest Hello is offered in only a hardwired version and can't run off battery power. If you have an existing doorbell that's hardwired, it will work just fine.

Professional monitoring: Optional
Monitoring cost: $20 per month or $200 per year
What's in the box: A base station, motion sensor, contact sensor, and key fob
CR's take: The Abode Essentials Starter Kit is a superb home security system, with strong scores in all our tests. And it's one of a few systems to rate Very Good for its breadth of security add-ons, such as its acoustic glass break sensor, $59, and smoke alarm monitor, $58. It works with digital assistants Amazon Alexa and Google Assistant for voice control, and functions as a smart home hub for lights, thermostats, and more. It also works with Apple HomeKit, as well as the Abode Cam security camera, $150, which will automatically record when the alarm goes off.
Abode offers two plans that add more features and professional monitoring. The Standard plan costs $6 per month or $60 per year and adds seven days of cloud video storage for cameras, the ability to automate connected smart home devices, and geofencing, a feature that arms and disarms your alarm by sensing when your phone is within the perimeter that you set around your home. The Standard plan does not include professional monitoring. The Pro plan costs $20 per month or $200 per year and offers the same features, and adds 30 days of cloud video storage, professional monitoring, cellular backup, and video alarm verification. Additional contact sensors and motion sensors cost $38 and $55, respectively.
CR's take: The Google Nest Learning Thermostat earns one of the top spots in our smart thermostat ratings. It rates Excellent for automating your heating/cooling and offers a wealth of smart features to enhance its functionality, including an occupancy sensor (so it can adjust the temperature based on whether people are in a room) and geofencing to turn the temperature up or down when you leave home and return. One caveat: Our testers found that the manual controls aren't the easiest to use.
CR's take: The Yale Assure Lock SL uses its sister company August's smart lock app and platform. That means it offers many of the same features as the August retrofit smart lock below, including remote control, an access log, voice control (via Amazon Alexa, Apple HomeKit/Siri, and Google Assistant), electronic keys, and a door open/close sensor. In our tests, the Yale Assure Lock SL receives a Very Good rating for its resistance to drilling. It's also impossible to pick because it's keyless, and it's very resistant to kick-ins as sold.
CR's take: The August Smart Lock Pro is one of only two locks in our ratings to earn an Excellent rating for Smart IQ because of its impressive array of features, including electronic keys, an access log, remote control, remote alerts, and voice control. But the remote features and voice control via Google Assistant require an August Connect WiFi adapter, $79, to connect the lock to the internet.

This lock is a retrofit product, meaning that it replaces only the part of the lock that's on the interior side of your door. The exterior part of your deadbolt will remain on the door. This means you can still use your keys but also lock and unlock the door from your smartphone app. Because the August is a retrofit model, how well it withstands kick-ins or drilling depends on the deadbolt you have.

Be sure to check August's compatibility list to see whether it will work with your lock.
CR's take: One of the latest iRobot models to hit the market, the Roomba S9+ is pricey, but it delivers. This vacuum earns top scores down the line in our performance tests, and it's the best of the best where edges and bare floors are concerned. This is also a self-emptying model that empties its dustbin into a dirt bag, no hands required. The S9+ also earns a Good rating for data privacy and a Very Good rating for data security.
CR's take: The Orbit B-Hyve 57950 looks like a traditional sprinkler controller but it's plenty smart. It earns an Excellent rating in our tests for convenience due to its easy-to-use controls and weatherproof casing, plus it's a cinch to connect to the internet. Its weather responsiveness isn't quite as good as the competition's because it uses more limited weather data, though it still beat out many other models in our tests. It features manual controls with an LED screen and voice control via Amazon Alexa and Google Assistant. This model works with up to 12 sprinkler zones; a six-zone version is also available.
CR's take: The Flo by Moen system is not only the best professionally installed system we tested but also the least expensive. The system consists only of the small shutoff unit that gets spliced into your water line; you can buy optional wireless leak sensors for $50 each, or $130 for three.
We tested the system with the optional detectors and, like the other professionally installed models, it was able to detect both small and large leaks. It receives an Excellent rating for leak detection because it comes with a flow sensor built into the shutoff valve unit, wireless leak sensors, and wire probes that can plug into the sensors and be run under a washer or water heater.
The Flo by Moen shutoff valve is weatherproof for homes in warmer climates where the water line might be located outdoors and above ground, but it lacks a built-in battery backup (you can buy one for $250). In addition to alerts for leaks, the Flo by Moen app can also track your water usage by fixture so that you can see the usage difference between, say, a long shower and your washer's deep fill cycle. If you opt for the wireless leak detectors, you can also get temperature and humidity readings.
CR's take: The Sonos Move is the first portable Sonos speaker. It doesn't even need WiFi; it's Bluetooth-compatible, which allows easy streaming from a smartphone. However, its large size and 6.6-pound weight make it better suited to a trip from the family room to the patio than a ride in a beach bag.
As with the company's other models, the Move can sit at the heart of a WiFi-powered multiroom system and integrate with other Sonos speakers, most of which have done very well in our testing.
It's also an assistant-agnostic speaker. Like the Sonos One, the Move works with either Amazon Alexa or Google Assistant. You can also stream music to it through Apple AirPlay, but there's no built-in support for Siri.
If you don't need the Move's portability or Bluetooth capabilities, the Sonos One offers the same multiplatform smart speaker functionality—and similar sound quality, albeit with a bit less bass and volume—at around half the price.