The holiday cooking season is upon us, and if you're finding your pots and pans a bit worse for wear, now is a good time to take stock of the cookware in your kitchen.
Faced with a smorgasbord of cookware styles, materials, and prices—from cast iron and stainless steel to aluminum and copper—it's wise to be well-informed of what the differences are and which are best for cooking various foods. One thing we learned is that you don't have to pay a lot for top-performing cookware. In our tests, we found plenty of affordable sets and pieces that cook just as well as more expensive models.
Don't have a lot of storage space? Not to worry. We highlight the cookware and appliances that will allow you to whip up a feast in 5 Essentials You Need in a Small Kitchen. 
Consumer Reports buys and tests stainless and nonstick cookware sets, Dutch ovens, and a variety of frying pans, including nonstick, stainless, cast iron, carbon steel, and copper. Undecided about which kind or kinds you want? Consider the information below before you start shopping.
Sets vs. Open Stock
Take inventory of the pots and pans you own to determine what has to be replaced or new pieces you'd like to have. Individual pots and pans—called open stock—are widely available. If you need to swap out only a scratched frying pan, open stock is a cost-saving way to go, and it's the most common way cookware is sold.
If you decide that you want a new cookware set, make sure the pieces in the set you choose complement your cooking style so that you aren't storing pans you rarely use.
What's Cooking?
Think about what you cook frequently; this will influence your choice of pots and pans. For example, if you sear meat often, a cast-iron skillet facilitates even browning. Nonstick frying pans are best for scrambled eggs, pancakes, and delicate foods such as fish. And stainless is perfect for virtually any food that needs searing or browning. For a deeper dive, read The Best Frying Pans for the Way You Cook.
Though a good stock pot is great for soups or boiling pasta, if you like to cook stews or sauces low and slow, consider a Dutch oven. A Dutch oven can brown, braise, boil, and bake bread and moves easily from the oven or stovetop to your table. In fact, you can cook almost anything in a versatile Dutch oven. For inspiration, see Why Every Home Cook Needs a Dutch Oven.
Match Your Cookware to Your Cooktop
Last, consider how your new cookware pairs with your cooktop. Flat-bottomed pans that don't warp are essential for a smoothtop range. Gas ranges are a little more forgiving, but you still want good contact between the bottom of the pan and the burners. Cookware with magnetic properties is a must for an induction cooktop. Bring along a magnet when you shop. If it sticks to the bottom, it'll work with an induction range or cooktop. And in our ratings, we note which pans are induction compatible.
8 Reasons to Use a Dutch Oven
A great Dutch oven can bake, braise, simmer, and sear, with excellent results. You might consider using one instead of a variety of expensive countertop appliances. Here's how.
Coating vs Cladding: What's the Difference?
Hard-coat anodized is a fancy way of saying that the soft surface of nearly pure aluminum has been changed to a hard surface. It has nothing to do with the nonstick coating, which allows food to brown without sticking to the pan. 
Cladding refers to the layers of metal fused together to create the cookware. So while the outer and inner layers of the pan may be stainless steel, the inside layer may be aluminum or copper, or another conductive or magnetic material. Clad can also mean a material was added to the bottom of a stainless steel pan, enhancing heat transfer.
Familiarize yourself with cookware terminology to make the best choice for your cooking style.
Quality cookware is at the heart of any serious cook's kitchen. You need a variety of pots, pans, and casseroles, maybe even a few specialty items. Will a $500 set of cookware make your meals twice as tasty as a $250 set? Not necessarily. Here's how to build the perfect culinary collection.
Choose Your Pieces
If you're building a set of a cookware from scratch, depending on how you cook and how many people you cook for, you will want an assortment of skillets and pots, a stockpot, and lids. In boxed sets, manufacturers count a lid as a piece, and it might fit more than one piece of cookware in the set. A set that contains more pieces might not be the smartest choice if you use only a few and the rest take up space in your cabinet. Note: Utensils and even a cookbook can count as pieces of a set.
Pick It Up
We all shop online, but if you can, handle the cookware at a retailer. See how it feels in your hand. If it's heavy, think how much heavier it will feel when it's full of food. Make sure that the handles are easy to grasp and that the pot or pan is well-balanced. Check that handle attachments are tight and sturdy. Read the packaging to see whether the cookware can be cleaned in a dishwasher.
Glass Lids
These allow you to see what's going on inside the pot without having to lift it off, letting steam escape. But they add weight and can break, which could be a problem in a household with young kids.
From Stove to Oven
If the box says the cookware is oven-safe, be sure to check the specifics. At what temperature can this cookware safely be used? Some cookware can be used in ovens set to 350° F, and others can withstand higher heat—up to 500° F. 
Picks & Pans: Cookware Types
Choose a cookware material that suits the cooking technique. For example, sautéed foods turn out best in pans that transmit heat quickly, braised foods need pans that retain heat over long periods, and you shouldn't cook white sauces or tomato sauces in unlined copper or aluminum cookware because those ingredients react with the metal.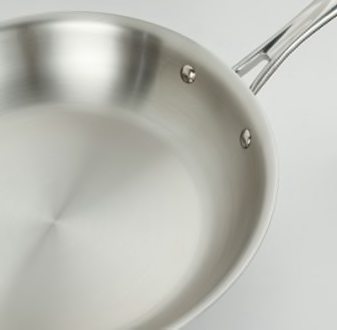 Stainless Steel
Long-lasting, classic, uncoated stainless steel is a good choice for browning and braising. Often sold in sets, stainless cookware can be the kitchen workhorse, tackling everything from pickling to pasta sauce.
Pros: Durable, easy to care for, does not react with foods. Provides rapid, uniform heating. Often magnetic and compatible with induction cooktops. Dishwasher-, oven-, and broiler-safe (depending on the handle material).
Cons: Sometimes tougher to clean. If you choose uncoated, you might still want a nonstick pan or two, and vice versa.
Frying Pans (Stainless Steel) Ratings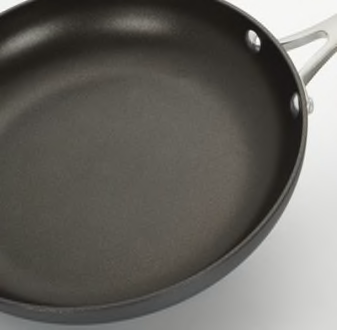 Nonstick
Durable nonstick coatings effortlessly release even delicate foods, including eggs and pancakes. Because little or no oil is needed, nonstick pans are a good choice for low-fat or nonfat dishes.
Pros: Exceptionally easy to clean. Need less oil for cooking, which eliminates some fat from your diet. Depending on the primary material—typically aluminum—most pieces are ideal for use on any type of cooktop, including induction. Most pieces are oven-safe to 500° F, but take into account the handle material.
Cons: Food doesn't brown as well in a nonstick pan. And they scratch easily, although some manufacturers now claim their pans are safe for use with metal utensils. And though they are touted as dishwasher-safe, the high heat of a dishwasher and harsh detergent can shorten the life of the pan.
Frying Pans (Nonstick) Ratings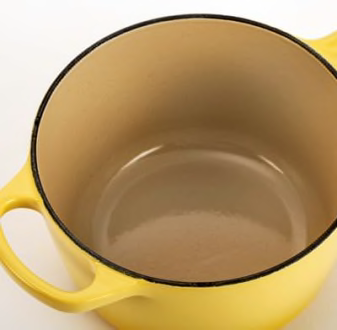 Enameled Cast Iron
Great for searing, sautéing, browning, and frying, these classic, colorful pieces transition seamlessly from stovetop or oven to your dining table. Covered pieces, like Dutch ovens, are also perfect for braising, stewing, slow-cooking, and roasting meat.
Pros: Heats slowly and evenly and retains heat well. Durable coating doesn't react with acidic ingredients. Dishwasher-safe, corrosion-resistant, and oven-safe to 500° F.
Cons: They're heavy, and they get even heavier when filled with food. Small handles on a Dutch oven can make transporting it from stovetop to oven a bit cumbersome. Of course, that's not a problem with the frying pans. Enamel can chip.
Dutch Ovens Ratings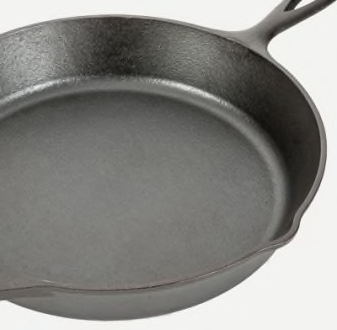 Uncoated Cast Iron
A great alternative to nonstick cooking surfaces. Lodge, America's oldest family-owned cookware manufacturer, has referred to its cookware as "natural nonstick." Cast iron is extremely durable and can be preheated to temperatures that will brown meat. It will also withstand oven temperatures well above what is considered safe for nonstick pans.  
Pros: Durable, classic. Moves easily from stovetop to oven, so you can sear a roast, for example, and then continue cooking it in the oven.
Cons: Some cast-iron pans cook unevenly. Cleaning them can be a challenge at first, but once your pan develops a patina, that task gets easier. You will have to season it with oil from time to time. Not dishwasher-safe. If left unseasoned, they can rust when left in a damp environment.
Frying Pans (Cast Iron) Ratings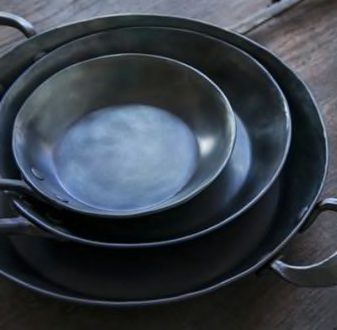 Carbon Steel & Blue Steel
These pans are favorites in professional kitchens because they're extremely durable and efficient, and designed for high-performance cooking.
Pros: Ideal for use on any type of cooktop, including induction, and the preferred material for woks, omelet pans, and crepe pans. Wipes clean with paper towels. Lighter than cast iron and can be used in the same way.
Cons: Often single-purpose pan design. Not dishwasher-safe. Must be seasoned (rubbed with multiple coats of oil) to avoid rusting. Hand-wash only with mild soapy water and a soft brush.
Frying Pans (Carbon Steel) Ratings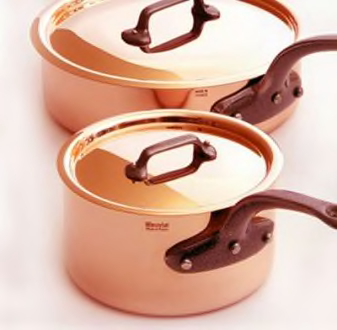 Copper
Real copper cookware provides quick and even cooking, and cools down quickly, providing maximum control. Look for heavy-gauge copper (1⁄16- to 1⁄8-inch thick) for longest wear.
Pros: Ideal for everything from high-heat searing, sautéing, and frying to gently simmering delicate sauces. Offers nice kitchen-to-table presentation. Heavy models with iron or brass handles are safe for oven use.
Cons: Pricey. Can dent easily. Copper is a reactive metal, but today's pans are usually lined with a nonreactive metal such as tin or stainless steel that makes them safe to cook in. Not compatible with induction cooktops. The outside of a copper pan can take on a patina over time that requires removal with a copper cleaner. Hand-wash only.
Frying Pans (Copper) Ratings
Cookware Brands That Matter
The cookware industry consists mostly of large corporations that manufacture several brands. For example, Meyer manufactures Anolon, Circulon, Farberware, and Rachael Ray brands. The industry has seen several consolidations in the recent past as the Global Home Product brands Mirro, Regal, and WearEver became part of Groupe SEB, which also includes All-Clad and T-Fal. Use these profiles to compare cookware by brand. 
All-Clad is among the highest-priced brands. All-Clad produces mainly stainless steel and copper-core products. These products are distributed primarily in upscale department and specialty stores.
Anolon is manufactured by Meyer and features nonstick products. This brand is priced in the midrange and is sold online and at department stores, specialty stores, mass market retailers, and wholesale clubs.
A midrange to high-end brand that is available in various materials—anodized aluminum, nonstick and uncoated, and stainless steel. It's sold in almost all department stores, specialty stores, Bed Bath & Beyond, Target, and numerous online retailers.
Circulon brand is manufactured by Meyer and features nonstick products. Prices are midrange, and this cookware is available online and in department stores, specialty stores, Bed Bath & Beyond, and Target.
Cuisinart is a mid- to high-priced brand that offers products in stainless steel, hard-anodized, and multiclad materials, nonstick and uncoated. Cuisinart's Green Gourmet Cookware line uses ceramic rather than petroleum-based (claimed PTFE- and PFOA-free) surfaces. The products are sold at Bed Bath & Beyond, Bloomingdale's, Macy's, specialty stores, and numerous online retailers. Shop Cuisinart cookware on Amazon.
Another Meyer brand that is aimed at the mid- to lower-priced market. The brand offers products in uncoated and nonstick stainless steel and aluminum. Products are available at department stores, specialty stores, Kmart, Meijer, Target, Walmart, and numerous online retailers.
Other brands on store shelves include Chefmate, KitchenAid, Le Creuset, Mainstays, Swiss Diamond, T-Fal, Tramontina, Rachael Ray, and WearEver, among many others.
Thanks for sharing.
Oops, we messed up. Try again later
Recently Tested Cookware
BEST TIME TO BUY:
November, December
Do you know when is the best time to buy Cookware? Learn more
More From Consumer Reports