When it comes to decking, big changes are underfoot. Wood has long been the material of choice, largely because of its lower costs. But steep pandemic-related shortages have made wood far less affordable. Since the start of the pandemic, wood decking prices rose as much as 150 percent, due to supply chain kinks and skyrocketing demand from homeowners and builders. And experts project that prices won't drop significantly for the forseeable future.
In fact, those surging costs might temporarily make composite and other alternative decking materials—usually far more expensive because they last longer—more appealing. Synthetic plank decking, for instance, offers good looks with less upkeep. Composites, which blend ground-up wood and plastic, also require little maintenance; they can simulate wood and offer lots of color options.
If you previously would have passed over alternative decking, or may have even started your project with the intention of using wood, it might be time to give those alternatives a second look—based on that narrowing price gap or simply because it's what's available. (Keep in mind that depending on the decking material you use, you still may need to build the frame, or structure, out of wood.) 
Ultimately, building or updating a deck can boost the value of your home. And of course you want materials that look and feel good, at a price you can handle. But aesthetics and cost are only part of the equation when shopping for decking. It's also worth considering which materials will be easiest to care for and will stand the test of time, which is why we advise making decking decissions based upon the big picture. 
Use this buying guide to consider smart options that fit your budget and help create a space that's both relaxing and easy to care for. CR members with digital access can see our decking ratings.
Repair or Replace: Is It Time for a New Deck?
If your decking has cracks, looks dirty, or suffers from mildew, it's time to decide whether to refinish or replace it entirely.
Signs of an unsafe deck may not be obvious, so safety checks are critical when deciding to repair or replace. Also, if your deck was built before 2004, it's probably made of lumber treated with chromated copper arsenate. Regular refinishing helps to seal in the toxic arsenic that CCA decking contains. But if the finish is flaking or worn off in spots, we suggest hiring a pro who's equipped to safely remove the old finish, dust, and debris, then refinish it. Here are some other considerations to keep in mind.
Weigh Costs
You can save hundreds by replacing the decking yourself. Along with a circular saw, you'll need a drill, preferably cordless. Don't skimp on support joists if you choose heavier composites or less-rigid plastics. For wood, solid stains typically yield longer-lasting results. When pricing the materials, be sure to figure in the cost of railings, stairs, and supporting structure, as well as the planks under foot. If you're hiring a pro, note that the cost of labor—either to build a new deck or to replace worn planking on an existing structure—can easily exceed the cost of the materials.
Complement Your Home's Design
The width of the decking, its color and finish, and the shape of the railing are important design elements. A ranch, raised ranch, or contemporary house style can work well with many deck designs. It's more challenging to make a deck work with older styles, such as Tudor, colonial, or 1920s bungalow. Many manufacturers of synthetic decking offer a variety of railings, such as provincial or Mission style, that can help the deck fit with the rest of the house.
Sidestep Missteps
Nails and screws are inexpensive, easy to handle, and suitable for almost any material. But nails can pop loose over time, while screws are more permanent. Ceramic-coated screws come in several colors, which helps them blend in.
To avoid splitting planks, drill pilot holes for nails, countersink screws in wood, and predrill screw holes into composite. Choose zinc-coated or other corrosion-resistant fasteners, and use the right fasteners for composites. Also consider hidden fasteners or systems that hide the attachments. Most composite decking manufacturers also sell plastic plugs—designed to conceal holes from fasteners—that are color matched to different decking lines.
Before staining, pressure-wash or brush the old surface with a cleaning solution. If there's any remaining mold and mildew, remove it using a solution of 1 part bleach and 3 parts water. When staining, use as many coats as the manufacturer recommends. And be sure it's at least 50° F from the time stain is applied until it dries completely.
Decking Types
Though wood is the most popular type of decking, other materials are catching on with homeowners. Here are four types of decking material to consider.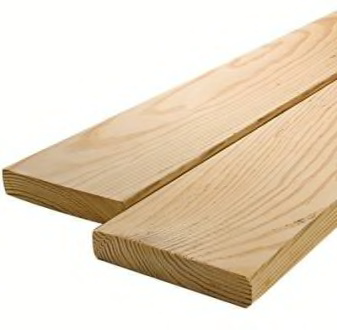 Wood Decking
Pros: Authenticity. Most is pressure-treated pine, but more expensive options include cedar, redwood, and tropical hardwoods.
Cons: Wood tends to change color, crack, and stain if it isn't refinished. Hardwoods and exotic choices can be expensive.
Price: About $200 to $1,100 or more per 100 square feet.
Deck Boards Ratings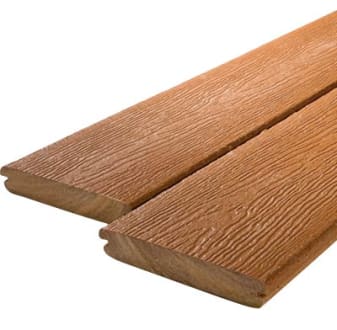 Composite Decking
Pros: Best for the look of wood without the need to stain. It's made of plastic and wood fiber, and sometimes can be stained to change its color. Most now also come with some or all sides encased in plastic to prevent mildew growth.
Cons: Some offered far less resistance to slips, stains, and mildew in our tests. Most choices are heavier and more expensive than the usual pine.
Price: About $300 to $700 per 100 square feet.
Deck Boards Ratings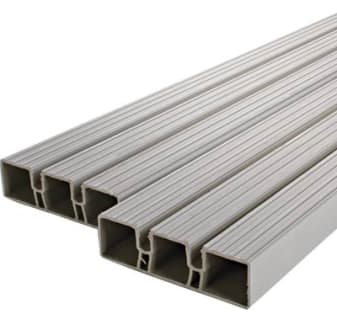 Plastic Decking
Pros: Best for resisting the elements without staining. Choices include PVC and polyethylene. It's also lightweight.
Cons: Some can look cheap, some is slippery, and all sagged more than wood.
Price: About $525 to $1,200 per 100 square feet.
Deck Boards Ratings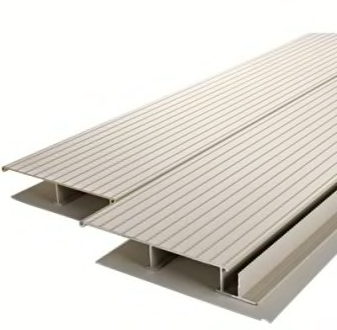 Aluminum Decking
Pros: Toughness, rigidity, and slip resistance. Its baked-on or anodized finish should last a long time, and its textured surface added traction in our tests. Sections sometimes interlock so that rain won't drip through.
Cons: It's expensive, and no one would mistake it for wood.
Price: More than $500 per 100 square feet.
Deck Boards Ratings
For three years, we expose our test boards to harsh weather at test sites in hot and humid Florida, and in hot and dry Arizona. Each year we have the boards sent back to our Yonkers, N.Y., labs and test them on a variety of attributes, including resistance to flexing, slipping, spills, and surface damage from dents and wear. Our exposure scores reflect how each model compares with the others in our tests.
CR members with digital access can see our decking ratings. Our tests showed that some composite decking didn't make the grade for rigidity, and some tonier wood products outperformed most.
Here are some more decking features and considerations:
Wood Alternatives Are Generally Better at Resisting Sun and Spills
Most of the composite, plastic, and aluminum decking we tested kept its original color better than unfinished wood. Many also fended off mustard, wine, and other stains.
Wood Is Stiffer and Surer
Wood resisted slips best in our friction tests. Woods also resisted bending and sagging. A few plastics and composites came close in those tests, but several flexed or sagged noticeably.
Wood Alternatives Offer a Range of Design Options
Many of the synthetic products are available in colors such as white, gray, and several shades of brown. Surface textures include smooth (like plastic lawn furniture, in some cases), subtle wood grain, ridges, and other decidedly nonwood-like patterns. Some composite planks are flexible enough to be easily curved into patterns or shapes that would be expensive to duplicate in solid wood.
New Fasteners Improve Looks and Ease Installation
TrapEase is one brand of special-purpose screw intended for use with plastic and composite decking. It has coarse threads at the tip to bite into the deck's supporting joist and finer threads toward the head to stop the decking material from bulging out.
Invisible fasteners suitable for wood or plastics come in three types: metal clips with sharp prongs that dig into the deck planks and the joist, elliptical wafers that fit into a slot cut into the sides of the planks and are held with a screw driven into the joist, and strips that fasten to the joist and underside of the plank. When all the planks are in place, the fasteners don't show.
Snap-in-place fasteners are easy to install but unique to specific brands. One brand of aluminum decking we tested snaps together, much the way tongue-and-groove flooring does. A vinyl decking product we reviewed snapped in place over metal clips screwed onto the joists.
Decking Brands & Materials
We test manufactured decking made by specific brands as well as types of wood, which are generally unbranded but reflective of materials you'll find at home centers and building material suppliers. 
Azek is a manufacturer of composite decking owned by CPG products, the same company that owns TimberTech. Azek products are available at both Lowe's and Home Depot, as well as building material suppliers. Entry-level Azek products start around $4 per linear foot.
Cedar is a softwood that naturally resists damage from moisture. For years it was the material of choice for outdoor porches. It requires periodic sealing and staining to resist wear from the elements. It can be purchased at home centers and lumber yards.
CertainTeed is a large manufacturer of vinyl home products including siding and decking. It is sold primarily at building supply stores.
ChoiceDek is a manufacturer of inexpensive composite decking available exclusively at Lowe's stores. Prices start around $1.80 per linear foot.
Fiberon is a large manufacturer of composite decking. Their products are sold at Lowe's and Home Depot stores, as well as building material suppliers.
Ipe is a beautiful hardwood traditionally harvested in South America. It's naturally water- and warp-resistant, and its strength makes it resistant to dings, nicks, or splits. Because ipe was traditionally harvested in Brazillian rainforest, it's important to seek out environmentally sustainable options. Look for certifications from organizations like the Forestry Stewardship Council, which indicate that decking was sustainably sourced.
LockDry is one of the largest manufacturers of aluminum decking. Their products have the distinct advantage of gapless installation, meaning there are no gaps between boards, creating a water-tight and seamless finish. When used as a second-story decking material, the area below is kept dry. Their products are generally available to order from qualified installers and not sold in most stores.
Pressure-treated southern yellow pine is the most popular decking material in the United States. That's largely because it was the least expensive option, historically. The wood is treated with a liquid chemical bath that results in vastly improved resistance to warping and rotting—treated pine is 11 times more weather-resistant than regular stained pine. It's widely available at all home centers and building supply stores.
Redwood is a softwood grown primarily in the western United States. Like cedar, it's naturally weather-resistant but you'll pay a premium over pressure-treated pine. It's available at building suppliers and lumber yards.
TimberTech is a large manufacturer of composite decking. Their products are sold at Home Depot and Lowe's stores as well as building suppliers. They offer multiple lines, which start around $3.50 per linear foot and climb north of $6.00 per linear foot.
Trex is one of the largest and best-known manufacturers of composite decking. Their products are sold at home centers including Lowe's and Home Depot, as well as at building suppliers. They have multiple product lines, some of which start around $2.00 per linear foot and which climb to $6.00 or more per linear foot.
Veranda is a composite decking brand exclusive to the Home Depot. Prices start around $1.50 per linear foot.
Thanks for sharing.
Oops, we messed up. Try again later
More From Consumer Reports