If you're remodeling or upgrading your kitchen, the latest in top-notch hardware and tough finishes have made corroded, leaking, and dripping faucets a thing of the past. Most faucets also come with lifetime warranties (for the original buyer) that cover defects and even finishes.
Faucets have become so reliable, we found few performance differences between brands. That's why we no longer rate faucets, but instead focus on the pros and cons of faucet finishes and features so that you can choose a great faucet, no matter your budget.
Faucet Findings & Shopping Tips
In the graphic below we highlight single-handle pullout faucets, a very popular style that combines a spray head and spout for convenience and flexibility. But our findings are applicable to other faucet styles too. Here's what else to consider when shopping for a new faucet.
Match the Faucet With the Number of Mounting Holes
Most sinks come with mounting holes pre-drilled for faucets and accessories such as side sprays or soap dispensers. If you're keeping your original sink, you'll need to match what you have or get a base plate to cover any extra holes. The base plate sold with your new faucet can be used to cover holes in your countertop, but don't buy a faucet that requires more sink holes than your sink has; it's not a good idea to try to drill additional holes in an existing sink or countertop.
Spout Styles and Shapes
Straight spout faucets are compact and often inexpensive, but you might need to move the faucet to fit a big pot under it. Gooseneck models have higher clearances, but can cause splashing if your sink is shallow. Whatever style you pick, make sure the faucet head swings enough to reach the entire sink, especially if you have a wide or double bowl sink. Also keep the faucet proportional; a large sink can look odd with a small faucet.
Installation and Repair
Replacing a faucet and a sink at the same time is easier because the faucet can be installed in the sink, or in the countertop before the sink is put in place. Fittings that can be tightened with a screwdriver also streamline installation. Long water-supply hoses allow you to make connections lower in the sink cabinet where tools are easier to use. Though most faucets are guaranteed not to leak, if yours does, the manufacturer will give you only the replacement part—it's up to you to install it.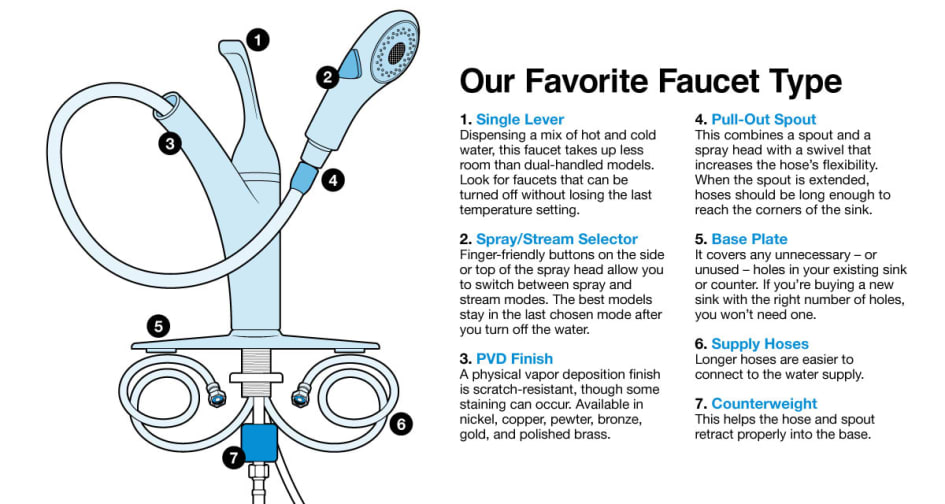 Water Works: Shopping Faucet Types
Although there are two main types of sink faucets, single lever and two-handled, you can also find an array of spigots designed for specific uses, such as for wet bars, prep sinks, and even for filling pots on a stovetop.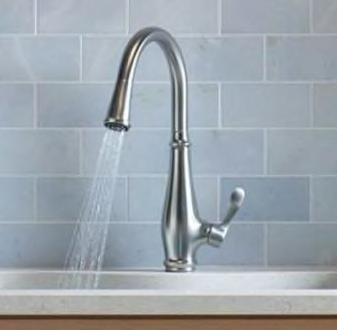 Single-Handle Faucets
If you are considering a single-handle faucet, check the distance to the backsplash or window ledge, as the rotation of the handle may hit whatever is behind it. If you have additional sink holes, you can purchase a separate spray nozzle or soap dispenser.
Pros: Single-handle faucets are easier to use and install and take up less space than two-handle faucets.
Cons: They may not allow quite as precise temperature adjustments as two-handle faucets.
Faucets Ratings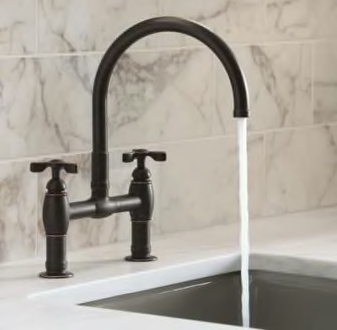 Two-Handle Faucets
This traditional setup has separate hot and cold handles to the left and right of the faucet. Two-handle faucets have handles that can be part of the baseplate or separately mounted, and the sprayer is usually separate.
Pros: Two handles may allow slightly more precise temperature adjustments than a single handle faucet.
Cons: A faucet with two handles is harder to install. You need both hands to adjust the temperature.
Faucets Ratings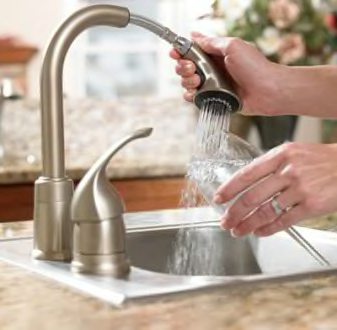 Pull-Out & Pull-Down Faucets
The spout pulls out or down from the single-handle faucet head on a hose; a counterweight helps the hose and spout to retract neatly.
Pros: A pullout spout comes in handy when rinsing vegetables or the sink itself. The hose should be long enough to reach all corners of the sink.
Cons: If you have a small sink, you may not need this feature.
Faucets Ratings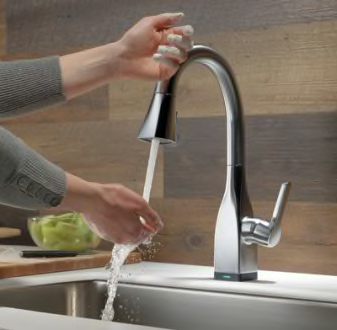 Hands-Free Faucets
The best models have an activator on the front of the faucet so it's easy to locate. Look for the option of switching to manual operation by simply sliding a movable panel to cover the sensor.
Pros: Convenience and cleanliness. Water is activated by a movement sensor, so if your hands are full, or dirty, you don't have to touch the fixture.
Cons: Some designs hide the activator toward the bottom or back of the faucet, making them hard to find when your hands are full or messy. Others required you to tap the faucet to get water flowing and then you'll have to wash the spot you touched.
Faucets Ratings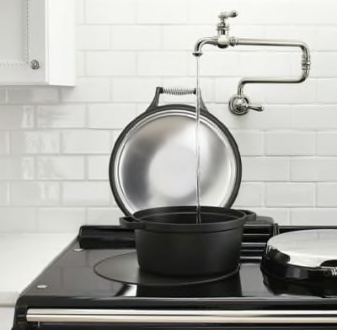 Pot-Filler Faucets
Common in restaurant kitchens, pot-filler faucets now come scaled for use in the home. Either deck- or wall-mounted pot fillers are installed near the stove, and have articulated arms to fold away when not in use.
Pros: Ease and convenience. Filling an oversized pot directly where it will cook means no more lugging heavy pots across the kitchen.
Cons: Must be connected to a water source behind the stove. Unless you're a serious cook, you may not need or use this faucet much.
Faucets Ratings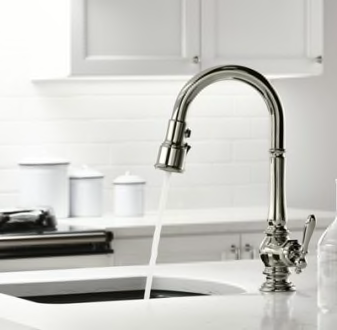 Bar Faucets
Many high-end kitchen designs are including smaller, secondary sinks that can free up space at your main sink and make prep like washing vegetables easier, especially if there is more than one cook in the kitchen. Smaller, bar faucets are made for these sinks and often come in styles that match the main faucet.
Pros: Can be connected directly to an instant hot water dispenser, or to a cold filtered water dispenser.
Cons: Space is always a consideration. Consider whether this feature is something you will use.  
Faucets Ratings
Good Hydrations: Faucet Features
Advances in finishes have made most faucets good at resisting wear. Here are additional features to consider that can affect durability and function.
How much water does a drip waste? Well, it depends on how many faucets do the dripping and at what rate they drop those drips. For a quick and startling estimate of your household's potential water waste, check out the U.S. Geological Survey's drip calculator.
The average household's leaky faucets can account for more than 10,000 gallons of water wasted every year, or the amount of water needed to wash 270 loads of laundry, according to the Environmental Protection Agency.
With older faucets, compression valves cut off water flow when a washer or seal closed; faucets dripped when the washers degraded. Modern faucets use ceramic discs that turn off when the ports are closed, so there are no washers to erode. Ceramic discs, once only a feature of high-end faucets, have merged into the mainstream.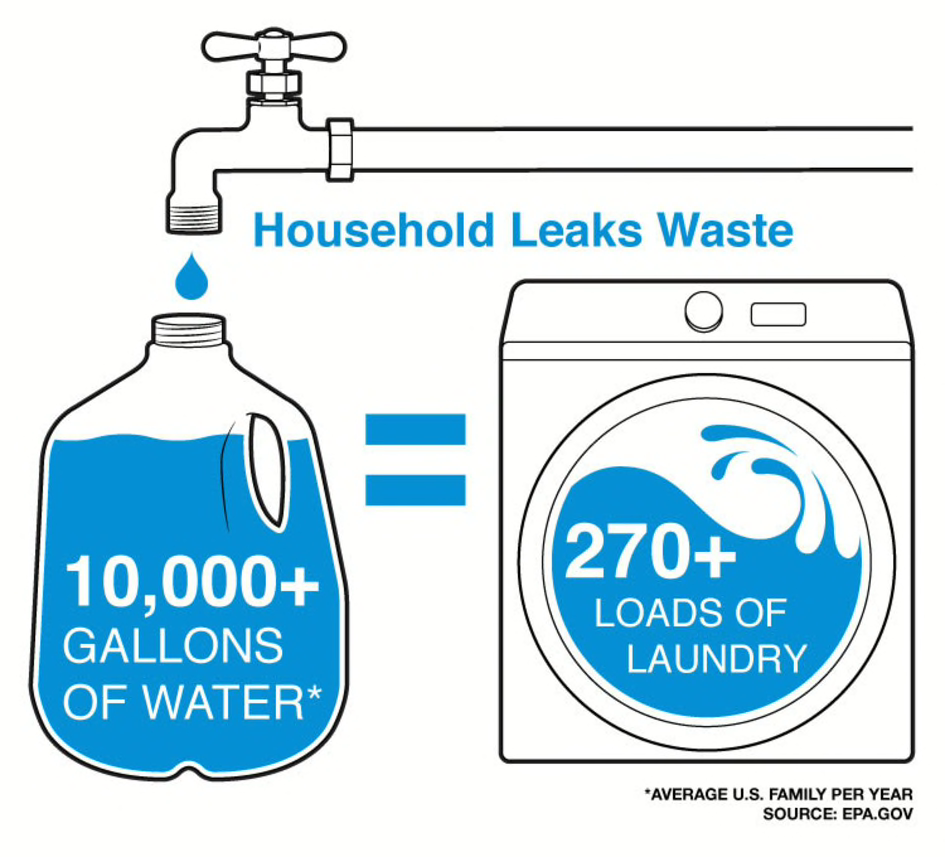 Thanks for sharing.
Oops, we messed up. Try again later
More From Consumer Reports