When you're buying new flooring for your home, your first consideration might be looks. Do you want to see rustic, weathered wood underfoot? Elegant imported ceramic tiles? Smooth, shiny stone? Checkerboard vinyl tiles or herringboned pine? Or something simple and unassuming to lie under your area rugs?
Once you have your dream floor in mind, it's time for a reality check. Installing a new floor is one of the more expensive home improvement projects you'll undertake, so make sure you have the budget for the flooring you favor.
Consider how much foot traffic, sunlight, and wear and tear your flooring will endure. For example, some engineered woods, along with a few types of solid wood flooring, aren't as resistant to moisture as vinyl or laminate is—a serious drawback in a bathroom or busy kitchen. If it's durability you're after, porcelain tile would be a better choice. The good news is that some new porcelain tile designs closely mimic the look and texture of wood. But tile can be expensive and requires labor-intensive installation.
It's also wise to have a backup choice. In this age of supply chain disruptions, the availability of building products like flooring is bound to fluctuate.
A large quantity of hardwood, marble, and porcelain is produced in Europe, or sourced from Europe's forests and quarries, explains David Steckel, a home expert at the website Thumbtack, which links consumers to providers of home-improvement and other services. "It can be more profitable to ship cars and appliances than flooring, which decreases the supply [of flooring] available," he says.
To help you make the best choice underfoot, we put the most common flooring types and brands—including Armstrong, Lumber Liquidators, Pergo, and Tarkett—through a series of tough tests. Use our ratings to select the type that's best for the room or rooms you're renovating.
We test wear resistance by subjecting a 6x6-inch sample of each flooring material to an abrasion machine fitted with a fine sandpaper disc, and assessing each sample for signs of visible wear after each cycle of sanding.
To test a floor's resistance to denting, we drop a heavy, blunt weight that simulates a saucepan or a large can of tomatoes, plus a smaller, lighter, pointier object that serves as a proxy for kitchen utensils. Our testers drop the weights from progressively higher release points, examining the flooring for visible damage after each drop. The higher the drop before damage becomes evident, the better a floor's dent-resistance rating.
We evaluate potential for fading by exposing part of a sample of flooring to ultraviolet rays for two weeks straight, then comparing the exposed portion to an unexposed portion. This gives us information about what can happen to a section of flooring that gets more sunlight than the rest of a room over time.
Types of Flooring
Most flooring falls into one of the following six types. The type you choose will depend on your needs and budget—not to mention your personal style and aesthetic.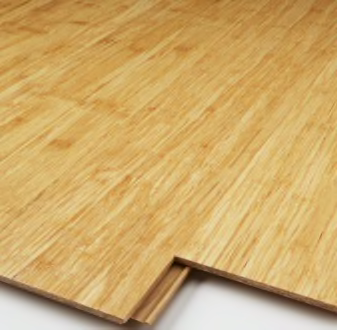 Solid Wood Flooring
Pros: Wood has a natural warmth and impressive wear resistance, and it can be sanded and refinished several times. Prefinished floors can hold up better than those finished on-site.
Cons: Solid wood will expand and contract with varying humidity levels and can dent easily. Some species can show wear quickly and become discolored from sunlight. Wood flooring is not a good choice for basements and other damp spaces.
Installed cost: $5 to $10 per square foot.
Flooring Ratings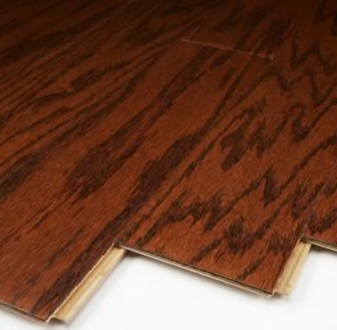 Engineered Wood Flooring
Pros: Because engineered wood is typically made of thin layers of wood sandwiched with adhesives, it can usually withstand higher levels of humidity and would be less likely to expand when compared with solid wood flooring. This flooring uses a thin veneer of real wood or bamboo over structural plywood, making it a cost-effective choice. Well-installed, high-quality engineered wood can be as durable as solid wood.
Cons: Most engineered wood doesn't wear as well as solid wood or laminate. It also dents easily, despite differences in wood species. Depending on the thickness of the veneer, some engineered wood flooring can be refinished as many times as solid hardwood flooring. However, most can be refinished only once or twice, and some can never be refinished. If you think you may need to refinish your engineered wood flooring, check with the manufacturer or retailer before you buy.
Installed cost: $4 to $9 per square foot.
Flooring Ratings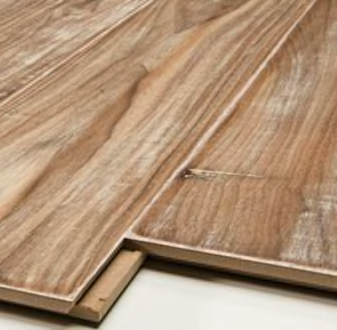 Laminate Flooring
Pros: Constructed of dense fiberboard with a photo beneath a clear-plastic protective layer, laminate can mimic almost anything.
Some brands use a cork backing underneath, which the manufacturers claim can help muffle sound. The best laminates resist scratching and discoloration from sunlight better than most wood products. It can be extremely tough stuff.
Cons: The repetitive pattern can compromise realism (read: look fake), so when installing, mix planks from different boxes for less repetition. In terms of durability, you might be able to touch up minor flaws, but you'll have to replace the flooring once its top layer has worn through because it can't be sanded like wood can.
Installed cost: $3 to $7 per square foot.
Flooring Ratings
Vinyl Flooring
Pros: Especially good at fending off wear, dents, scratches, discoloration from sunlight, and stains. Installation is easy, particularly for tiles or planks, and more color and design choices are available these days. It's also waterproof, so it's a great alternative to tile in wet rooms such as kitchens and baths.
Cons: While the premium brands can mimic the look of stone, tile, and wood, even the best products still look like vinyl up close. Top-of-the-line vinyl can cost as much as or more than the best solid wood and laminate floors.
Installed cost: $2 to $6 per square foot.
Flooring Ratings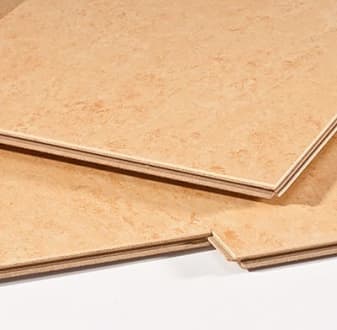 Linoleum Flooring
Pros: Made of linseed oil and wood products, linoleum is a natural, resilient material. Today's products offer far more styles and colors than years past. Linoleum tends to fend off discoloration from sunlight.
Cons: Resistance to wear, scratches, and dents varies widely from product to product.
Installed cost: $4 to $8 per square foot.
Flooring Ratings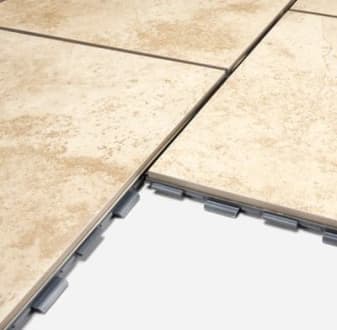 Porcelain Tile Flooring
Pros: This classic material tends to resist wear, moisture, scratches, dents, and stains.
Cons: Installing porcelain tiles can be challenging. A lot of prep work is needed, and your subfloor needs to be perfectly smooth before you can set your tile in thinset and put grout in the cracks. For most applications, it might be best to hire a professional. Tiles can crack, and some grout can stain. Dropped cups and dishes break more easily. Tile is also relatively expensive and more difficult to install. Replacing cracked tiles can be a challenge.
Installed cost: $8 to $15 per square foot; $5 to $8 for products that can float.
Flooring Ratings
Sampling Is Smart
Before you buy, get samples of your top flooring choices. Compare them side by side where they're going to be installed, and look at them from different angles and in different light.
Compare for Consistency
Manufacturers try to match solid and engineered wood flooring for color and grain. But variations can occur from one batch to the next, so buy all the flooring you'll need at one time. On the flip side, laminate floorboards within a given package may have an identical pattern that the eye can pick up if installed too close together. To reduce repetition, shuffle boards from multiple packages when installing.
Measuring Avoids Mistakes
To determine how much flooring you'll need, measure the room's square footage by multiplying its length by its width. (Divide an irregularly shaped room into smaller rectangles, calculate the square footage of each rectangle, and then add them together.) Then buy 7 to 10 percent extra to allow for mistakes, bad samples, and waste. Consider buying an extra box of flooring, in addition to the 7 to 10 percent extra, for future repairs or additions.
Know Your Traffic Patterns
Common high-traffic areas are entryways to rooms and to the house itself. Consider very resilient flooring for family rooms and other areas that pets and kids frequent. Our top products performed best in simulated foot-traffic tests. For less busy areas, consider one of the top engineered wood or bamboo floors, for their natural veneer and easy installation.
Preparing to Install Flooring
Before installing wood or laminate flooring, unpack it and let it sit for one to three days in the space where it will be installed so that its temperature and moisture content will find equilibrium with the levels in the room. This is a critical step to prevent buckling or unsightly gaps between boards.
Check for Certification
Vinyl floors with the industry's FloorScore certification (pictured below) emit relatively low levels of volatile organic compounds—substances linked to health problems and pollution. For wood flooring, certification by the Forest Stewardship Council and the Sustainable Forestry Initiative offers some assurance that your flooring comes from responsibly managed forests—a plus for the planet. Check packaging for product and manufacturer certification.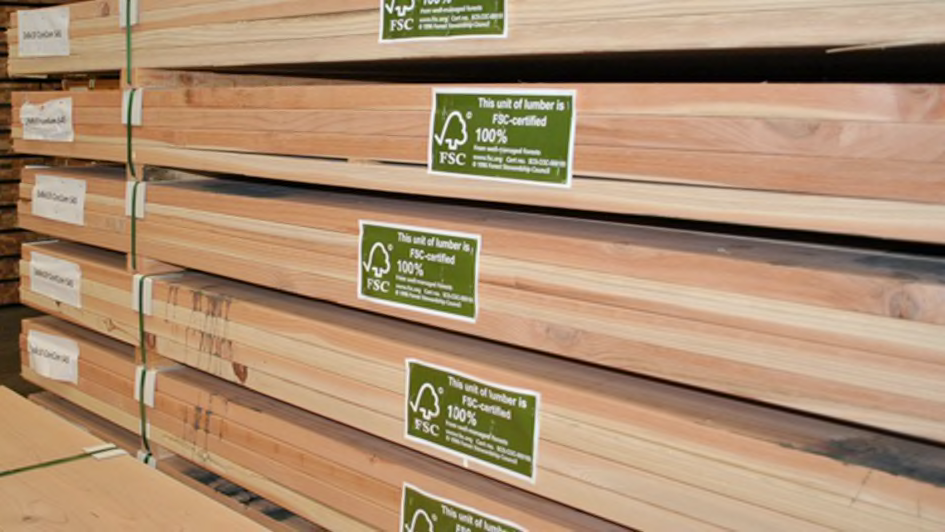 • Check prices with overstock discounters. They buy directly from manufacturers and often sell flooring below list price.
• You can often save on opened or damaged boxes or on flooring with minor flaws that you can install where it won't be noticed.
• If the subfloor is flat, you may be able to install a "floating" floor yourself. (Our flooring ratings indicate those types.) But any floor that needs to be glued, stapled, or nailed is better left to professionals.
• When you hire a pro, you can still trim hundreds of dollars off the job by doing some work yourself. Pull up carpet and remove the tack boards. Bang protruding nails or staples down into the subfloor, and vacuum up any dirt or dust. If you're handy, remove any trim along the edge of the floor, and flatten out any high spots by nailing or sanding them down. 
For more helpful information see our flooring ratings.
Armstrong manufactures flooring under the well-recognized brand names Armstrong and Bruce, and the specialty brand Robbins. The Armstrong brand includes laminate, a line of linoleum flooring, and ceramic tile. Bruce focuses on providing value and ease of installation with its Lock & Fold line of wood flooring. The Robbins line is sold in specialty flooring stores and through special order at select home centers. Armstrong has floating engineered wood flooring across all its brands.
With hundreds of stores nationwide, Lumber Liquidators, based in Virginia, is one of the largest flooring companies in the U.S. It offers a variety of engineered hardwood, laminate, cork, and bamboo floors.
Mannington manufactures products in every flooring category. It is among the top three leading vinyl-flooring brands and has a foothold in wood, laminate, and porcelain tile. Mannington is available only through specialty flooring stores.
This Italian tile brand is more than 100 years old. It's sold at Home Depot and at independent specialty flooring stores.
This leading carpet manufacturer crossed over to hard-surface flooring through acquisitions and partnerships and now offers wood, laminate, and vinyl flooring. Mohawk sells stone flooring under the American Olean brand and laminate flooring under the Quick-Step brand. Its Daltile brand accounts for half of all ceramic tile sales. In vinyl, Mohawk distributes the Congoleum brand through its vast dealer network. Mohawk flooring is sold through home centers and specialty floor stores.
This leading carpet manufacturer offers wood, laminate, and ceramic tile flooring. Shaw is available through home center chains and specialty flooring stores, and has its own retail programs—Shaw Design Center and Shaw Flooring Alliance—that offer local dealers expanded product lines, display assistance, and training.
Originally a European manufacturer of linoleum, Tarkett is among the largest flooring manufacturers worldwide. Tarkett offers wood, laminate, and vinyl flooring under its own brand, along with luxury vinyl tile from Nafco. Tarkett makes FiberFloor, a water-resistant flooring that combines the qualities of carpet and vinyl. Tarkett is available through home centers and specialty flooring retailers.
Other flooring brands to consider include Anderson, Forbo, Kentwood, Mullican, and Pergo.
Thanks for sharing.
Oops, we messed up. Try again later
Recently Tested Flooring
BEST TIME TO BUY:
November
Do you know when is the best time to buy Flooring? Learn more
More From Consumer Reports