If you have deciduous trees in your yard, fall is no doubt a beautiful time of year, as leaves transform into flaming reds, oranges, and yellows. But it also fast becomes a headache when your maples and oaks eventually shed their gorgeous leaves all over your lawn. 
What's more of a headache? The mounds of decaying leaves come spring, if you don't deal with them before winter. Fortunately, a leaf blower can make short work of clearing the mess. And a great leaf blower isn't just a once-a-year-tool for clearing fallen foliage—it's useful year-round. Leaf blowers come in handy for cleaning summer's sandy decks and winter's light snow, as well as dirty walkways and porches.
You can choose from gas, corded electric, and cordless electric (battery-powered) leaf blowers. There are also a variety of styles—from handheld models to backpack blowers to wheeled varieties. The best leaf blower for you depends on the work required and your own preferences. Whichever you choose, remember to wear goggles and a dust mask; they'll protect your eyes and lungs from fine particulates blowing around, especially in dusty, dry conditions.
How CR Tests Leaf Blowers
CR's test engineers rope off a standardized swath of grass, and they dump bag upon bag of leaves inside the boundary. Backpack blowers and wheeled blowers get a larger area with more leaves because both are designed for larger yards and professional landscaping crews.
We time how long each blower takes to clear the pile, and whether the tool moves every last leaf—some leaf blowers struggle by the time we get to the bottom of the pile, where leaves can become embedded in the grass. 
Some years we go through 2,500 pounds of leaves in the process. Because we can't rely on that quantity to fall on our Yonkers, N.Y., campus each autumn, we often start collecting and storing fallen foliage a year in advance.
For our tests, we select a broad mix of the models you'll see at home centers and hardware stores, with tools from brands including Black+Decker, Echo, Ego, Husqvarna, Ryobi, Stihl, Toro, and Worx.
Gas vs. Electric Leaf Blowers
Before you weigh your options, check your town's regulations to see whether you even have options. Some ban gas leaf blowers altogether because most (though not all) tend to be louder than any type of electric variety. Even if your town allows gas leaf blowers, you may want to consider the noise aspect. Generally speaking, the difference in decibel levels can be significant. If you don't need to blow leaves for long stretches—like half an hour or longer—you might do well with a battery model. 
That's not to say battery blowers are less powerful than gas blowers, especially when it comes to the typical yard. Despite being relative newcomers to the field, battery leaf blowers now offer power on a par with gas models. It's just that they have a limited run time per battery charge—expect 8 to 30 minutes on a charge. 
With that in mind, if you have a large expanse of land with lots of leaves, you might consider gas. A gas leaf blower, even handheld and backpack varieties, can be taken far and wide for an indefinite amount of time as long as you keep the tank full. It's also the only kind that's available as a wheeled option, which makes for easier, quicker cleanup. Keep in mind that a gas leaf blower, like any gas powered tool, requires more maintenance than an electric model. 
Electric blowers, whether corded or cordless, are also better for the environment. They have no emissions at the point of use, and they run far more efficiently. In our surveys, they're also more reliable, which means they're less likely to end up in a landfill.
As anyone with an early rising, yard-obsessed neighbor can confirm, a running leaf blower can get really loud. Product labels list decibels, so you can compare noise levels as you shop.
Some communities prohibit leaf-blower use during certain hours; others ban gas blowers altogether because they tend to be louder than electric models. In California, some communities ban all leaf blowers, no matter how quiet their operation.
Check your town's regulations or go to the Noise Pollution Clearinghouse for a nationwide list of guidelines. Then check the 50-foot noise scores in our leaf blower ratings. Models that earn Excellent scores should meet the toughest limits, and those that receive Very Good or Good ratings are likely to meet most restrictions. But keep in mind, blowers that are relatively quiet at a distance can prove to be deafening up close.
Protect Yourself and Be Kind to Others
• Wear hearing protection, especially with models receiving a Good or lower score in our noise-at-ear-level tests.
• Keep people and pets far away from the area you're clearing.
• Avoid running even the quietest blowers very early or late in the day.
Types of Leaf Blowers
Selecting the right leaf blower comes down to your terrain, yard size, and budget. Both gas and electric models take much of the work (and blisters) out of raking up fallen leaves and other yard and driveway debris.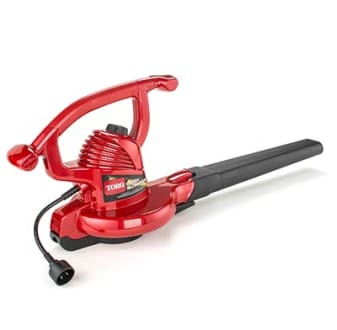 Corded Electric Leaf Blowers
Corded models typically weigh 8 pounds or less and are designed for one-handed use. No-hassle push-button starting and zero exhaust emissions are pluses, as is power that approaches what you'll get from a handheld gas blower. But the power cord limits your mobility and can be a hassle around trees and other obstacles. Consider an electric blower if a power outlet will always be within 100 feet of the work area.
Cost: $40 to $100
Leaf Blowers Ratings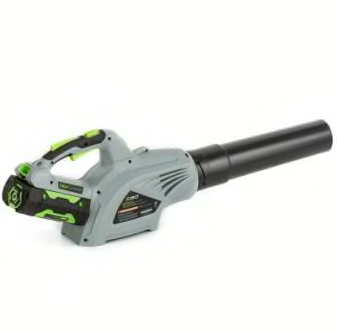 Battery-Powered Handheld Leaf Blowers
These tools, also called cordless electric leaf blowers, are slightly heavier than corded electrics (though still less than 10 pounds) and more maneuverable. They've become popular among people who shun the maintenance requirements of a gas-powered model—and don't want to be tethered to a power cord. Power can be on a par with the best gas blowers, too. Rechargeable batteries run for about half an hour, tops, so if the chore takes longer, you'll have to take a break while your battery juices up—or have a second battery on hand.
Cost: $110 to $380
Leaf Blowers Ratings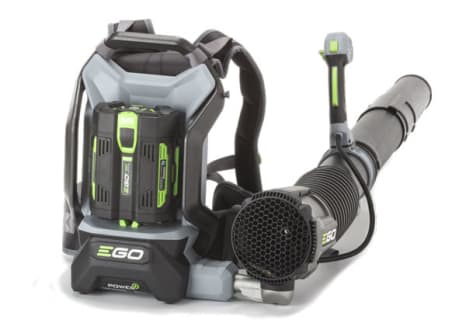 Battery-Powered Backpack Leaf Blowers
These tools blend the best attributes of battery handheld blowers and gas-powered backpack options. Like most battery blowers, they are quiet, start effortlessly, and use no gasoline or oil. They're also typically more powerful than handheld battery blowers, while also providing improved run times—many battery backpack blowers come with 5.0- or even 7.5-amp-hour batteries, compared with the 2.5-amp-hour batteries that are standard on most handheld models. 
Cost: $225 to $350
Leaf Blowers Ratings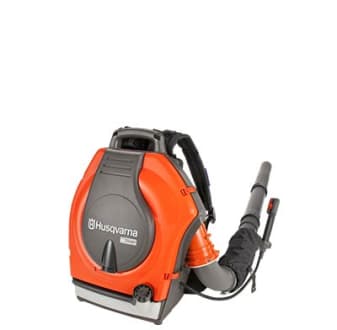 Gas-Powered Backpack Leaf Blowers
These blowers typically add power over handheld blowers. Most weigh 17 pounds or more—almost twice as much as a gas-powered handheld blower. But your back and shoulders, rather than your arms, support the weight. Like handheld gas models, they're a bit noisier than electrics. They can't vacuum or shred. And they cost more than handheld blowers.
Cost: $230 to $480
Leaf Blowers Ratings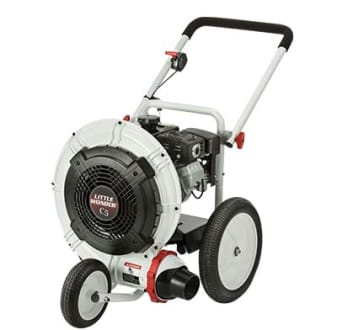 Gas-Powered Wheeled Leaf Blowers
Need lots of oomph to quickly clear a sizable area? A wheeled blower might fit the bill for large yards. But this type brings a few drawbacks: Wheeled blowers can't vacuum or shred, and they require about 8 square feet of storage space. At 100 pounds or more, they're bulky, and not easy to maneuver and push, especially uphill. They're usually noisy and expensive—though a few models are surprisingly quiet and should meet even the toughest noise limits. Large four-stroke engines require no mixing of fuel and oil.
Cost: $330 to $700
Leaf Blowers Ratings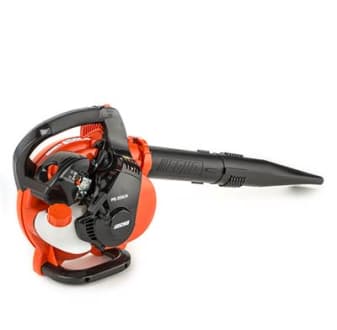 Gas-Powered Handheld Leaf Blowers
Gas models can go anywhere, and they never require a charge. You do need to yank a pull-cord to start the engine, and gas engines require periodic tuneups. Most models weigh about 10 pounds. And though they're quieter than they used to be, gas models are usually still quite loud—it's best to wear hearing protection. The majority have two-stroke engines, which require mixing fuel and oil. Those with four-stroke engines let you skip that step, and they run cleaner.
Cost: $90 to $270
Leaf Blowers Ratings
Leaf Blower Features
Some leaf blower features add convenience; some enhance safety. Here's what to consider.
Leaf Blower Brands to Consider
This leading marketer of electric and battery leaf blowers uses the Leaf Hog line name on some models. Black+Decker makes mostly lightweight, plug-in electric models that weigh 5 to 8 pounds. Black+Decker leaf blowers are among the most widely available and can be found at mass merchants, home centers, web retailers, and hardware stores.
Craftsman is one of the leading brands of electric and gas leaf blowers. The Craftsman gas leaf blower line includes handhelds and backpacks. Craftsman is now owned by Stanley Black+Decker, with many tools available at local hardware stores, as well as at Lowe's.
This premium brand from Stanley Black+Decker makes leaf blowers, string trimmers, and other outdoor tools that share a 60-volt battery platform.
Echo makes professional-grade handheld and backpack gas leaf blowers. Its gas blowers tend to be more lightweight but offer considerable power. They're available at Home Depot, outdoor power-equipment dealers, and hardware stores.
Ego makes battery-powered handheld and backpack-style blowers. Ego leaf blowers use the same 56-volt battery that powers the company's electric lawn mowers, string trimmers, chainsaws, and snow blowers. Ego leaf blowers and other outdoor power tools are available online and at Lowe's.
A major manufacturer of gas-powered outdoor power equipment, Husqvarna—from Sweden—makes leaf blowers, chainsaws, and string trimmers, among other tools. Its products are sold at local dealers as well as Lowe's stores. It makes premium handheld gas and battery blowers, as well as backpack blowers, many of which are marketed to professionals.
Kobalt is a Lowe's-exclusive brand of leaf blowers, string trimmers, mowers, and other outdoor power equipment. Kobalt makes primarily battery handheld leaf blowers.
The house brand at Home Depot, Ryobi is a major manufacturer of leaf blowers in most configurations, particularly handhelds. It makes gas and battery handheld leaf blowers, as well as gas-powered backpack units.
Stihl makes professional-grade gas leaf blowers and high-end electric models. It sells exclusively through outdoor power-equipment dealers. Stihl uses the HomeScaper line name on some consumer-grade models.
Another leading brand of electric leaf blowers, Toro makes lightweight plug-in electric models that weigh 5 to 8 pounds. Toro uses line names Power Sweep, Super Blower, and Power Blower on some of its models. Toro leaf blowers are among the most widely available and can be found at mass merchants, home centers, web retailers, and hardware stores.
Weed Eater sells electric and gas leaf blowers. The products are value-priced, and many are lightweight. Weed Eater can be found at mass merchants, web retailers, and hardware stores.
Thanks for sharing.
Oops, we messed up. Try again later
Recently Tested Leaf Blowers
BEST TIME TO BUY:
April, May, September, October
Do you know when is the best time to buy Leaf Blowers? Learn more
More From Consumer Reports