Consumer Reports is not currently testing Sinks.

What do you get when you pay top dollar for a kitchen or bathroom sink? Despite the hype sink prices have little to do with performance. We also found that the manufacturer isn't as important as the material. 
Focus on the material. Our tests showed that the material is more important than the manufacturer. Similar materials performed similarly across brands, so we based our evaluations of sinks entirely on materials.
Count the holes. Most kitchen and bathroom sinks come with mounting holes drilled for faucets. If you're buying a new faucet for an existing sink or vice versa, you'll need to match the hardware to the number and spacing of the holes in the sink. You can install a baseplate to cover an extra hole in the sink or countertop, but don't try to drill additional holes in an existing sink or countertop.
Think about installation and repairs. Replacing a faucet and sink together is easier because the faucet can be mounted in the sink or counter before the sink is put in place. Most kitchen and bathroom faucets come with a lifetime warranty that covers leaks and stains. But if you have a problem, the manufacturer will give you just the replacement part. It will be up to you to install it.
You may not cook every day, but is there ever a day when you don't use your sink? We subjected more than 20 double-bowl sinks from major manufacturers to a barrage of hot pots, scouring pads, dropped weights, and stains. The results of our sinks tests:
Stainless: Gauge Doesn't Matter
More people buy stainless-steel kitchen sinks than any other type. We tested 18-to-23-gauge sinks; the lower the gauge, the thicker the steel. We also listened to the noise made by running water and dropped weights. We found the gauge had little to do with performance and sinks with sound-absorbing pads, placed on the exterior's bottom and sides, were quieter than those with a spray coating.
Enamel: Colorful and Easy to Clean
These sinks, sold in two versions (enamel-on-cast iron or lighter, less expensive enamel-on-steel), are available in many colors and are easy to clean. Our hot pot test didn't damage them, but when we dropped a 5-pound weight, similar to dropping a heavy pot, enamel-on-steel sinks chipped or cracked. Enamel-on-cast iron chipped when we dropped a sharp, light object, similar to a knife, on them. Damaged enamel can cause the metal underneath to rust. Acrylic sinks might look like enamel but they scratch more easily and heat can be damaging—our hot pot melted the surface.
Solid Surface: Sleek and Seamless
These sinks can be paired with counters made of the same material for a seamless look. In our tests high heat and dropping a sharp, light object, similar to a knife, damaged solid surfacing.
Count Inches
Double-bowl sinks let you soak a pot in one bowl while you rinse in the other. Just be sure that at least one of the bowls is wide enough to fit large pots or roasters. Sinks that are rectangular shaped are standard; D-bowls have a curved back and offer more space, front to back.
Think About Depth
Bowls are usually 6 to 12 inches deep. The deeper ones reduce splashes, but depending on your height you may find it uncomfortable to reach the bottom of a very deep sink. Remember that undermounted sinks will be up to 1 ½ inches lower than a top-mounted.
Move over, porcelain. Glass and even stainless steel are among the choice of materials that are changing the style and shape of bathroom sinks.
Vessel sinks, a modern twist on the original bowl and pitcher, sit on top of a counter or cabinet. You'll find them in glass, stainless steel, and other materials.
Some of these new materials can cost about the same as standard porcelain, known as vitreous china, and several materials were better at resisting spills, scrapes, and other mishaps. But most have at least one drawback. You can also install the sink beneath the countertop for a sleek look that emphasizes the countertop. These undermount sinks are also easy to clean since there's no lip to catch debris.
Glass: Tough up to a Point
Drain cleaner, nail-polish remover, and other tough staining agents didn't leave a mark on our tempered glass sinks. Heat and scouring wasn't a threat, but these sinks shattered into small shards when we dropped a pointed 2.5-ounce dart from a height of 20 inches.
Pick the Mount
Undermount sinks make cleanup easier and sit below the surrounding counter, so there's no lip or crevices to catch dirt. But they cost slightly more, are harder to install, and usually require a waterproof countertop. So consider your countertop, then the sink mount.
Don't Forget the Faucet
Consider the height of a vessel sink when buying a faucet and make sure that any faucet extends well into the sink to avoid drips onto the counter. Don't choose a large faucet for a small sink, which can cause splashing. We also suggest faucets with a physical vapor deposition (PVD) finish and a lifetime finish warranty. These finishes mimic copper, nickel, and other materials and have performed well in our faucet tests. 
Types
Match the style of sink to your space, needs, and budget. Kitchen Sinks:Function rivals form because you'll be using the sink all day for everything from hand washing to scouring pots and pans.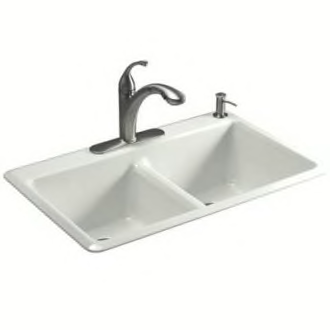 Double Bowl
Double-bowl sinks have a partition that separates them into two sections. A rectangular shape is most common, but D-shaped sinks with a curved back are available. Double-bowl sinks are handy because they let you perform two tasks--soaking and rinsing--at the same time. Note that the narrower sections of a double-bowl sink may not fit large pots or roasters. 
Kitchen sinks Ratings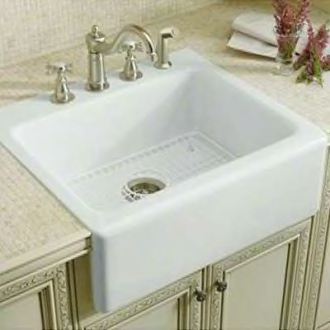 Farmhouse
Also known as apron front, farmhouse sinks usually have a deep single bowl with the faucet installed in the countertop or wall. This stylish choice can provide a traditional or country kitchen look, and stainless-steel versions can work well with modern designs. But they're expensive and require a special cabinet, and water can drip on and damage the cabinet.
Bathroom sinks Ratings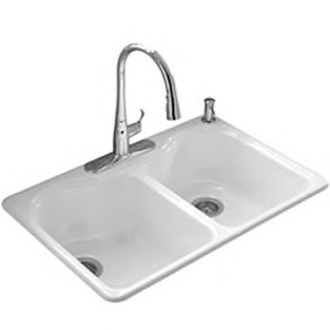 Topmount
Also called drop-in and self-rimming, the sink is dropped in above the counter with the lip overlapping the countertop. Topmount sinks work with any countertop material and are relatively simple to install, so they're a good choice for a tight budget. But a topmount sink can detract from the look of a beautiful countertop and grime can build up around the lip of the sink. 
Bathroom sinks Ratings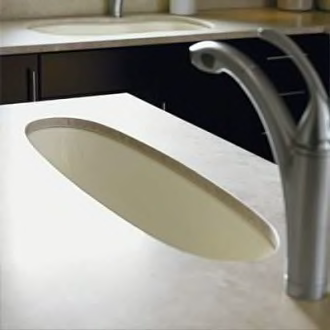 Trough
These are best for use as prep or bar sinks. They're narrow and long, from 8 to 14 inches wide and up to 50 inches long. But trough sinks are expensive and more fun than functional.
Bathroom sinks Ratings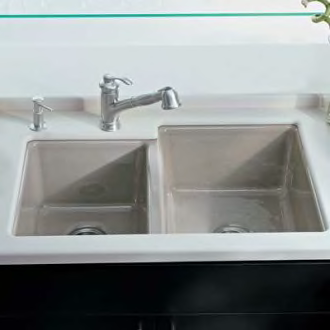 Undermount
Rather than being lowered onto the counter, undermounted sinks are raised into place from below. Undermount sinks provide a sleek look and easier cleanup since they sit slightly below the surface of the counter, so you can wipe spills and crumbs from the countertop directly into the sink and there's no lip or crevice to catch dirt. But undermounted sinks are more expensive to buy and install, and should be used with a waterproof countertop. 
Bathroom sinks Ratings
Bathroom Sinks
Replacing a bathroom sink can be good way to freshen the room without spending a lot of money. Here are the types of bathroom sinks to consider. 
The sink's material is the main factor that will determine how well it will stand up to everyday use. Some materials are sturdier than others, but most have some drawbacks. Here are materials to consider.
Enamel Over Cast Iron or Steel
These materials come in many colors and are easy to clean. In our tests of kitchen sinks neither enameled cast iron nor enameled steel suffered any damage in our hot pot and scouring tests, but when we dropped a 5-pound weight, similar to dropping a heavy pot, on enameled-steel sinks they chipped or cracked. Enameled cast iron chipped when we dropped a sharp, light object similar to a knife. Our tests of bathroom sinks found that enameled cast iron wasn't as good as enameled steel at resisting stains and chipped when small objects were dropped on it. Damaged enamel can allow the metal underneath to rust.
Stainless Steel
This is the most popular material for kitchen sinks and it's becoming more popular in the bathroom. It tops both our Ratings of kitchen and bath sinks. Stainless steel comes in different thicknesses, or gauges. While thicker metal typically costs more, gauge made little difference in our tests.
Solid Surfacing
A skillful fabricator can integrate a solid-surface kitchen or bathroom sink with a countertop made of the same material for a sleek, seamless effect. Solid surfacing resisted stains, but heat was a problem. A hot pot and a hot curling iron marred the sinks.
Acrylic
It may look like enamel, but scratches more easily, and a hot pot melted the surface and a hot curling iron left a visible mark.
Glass
Believe it or not, a tempered glass bathroom sink can take a beating. Drain cleaner, nail-polish remover, and other tough staining agents didn't leave a mark on the glass sinks we tested. But the sinks shattered into small shards when we dropped a pointed 2.5-ounce dart from a height of 20 inches, similar to what could happen if a pair or scissors or nail clippers fell out of your medicine cabinet.
Vitreous China
Just a fancy name for old-fashioned porcelain. Vitreous china is still popular for bathroom sinks, even though some newer materials are tougher without being more expensive. Dropped objects are a particular problem with vitreous china. The surface chipped when we dropped a small, pointed dart on them.
Fireclay
This material offers a choice of colors. It withstood stains, scouring, and heat in both our kitchen and bath sink tests, but resisting chips and cracks from dropped objects was a challenge. In our kitchen sink tests the fireclay cracked severely when we dropped a 5-pound weight on it, similar to dropping a pot. Our tests of bathroom sinks found that pointed darts, weighing only 2.5 ounces, chipped the fireclay.
For complete Ratings and recommendations on appliances, cars & trucks, electronic gear, and much more, subscribe today and have access to all of ConsumerReports.org.

Thanks for sharing.
Oops, we messed up. Try again later
More From Consumer Reports