String Trimmer Buying Guide
A string trimmer gets into places that a lawn mower can't. It's the ideal tool for keeping the edges of your garden or walkway neat and tidy, and for manicuring around fence poles and tree trunks. It can tackle tall grass and weeds, too—growth that might bog down a typical lawn mower. A string trimmer can also clear a path through light brush. 
String trimmers—which are also sometimes referred to by popular brand names like Weed Whackers or Weed Eaters—have either a curved or straight shaft, and typically run on either gasoline or lithium-ion battery. A small number of models have cords, usually only a foot long, so you'll want to use them with an extension cord at least 50 to 100 feet in length.
Take note that electrics are better for the earth, and they've improved exponentially in performance in recent years. For the first time, battery-powered string trimmers—also called cordless string trimmers—now outsell gas models. Below, we delve into these and other factors you should consider when shopping for a string trimmer. 
How Consumer Reports Tests String Trimmers
We evaluate both gas and electric string trimmers, including the battery-powered variety. To test how well each works, we tackle typical yard weeds and high grass as well as dense brush, noting and timing how long each model takes to clear a defined path. We also test each string trimmer at edging, or its ability to create a neat and straight line along a walkway. And we look at how easy each machine is to hold, maneuver, and operate, noting how difficult it is to start up or feed extra line through the cutting head. For gas models, we note the ease of adding gas and oil (for those with two-stroke engines) as well as the ease of starting the tool with a pull cord. 
To find out how well the string trimmers in our tests perform, see our string trimmer ratings chart. There you can explore the pros and cons of more than 60 models, and filter for the features that fit your needs best. 
Curved or Straight Shaft?
A string trimmer's shaft is either curved or straight. What's easier to handle depends largely on personal preference. If you've never used a string trimmer, try out both curved-shaft and straight-shaft models in a home center or hardware store to see which feels better for you.
Curved shafts (which tend to be shorter) allow the user to nimbly maneuver around obstacles, while straight shafts (generally longer) increase the user's reach and coverage from a given point. In general, pros favor straight-shaft models for this reason—they can cover more ground with fewer steps.  
Which Power Source Is Right for You?
A string trimmer can be powered by gasoline, a battery, or a power cord, and all are capable of cutting well, depending on the model. So the best string trimmer type for your needs depends on your task at hand. Misha Kollontai, CR's engineer in charge of string trimmer testing, recommends choosing your power source according to the size and layout of your yard. 
Gasoline string trimmers work for a yard of any size. Corded string trimmers are best for yards up to about 1⁄4 acre. Battery-powered string trimmers make sense for a yard up to about a 1⁄2 acre, but they can tackle much larger yards if you have multiple batteries that you can charge and swap in.
Other String Trimmer Considerations
Should You Buy a Powered Base?
With gas and some cordless string trimmers, you'll have the option of buying a stand-alone tool or a powered base, also known as a split shaft. This is an engine designed to accept different attachments, and it's typically sold with a string trimmer head. For most models, you can also get a hedge trimmer, a pole saw, an edger, and a brush cutter, and even a cultivator attachment. It's a good option if you need a string trimmer and any or all of the additional tools, and you don't want to buy each separately.
Mind the Gap
Before you buy any string trimmer, look at the cutting head, where it meets the shaft of the trimmer. If there's a large gap, be warned that tall grass will probably get wrapped around the shaft in that spot. Instead, look for a model with a minimal gap, or one with an easy-to-remove cutting head so that you can quickly pop the head off and get rid of weeds. 
Safety First
String trimmers can easily break through skin. And while a shield deflects most debris, trimmers can still send debris flying while they cut. Wear gloves, protective eyewear, boots, and long pants. For gas models, use hearing protection, such as earplugs or earmuff-style headsets.
String Trimmer Types
Let your lawn and landscape dictate which type of string trimmer you buy.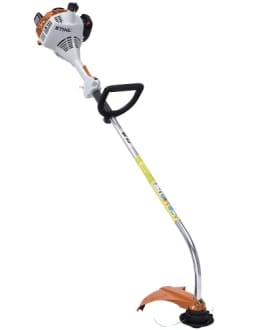 Gas-Powered String Trimmer
Traditionally the best string trimmer for large properties, a gas-powered model goes anywhere and can run indefinitely, as long as there's fuel in your tank. They're not as popular as battery-powered string trimmers anymore, but you'll still have plenty of options.Look for models with an adjustable handle and a translucent gas tank so that you can see when fuel is low. Gas-powered string trimmers with a four-cycle engine run cleaner and use regular gas but cost more. Models with a two-cycle engine cost less, but you'll need to add oil to your gasoline. All the gas-powered string trimmers in our tests are loud enough to require hearing protection (earplugs or earmuff-style headsets) for the user.
Cost: $70 to $390
String Trimmers Ratings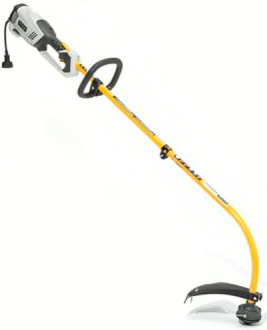 Corded-Electric String Trimmer
Though corded yard tools may seem outdated, a corded string trimmer can perform really well for a certain subset of homeowners. If you have a small yard and don't need to trim more than 100 feet from an outlet, these are ideal. Most have a short cord and require a long outdoor-rated extension cord—you can typically find these cords in lengths up to 100 feet. Corded-electric string trimmers tend to be the cheapest of the three types, plus they start instantly and run indefinitely, and you don't need to worry about buying gas or charging a battery.
Cost: $70 to $130
String Trimmers Ratings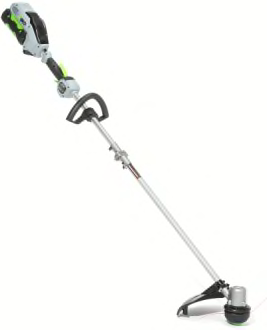 Battery-Powered String Trimmer
In our latest tests, the best cordless string trimmers cut as well as or even better than gas models. Plus they produce no emissions and run quietly. They also start instantly every time, without you having to fuss over the choke or yank a pull-cord. They require far less maintenance, and their batteries can typically be used in other outdoor power tools from the same brand, including lawn mowers, hedge trimmers, leaf blowers, and chainsaws. The life span of the lithium-ion batteries powering these tools is still a big unknown, so look for a long warranty (at least three to five years) that specifically applies to the battery. Expect to cut for about 30 minutes on a single charge. Most batteries take about an hour to recharge once they've fully drained.
Cost: $115 to $300
String Trimmers Ratings
String Trimmer Parts
Shopping for a string trimmer can be confusing. Here's the help you need to get the job done.
Black+Decker is a leading manufacturer of corded- and cordless-electric string trimmers, and offers an extensive line of electric products. Black+Decker string trimmers are widely available online and at Home Depot, Lowe's, and Walmart.
Craftsman products are made by a variety of manufacturers, and most have similar counterparts under different brand names. In the string trimmer market, Craftsman is a top brand. Its string trimmers are available with two- and four-stroke engines, and split-shaft designs for attachments. Craftsman products are sold at Kmart, Sears, and sears.com, as well as select Ace Hardware stores and Lowe's.
Echo is the leading manufacturer of gas string trimmers and now also sells cordless-electric models. Its products are used in the consumer and professional market. Its string trimmers are available with two-cycle engines and split-shaft designs for attachments. Echo claims that some of its models offer low noise and emissions, along with anti-vibration features. Consumers can find Echo string trimmers at Echo dealer stores and Home Depot.
Ego is one of the larger manufacturers of battery-powered lawn tools, with some of the top models in CR's tests. After years of selling these products exclusively at Home Depot, Ego now sells at Lowe's. All of its tools, including its string trimmers, share a 56-volt battery platform, so if you buy multiple Ego tools, you'll always have a charged battery on hand.
Greenworks is a large manufacturer of electric lawn tools, including string trimmers, leaf blowers, lawn mowers, and chainsaws, the majority of which work on either a 60- or 80-volt battery platform. Greenworks sells through Home Depot, Lowe's, Walmart, Ace Hardware, and Tractor Supply.
Husqvarna makes a small line of gas string trimmers for the consumer and professional market. These string trimmers are available with two- and four-stroke engines, and many have split-shaft designs for attachments. You'll find Husqvarna string trimmers at Lowe's and dealer stores.
MTD makes electric and gas string trimmers and sells them under the Bolens, Cub Cadet, Troy-Bilt, Yard Machines, and Yard-Man brand names. MTD's diverse line of string trimmers includes corded- and cordless-electric types, models with two- and four-stroke engines, and split-shaft designs for attachments. MTD products are sold at a broad array of retailers, including Home Depot, Lowe's, Sears, Tractor Supply, and Walmart.
This Home Depot exclusive brand has a reputation for reasonably priced tools that offer good performance. In addition to lawn mowers, chainsaws, leaf blowers, and other outdoor tools, Ryobi is one of the few brands that make all three kinds of string trimmers: gas, corded, and battery.
Stihl is a leading manufacturer of gas string trimmers with a small number of battery models. These premium-priced products are for consumers and pros. Stihl string trimmers are available with two- and four-stroke engines, and many of those gas models have split-shaft designs for attachments. Stihl claims that some of its models have features that reduce noise, emissions, and vibration. You'll find Stihl string trimmers at outdoor power-equipment dealers.
Toro manufactures a line of small lightweight corded- and cordless-electric string trimmers sold through dealers and Home Depot.
Thanks for sharing.
Oops, we messed up. Try again later
Recently Tested String Trimmers
BEST TIME TO BUY:
March, April, May, June
Do you know when is the best time to buy String Trimmers? Learn more
More From Consumer Reports