When you shop through retailer links on our site, we may earn affiliate commissions. 100% of the fees we collect are used to support our nonprofit mission.
Learn more.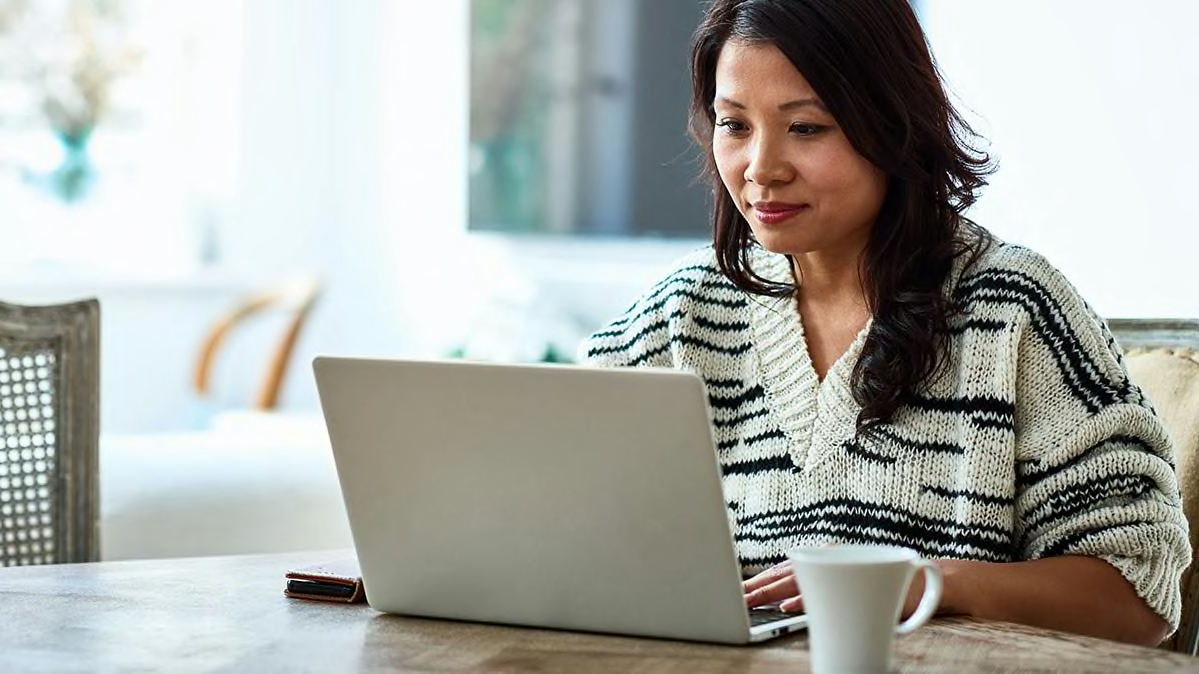 With companies large and small advising employees to work from home due to the coronavirus outbreak, many Americans are likely to be hunkered down at the kitchen table in the days ahead, looking for products and services to help them remain focused and productive.
If you find yourself searching for ways to prep for the increased demands on the home office, whether that means additional telecommuting roommates or family members home from school for precautionary reasons, here are some tools that may be of use.
Free and Easy Conferencing Apps
Teleconferencing apps are a key stay-at-home tool, because they can help you schedule and keep appointments with clients and coworkers, along with professionals from your personal life, such as doctors and tax preparers.

If you work for a large company, you may have conferencing technology chosen for you. But if you work for a small firm or even yourself, it's smart to have a cheap and easy teleconference solution at the ready, both for work needs as well as remote communication for personal business like doctor visits or a meeting with a tax preparer. The good news is that there are several robust, free, and simple-to-use applications to choose from.
Paid platforms like GotoMeeting offer free trials. However, these tend to have limitations on things such as the number of people on the call, the length of the call, and the ability to share documents, restrictions that are usually lifted in the paid versions. Refer to the website for each service for more details. Here are some of the best options.

Google Hangouts: For better or for worse, the Google ecosystem is ubiquitous, so there's a decent chance the people you want to reach have a Gmail or a G-suite account, required to access this free service. In its basic form, Google Hangout places no limit on the duration of meetings, but attendance on video calls is capped at 10, although paid versions don't have that limitation.

Zoom Basic: This free, bare-bones version of the popular conferencing app offers an unlimited number of meetings, but caps the duration of each at 40 minutes and the number of participants at three.
Skype for Business Basic: Many people have used Skype at some point, so that familiarity is a plus. On the other hand, each person on the call needs to have, or create, a Skype or Microsoft account, so factor in time to get everyone set up. In its free form, Skype for Business Basic allows you up to 250 participants, but lacks some of the features, like Facebook integration and whiteboarding, found in the paid versions.

Cisco WebEx Personal: In WebEx's free tier, meetings can run as long as you want and include as many as 100 participants.
If you're planning on teleconferencing with your doctor or other medical professional, know that healthcare providers have concerns about complying with the federal medical privacy law, HIPAA. So they often use dedicated platforms like VeeSee, doxy.me, and Zoom for Healthcare, while therapy professionals use SimplePractice, TheraNest, and thera-LINK. Someone in the doctor's or therapist's office can generally help walk you through whatever setup is necessary.

Whichever service you choose, Dr. Nick Morgan, author of "Can You Hear Me: How to Connect With People in a Virtual World," reminds us that even the best video conferencing poses communication challenges that we don't encounter when meeting face-to-face.
"We're getting less information [about the people we're conferencing with and their surroundings] than we're used to," he explains, adding that this disconnect can be subconsciously stressful for parties on both ends of the call.
To help with that, Morgan recommends making it easier for others by conferencing from a location with a few objects—lamps, artwork, that sort of thing—that help provide depth perception for viewers. And to help you understand the subtle cues in a caller's voice, which often get lost on the low-fi audio of a teleconference, he advises using a good set of headphones or a quality wireless speaker, instead of the tinny speakers on many older laptops.
A More Robust Home Network
If you're going to be working at home alone for a few days, the router you've got will probably be fine, especially if your workflow consists of sending emails. But if you were thinking of upgrading your router anyway, because you've experienced intermittent slowdowns or weak or spotty coverage in certain parts of your home, this could be a good time to upgrade. A newer router could be especially helpful to handle the increased demands that come with kids gaming or streaming Netflix on screens all over the house, along with other adults sucking up bandwidth for their own teleconferences.
If you're in a small home, you might consider the TP Link Archer C3150 V2, $150. However, if you have a large home or one with lots of stone or concrete construction, you may have noticed poor WiFi reception in far-flung attic bedrooms and on the back porch. If your productivity strategy is to hide away in those corners of the house, you might look at a mesh router like the Netgear Orbi, $400 for three, or the Eero Home WiFi, $250 for three.
A mesh router uses a base station (which plugs into the modem that connects your home to the internet) and additional satellite units (typically one or two) that work together to spread WiFi throughout your home and eliminate coverage dead spots.
Whether you go for a stand-alone router or a mesh system, modern routers can be controlled with a smartphone app and are simple to set up.
Slack
If your colleagues use Slack, but you've resisted it, this might be the right time to get on board.
Imagine a work-centric group chat that doesn't disappear. That's the basic idea, but the platform can also function as a powerful substitute for in-person meetings or even a video conference.

You can create channels, as the company calls them, each devoted to a specific project or subject. They resemble email threads, but are easier to manage and follow, because Slack's searchable archive function allows you to figure out who said what and when.
You can even archive the conversation when it's no longer active.
While you can start using Slack in your browser, installing the app on your computer and smartphone ensures that your messages are seamlessly synced across all devices.
Noise-Canceling Headphones
Work-from-home veterans will tell you that establishing boundaries with the other occupants of the domicile is key. But what if you don't have the room to create quiet personal space? Try a pair of noise-canceling headphones.

A favorite around open-plan offices, the Bose 700 represents the state of the art in noise-canceling headphones, albeit for a price: around $400, rarely discounted. If you're looking for something much cheaper, consider the Monoprice BT-300ANC. They sound fine (although not nearly as good as the Bose) and keep out the hubbub (again, not as well as the Bose) for around $50. Both headphones have integrated microphones so you can talk during calls or teleconferences, as well as listen.
A Printer to Call Your Own
Are you one of those people who likes to work on paper, joyfully scribbling notes with your Pentel on a freshly printed page? Or do you just need to send out documents for a client's signature?
Sure, you can make a trip to the printing service at Staples, but you might want a printer of your own if you don't already have one. The value-priced models in our ratings include lots of good options, whether you need to print dozen of pages, or just a few.

If you're printing mostly text, consider an all-in-one laser printer like the Brother MFC-L2710DW. It costs well under $200, but just as important, its toner replacement costs are very low at an estimated $44 per year. The model prints 16.7 pages per minute and can hold 250 sheets of paper, which is a plus since you'll be the one refilling it.

If you want a model that can print color and graphics with aplomb, you might look at the Canon Pixma G4210. It's a bit more expensive than other inkjet printers, but uses ink reservoirs instead of pricey ink cartridges. That limits supply costs to $6 per year by CR's estimates—ink cartridges for other printers can easily cost more than $100 per year.
Anti-Distraction Apps
Freelancers and other work-at-home pros have largely figured out how to stay on task; the sheer terror of, say, missing a deadline, or even a paycheck has its advantages.
But if you need a little help to stay focused, a mobile app like Forest can keep you from playing with your phone. Launch the $2 app, select the amount of time you need, and a little tree starts growing on the screen. Use the phone too soon and your tree stops growing. The more you stay off the phone, the more your forest thrives.
If you need a somewhat-stricter-but-less-fun taskmaster, an app like Freedom ($30 annually, but with a free trial) offers a no-nonsense approach, restricting your access to selected apps and websites or even the entire internet (although, push comes to shove, you can just turn it off for an emergency Facebook check-in).
Streaming Services for Kids of All Ages
Sure, it's luxurious to curl up with an adult beverage and a streamed episode of "Downton Abbey" after a long day of working at home.
But if you've got little ones in the house, and the local school district is closed, having the right streaming video service is more like a necessity, the difference between peaceful co-existence and kids in outright revolt.

Our comprehensive guide to streaming video services can steer you toward the ideal options. For children, Disney+ is, of course, a no-brainer, but don't overlook Hulu, which has access to those great movies from Dreamworks, and YouTube TV, which just added shows from PBS and PBS Kids. Hoping for something a little more low-budget? Check out our guide to free streaming services, too.
And, of course, supplement your children's screen time with a great book or a board game.